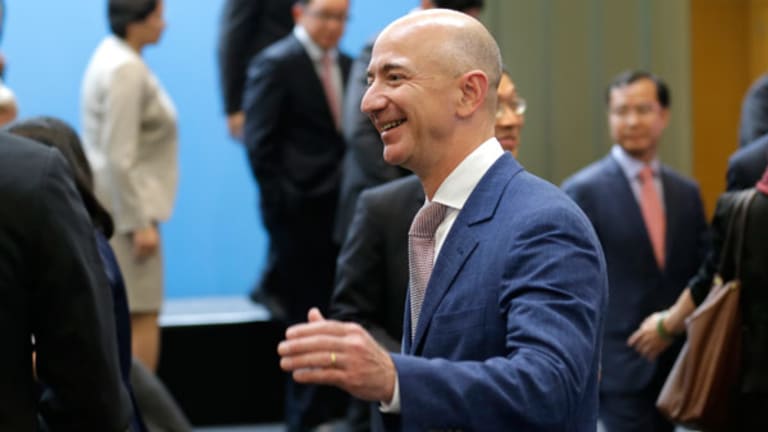 Amazon Celebrates Golden Globe Wins With Discount on Prime Membership
E-commerce giant Amazon is also making seasons one and two of 'Mozart in the Jungle' free to watch for nonmembers.
Editor's pick: Originally published Jan. 14.
This weekend Amazon (AMZN) - Get Amazon.com, Inc. Report will be celebrating its recent Golden Globe wins in its traditional fashion -- Prime membership discounts and a limited period of free Mozart in the Jungle streaming.
At the 2016 Golden Globes, Amazon took home two wins: Best Musical or Comedy Series for Mozart in the Jungle, and Best Actor in a Musical or Comedy Series for Mozart in the Jungle's lead actor, Gael García Bernal. The original series is based on the memoir Mozart in the Jungle: Sex, Drugs & Classical Music by Blair Tindall.
If you haven't seen the show yet, you can binge watch it from Friday, Jan. 15, at 9 p.m. Pacific Time to 11:59 p.m. local time, Sunday, Jan. 17, whether or not you're a Prime member.
During the same period, you can also become a Prime member for a discounted price of $73, in honor of the wins at the 73rd Annual Golden Globe Awards. Membership usually costs $99.
Click here to sign up for Amazon Prime.
This is not the first time Amazon has celebrated such wins with Prime discounts. Last year, the company won two Golden Globes for Transparent and celebrated by letting non-Prime members stream the show for one day and get a Prime subscription for $72.
In September, Amazon celebrated its Emmy awards for Transparent by offering a Prime membership for $67 since it was the 67th annual Emmys.
It's no secret that Amazon has its eyes on the world of streaming and digital content.
The company is spending an enormous amount of money to get original content on its platform and make its Prime membership more attractive as a result. In 2014, Amazon spent $1.3 billion on content.
These industry wins confirm that Amazon has a chance as it goes up against the incumbent content creators.