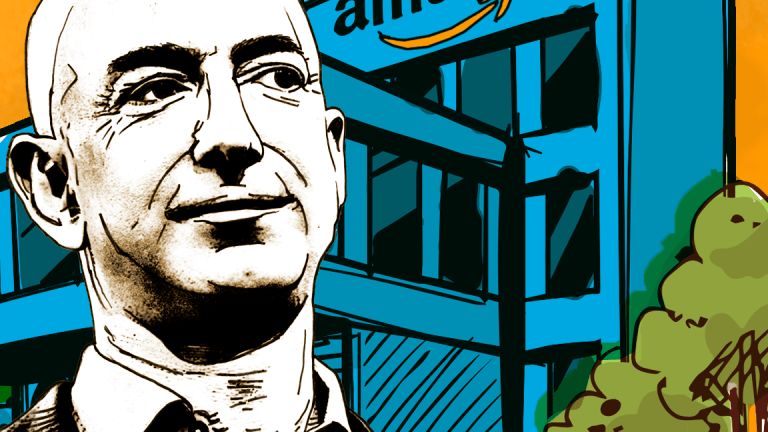 Amazon Beats Earnings Estimates and Unveils New Prime Effort: 5 Key Takeaways
The e-commerce and cloud giant easily beat EPS estimates, reported in-line revenue and announced plans to turn Prime into a 1-day shipping service.
Following a quarter during which its earnings trounced expectations but its revenue only matched them, Amazon.com (AMZN) - Get Amazon.com Inc. Report  is unveiling a fresh project that will require major investments, but could also boost its top line.
After the bell on Thursday, Amazon reported Q1 revenue of $59.7 billion (up 17% annually) and GAAP EPS of $7.09 (up 117%). Revenue was roughly in line with consensus analyst estimates, while EPS easily beat a $4.70 consensus.
Jeff Bezos' company also guided for Q2 revenue of $59.5 billion to $63.5 billion (up 13% to 20%) and GAAP operating income of $2.6 billion to $3.6 billion. Revenue guidance compares with a $62.39 billion consensus; operating income guidance, impacted by Amazon's decision to step up its investment pace, is below a $4.19 billion consensus.
Amazon's shares, which went into earnings up 27% on the year, finished after-hours trading slightly higher and were up 1.2% to $1,923.87 in pre-market trading on Friday.
Here are some notable takeaways from Amazon's earnings report and call.
1. Amazon Wants 1-Day Shipping to Be the Norm for Prime Orders
CFO Brian Olsavsky raised eyebrows (and gave a slight boost to Amazon's stock) during the earnings call when he disclosed that Amazon is working to "evolve" Prime from a 2-day shipping service into a 1-day shipping service. While 1-day (and for that matter, same-day) deliveries are nothing new for Prime, Amazon's goal is to make 1-day deliveries the norm for orders.
Olsavsky added that this initiative will be a global one and take time to fully implement, and that Amazon has budgeted $800 million of "incremental" spending on it for Q2. The company will both work with logistics partners and make internal investments to help pull it off.
"We've in the past month significantly expanded our one-day eligible selection and also expanded the number of zip codes eligible for one-day shipping," Olsavsky said. He later added that the effort doesn't merely aim to improve Prime's convenience, but (given that there are items consumers often want or need within one day) to grow Prime's effective item selection.
Amazon.com is a holding in Jim Cramer's Action Alerts PLUS member club. Want to be alerted before Jim Cramer buys or sells AMZN? Learn more now.
2. All Three of Amazon's Reporting Segments Saw Major Bottom-Line Improvement
Amazon's North American segment saw its operating income nearly double annually in Q1 to $2.29 billion. Its International segment, which has been running at a loss for some time as Amazon makes big investments in India and other markets, saw its operating loss narrow to $90 million from a year-ago level of $622 million. Amazon Web Services (AWS) saw its operating income rise 59% to $2.22 billion.
Together with gross margin expansion (more on that shortly), restrained operating expense growth boosted Amazon's EPS in Q1. Fulfillment spend rose just 10% annually to $8.6 billion; tech and content spend rose 23% to $7.93 billion; and G&A spend rose 10% to $1.17 billion. Only marketing spend rose much faster than revenue, growing 36% to $3.66 billion.
And though it's possible this will soon change, capital spending growth also remained moderate in Q1, thanks to efficiency gains and the continued soaking up of infrastructure capacity built up in 2016 and 2017. Direct purchases of property and equipment (driven by warehouse and logistics investments) rose just 6% to $3.29 billion, while property and equipment purchases made via capital leases (driven by AWS) rose 16% to $2.63 billion.
3. North American Sales Hummed Along, But a Strong Dollar Weighed on International Growth
Amazon's North American segment revenue rose 17% annually to $35.81 billion, topping a consensus estimate of $35.11 billion. Though the segment's growth has slowed a bit from the 20%-plus organic growth it saw for much of 2017 and 2018, it's still higher than estimated U.S. e-commerce growth of roughly 12%.
By contrast, thanks to a strong dollar, Amazon's International segment revenue only rose 9% to $16.19 billion, missing a $16.46 billion consensus. On a constant currency basis, International revenue rose 16% in Q1, after having grown 19% in Q4.
Amazon says that forex swings had a 2.1-percentage-point impact on its total revenue growth in Q1, and expects them to have a 1.5-point impact on its Q2 growth.
4. AWS and Other Services Businesses Continue Driving Margin Expansion
AWS revenue rose 41% to $7.7 billion, leading the public cloud services giant's annual revenue run rate to top $30 billion. Third-party seller services revenue rose 20% to $11.14 billion. Subscription revenue -- driven in large part by Prime, but also covering content subscription businesses -- rose 40% to $4.34 billion. And "Other" revenue, which is now dominated by ad sales, grew 34% to $2.72 billion.
Together with limited capex growth in recent quarters -- this has kept a lid on depreciation expense growth -- the growth of Amazon's high-margin services businesses helped its GAAP gross margin rise 3.4 percentage points annually to 43.2%. That's much better than the 1.8-point increase seen in Q4.
As an aside, some of the stories that have come out following Amazon's earnings report about its ad sales growth falling dramatically -- they note that its Other revenue growth officially fell to 34% in Q1 from 95% in Q4 -- are off the mark. Amazon's quarterly Other revenue growth was boosted in 2018 from an accounting change related to how it records ad revenue. After backing out the impact of this change, Q4 Other revenue growth was only around 38%.
5. Amazon's Direct Online and Offline Sales Saw Relatively Slow Growth
Amazon's "Online Stores" revenue, which covers direct e-commerce sales, rose 10% to $29.5 billion. That represents a slowdown from Q4's 13% growth. And Amazon's "Physical Stores" revenue, which is dominated by Whole Foods, rose just 1% to $4.31 billion. It's worth noting here that Amazon's efforts to grow Whole Foods' online delivery and pickup businesses (their revenue is classified as Online Stores revenue) has impacted its Physical Stores revenue.
Amazon's efforts to build new Whole Foods stores should boost its Physical Stores revenue in future quarters, and so might the launch of new cashierless Amazon Go stores and the company's reported plans to launch a new line of grocery stores that are separate from Whole Foods.
TheStreet's Eric Jhonsa previously covered Amazon's earnings report and call through a live blog.
Introducing TheStreet Courses: Financial titans Jim Cramer and Robert Powell are bringing their market savvy and investing strategies to you. Learn how to create tax-efficient income, avoid top mistakes, reduce risk and more. With our courses, you will have the tools and knowledge needed to achieve your financial goals. Learn more about TheStreet Courses on investing and personal finance here.