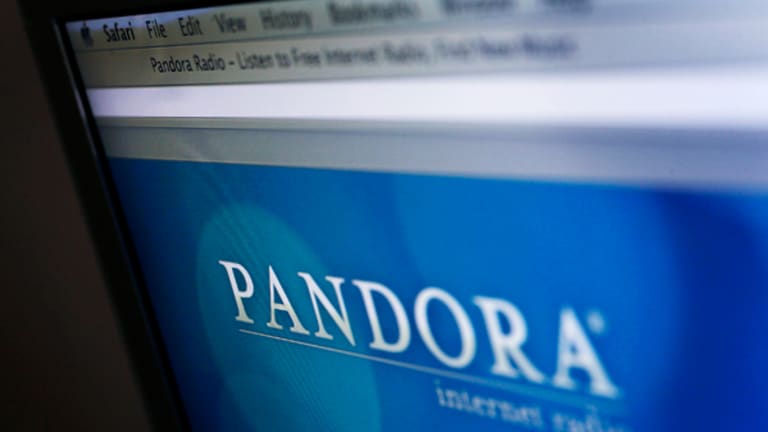 Amazon and Pandora Disappoint: Tech Winners & Losers
Amazon and Pandora shares fall over 10% on disappointing earnings, while Zillow earnings jumped on rumors of an imminent acquisition.
NEW YORK (TheStreet) –– Amazon.com (AMZN) - Get Amazon.com, Inc. Report shares tanked 11.6% to $317.00 after the company's second-quarter earnings showed much higher losses than expected.
In its second quarter, the Seattle-based company lost 27 cents per share on revenues of $19.34 billion. Analysts polled by Thomson Reuters expected $19.34 billion in revenues, but with only a loss of 15 cents per share. This net loss was well ahead of the loss of $7 million in the second quarter 2013. Last quarter, Amazon earned 23 cents a share on $19.74 billion in revenue.
Net sales increased 23% year-over-year. The operating loss was $15 million this quarter, compared with $146 million in the first quarter and an operating income of $79 million a year ago. The company also issued third-quarter revenue guidance between $19.7 billion and $21.5 billion, in line with the consensus estimate of $20.83 billion. The operating loss guidance for next quarter is between $810 million and $410 million, a huge increase from the loss forecast by analysts of $25 million.
Amazon Fire Phone Review: That's All Ya Got?
Amazon.com Shares Plunge On Weak Earnings
Amazon Plunges: What Wall Street's Saying
Despite these disappointing results, many analysts remain bullish on Amazon. Bank of America Merrill Lynch analyst Justin Pope reiterated his "buy" rating but lowered the price target to $400 from $420. Deutsche Bank analyst Ross Sandler reiterated his "buy" rating, but lowered the price target to $375 from $400. JPMorgan analyst Doug Anmuth reiterated his "neutral" rating and lowered the price target to $340 from $350. William Blair maintained its "outperform" rating. Pacific Crest analyst Chad Bartley maintained his "outperform" rating and $460 price target.
Zillow (Z) - Get Zillow Group, Inc. Class C Report shares rose 4.5% to $152.30 this morning following reports that it was close to making an acquisition.
Bloomberg reported yesterday that Zillow, the largest real estate website in the U.S., is seeking to buy its closest competitor, Trulia (TRLA) , for up to $2 billion in cash and stock, citing sources close to the matter. The sources said that the deal might be announced next week, or might full through. After the Bloomberg story was published yesterday, shares of Zillow jumped more than 15% to $145.76 while shares of Trulia spiked 32% to $53.74.
When reached for comment, Zillow spokeswoman Dawn Lyon said the company doesn't comment on rumors.
Zillow went public in 2011, and its shares have increased by a factor of seven since then. Trulia shares have tripled since its 2012 IPO. If the deal is completed, Trulia will be Zillow CEO Spencer Rascoff's biggest acquisition. Zillow bought the real estate websites Streateasy.com for $50 million last year and HotPads for $16 million in 2012. Earlier this month, Zillow completed its eighth acquisition, purchased the Vancouver-based real estate software company Retsly. 
Both companies gain revenue by selling advertising and by charging realtors to place listings on their sites. Combined, Zillow and Trulia had more than 85 million unique visitors in June, or about 89% of the total traffic to the 15 most-visited real estate sites.
Trulia shares were trading at $55.72, up 3.7%.
Pandora (P) shares tanked plummeted 13.5% to $24.84 after its second-quarter earnings showed that growth was slower than expected.
Pandora's second-quarter adjusted revenue was $219 million, in line with analyst expectations, and its earnings per share of 4 cents beat estimates by a penny. Revenue increased 38% year-over-year, driven by 39% advertising revenue growth and 35% subscription revenue growth. However, the company's third-quarter revenue outlook was lower than expected.
For the full year, Pandora raised its earnings per share estimate to between 16 and 19 cents and its revenue estimate to between $895 million and $915 million. They previously estimated earnings per share between 14 cents and 18 cents and revenue between $880 million and $900 million. Analysts expected full-year guidance of 17 cents per share on revenue of $900.33 million.
Pandora gained 7.5% more active listeners, for a total of 76.4 billion, which contributed to a 29% increase in total listener hours to 5.04 billion. Mobile adoption rose 51%. Pandora's total share of US radio listening rose to 8.9% in June, up from 7.04% in June 2013.
"Our better than expected second quarter results demonstrate success and continued business acceleration as a result of our investments in mobile and local advertising. Mobile advertising reached a record 76% of total ad revenue and local grew at 144% year-over-year," said CEO Brian McAndrews. "As a company, we are united by Pandora's clear sense of purpose to unleash the infinite power of music, and we're attracting the brightest stars in the advertising, technology and music industries to help drive our business forward."
Despite the stock's movement, some analysts are defending Pandora. SunTrust RobinsonHumphrey's Bob Peck reiterated his "buy" rating and $34 price target. He raised his revenue outlook for the year to $909 million from $895 million and maintained his earnings estimate of 18 cents per share. Similarly, Laura Martin of Needham & Co. reiterated her "buy" rating and $41 price target. She wrote, "We recommend purchase on weakness." Piper Jaffray made the same recommendation, saying the company is "very much on track" due to monetization gains and listening growth, and reiterated its "overweight" rating and $37 price target.
QlikTechnologies (QLIK) shares spiked 13.1% to $26.45 following the release of strong second-quarter earnings.
The enterprise data visualization software vendor's total revenue increased 22% year-over-year to $131.6 million. Analysts had modeled revenues of $125 million. Qlik earned two cents per share, while analysts expected a loss of 3 cents per share.
"In the second quarter we delivered revenue and bottom-line results that exceeded our expectations. In addition, today we introduced our next-generation data visualization application, Qlik Sense Desktop, which is the first commercially available release from the QlikView. Next project," CEO Lars Bjork said in the press release. "The launch of Qlik Sense, combined with the continued strong demand for QlikView demonstrated by our results this quarter, will enable us to capture the significant market opportunity that we see in self-service visualization and Data Discovery."
For the third quarter Qlik, forecast revenues between $122 million and $126 million, while the average analyst expectation was $123.3 million. Qlik issued full-year revenue guidance between $545 million and $555 million, with earnings of 23 cents to 27 cents. Analyst consensus was $547.8 million and 24 cents.
--Written by Laura Berman in New York
>Contact by Email.