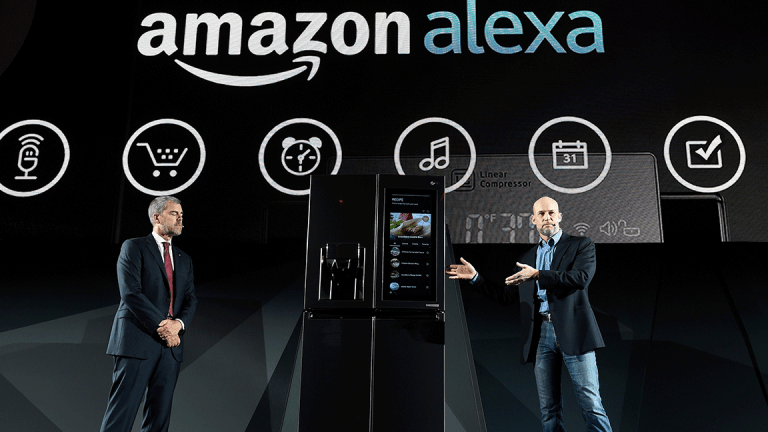 Amazon Alexa and Google Assistant Extend Their Battle at CES
At CES, both Amazon and Alphabet aggressively staked out new ground in the speaker wars. And for investors, the Alexa vs. Google Assistant battle is well worth keeping an eye on.
At CES, both Amazon and Alphabet aggressively staked out new ground in the speaker wars. And for investors, the Alexa vs. Google Assistant battle is well worth keeping an eye on.
The speaker wars are revving up again.
At CES this year, both Amazon (AMZN) - Get Report and Alphabet (GOOGL) - Get Report showed off voice-enabled devices and technologies, continuing their battle for dominance in the fast-growing smart home category. Amazon closed off 0.19% Thursday and Alphabet lost 0.40%.
At the showcase, Alphabet placed Google Assistant front and center in rolling out a slew of new integrations and capabilities, including a voice translation feature to be integrated into Google Home Hub, integrations that place Assistant in third-party devices like Sonos (SONO) - Get Report speakers and Instant Pots, and a tool called Google Assistant Connect, which lets device makers enable Assistant on any device.
Not to be upstaged, Amazon showed off its Key by Amazon suite of services, which centers around a keyless delivery option, among other home security products. And its Alexa voice assistant popped up in a dizzying array of third-party devices, from ovens and washing machines to pet cameras and even toilets.
The new capabilities show how the "smart speaker" category pioneered by Amazon's Echo is rapidly evolving into something quite different -- and it's not yet clear who the long-term winner will be.
While Amazon still owns a majority of the voice-enabled device market, Alphabet has been closing the gap at a healthy clip, and is aggressively developing and marketing its Google Assistant as the category grows as a whole.
According to GSMA Intelligence, smart speaker ownership rates have doubled in developed markets over the past 12 months, with 19% of U.S. households owning at least one compared to 9% one year ago. The 2018 holiday season was also huge for smart speakers: a poll by NPR and Edison Research found that one in ten people in the U.S. got a smart speaker as a gift, bringing the total number of U.S. devices in circulation to 119 million by their estimate. 
"The value of these things isn't just Amazon putting out more Echos or Google putting out more devices. The value is in the integrations," said GSMA's Peter Jarich, speaking from the CES conference. "[Alphabet] is doing an impressive job -- you'll see Google people in their partner's booths. It shows they're not just investing in the partner side of things, they're investing in people to show off the value of what these devices can do."
Those devices include some that might look silly to many observers -- how many people really need an Alexa connected toilet, anyway? -- but for investors, the smart speaker wars are worth keeping a close eye on.
In a recent research report for example, RBC Capital Markets' Mark Mahaney made the case that by 2021, Amazon could see about 5% of its total revenue -- equivalent to $18 billion to $19 billion per year -- from Alexa-related functions. According to Mahaney, that revenue would be driven by not just device sales, but by incremental growth in voice shopping and platform revenues across Alexa's rapidly growing base of installed devices, which includes both Amazon devices and Alexa-enabled third-party gadgets.
"Through various partnerships, there are now likely over [100 million] Alexa-enabled devices installed -- a key milestone in terms of Alexa becoming a critical-mass platform," he wrote. "In terms of platform revenues, our view remains that nice things happen when you have over [100 million] installed base, which we believe Alexa has now reached." Those could include things like paid Alexa skills or developers paying for premium placement in Alexa's fast-growing Skills marketplace.
Moreover, a competition for developing markets could continue well into the future, added Jarich.
"When it comes to bringing these devices to other markets, it's about understanding the languages and context of those other markets. Google has been working a lot on localization efforts for years, so it'll be interesting to see how those pay off as the years go by."
Alphabet and Amazon are holdings in Jim Cramer's Action Alerts PLUS Charitable Trust Portfolio. Want to be alerted before Cramer buys or sells these stocks? Learn more now.