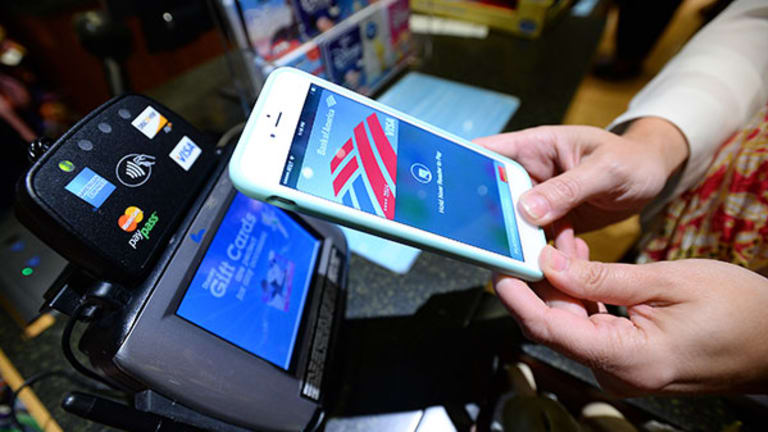 Amazon Abandons Digital Payments, Leaving Fight to Apple, Google
Amazon's move further demonstrates its uphill battle in competing with Apple and Google.
NEW YORK (TheStreet) -- After giving digital payments a brief shot, Amazon (AMZN) - Get Amazon.com, Inc. Report said that it is killing its mobile wallet, leaving the fight to competitors Apple (AAPL) - Get Apple Inc. (AAPL) Report and Google (GOOG) - Get Alphabet Inc. Class C Report .
Amazon Wallet let consumers store gift cards and loyalty cards on their phone to use for in-store and online purchase. Unlike digital wallets from Apple and Google, Amazon's application didn't store credit or debit cards.
The company told Amazon Wallet users via email that the wallet would be discontinued just six months after it was originally launched in beta.
"We've learned a great deal from the Amazon Wallet beta program and will look for ways to apply these lessons in the future as we continue to innovate on behalf of our customers," Amazon spokesman Tom Cook wrote in an email.
Following Amazon's recent failed attempt at making a smartphone, this newest defeat only further shows Amazon's uphill battle in competing with Apple and Google. Although Amazon maintains its dominance over e-commerce, its attempts at broadening into new businesses have been fairly challenging, and digital payments is no exception.
"Amazon's 'wallet' was barely deserving of the title. The solution could best be described as a digital gift card container," Yankee Group senior analyst Jordan McKee wrote in an email.
"Clearly, Amazon Wallet was half-baked, and the consumer value proposition was lagging. Amazon's quiet release of Wallet this summer indicates it was more of spaghetti throwing than a concerted push into the space," McKee wrote.
Piper Jaffray analyst Gene Munster views the move as one of the smartest things that Amazon has done from an investment standpoint.
"There are certain things they should be a part of and certain things they shouldn't," he said.
"Digital payments isn't their space. It just wasn't a priority for Amazon, and it was a waste of money," Munster said.
"That ship has sailed, and it would have been a waste of time and effort for them to be competitive there," he said.
The general adoption of digital payments remains fairly low, as using an old-fashioned credit card is still pretty simple. There has yet to be a truly excellent reason for leaving credit cards at home.
Google Wallet never really caught on, though there are likely to be stronger efforts there in the near future as rumors spread of a possible Softcard acquisition.
Nonetheless, Apple Pay seems to be getting some buzz. Less than 72 hours after Apple announced the new wallet, 1 million credit cards had been used on the service.
Apple Pay was responsible for 1%  of digital-payment dollars in November, according to the ITG "Investment Research Report on Mobile Payments."
Additionally, 60% of new Apple Pay customers used the service on multiple days throughout November, using it on average 1.4 times per week.
"Apple appears to be the best-positioned mobile-wallet candidate at the moment, thanks to its strong vision around convenience and security against the backdrop of the unique halo effect that only it can command," McKee wrote.
With any digital wallet, though, there are a few hurdles to overcome, first, making it an interesting enough offer for consumers and second, getting enough retailers and merchants to get on board and accept the payment. Both continue to pose challenges for even Apple.
Whether digital wallets as a whole succeed, Amazon has decided to step aside for the time being and let Google and Apple continue the fight.
"Apple's entrance has already caused a shakeup within the ecosystem and has prompted strategic realignments by vendors including Google, Softcard and PayPal," McKee said. "Amazon likely caught wind of the massive complexities of being a mobile-wallet owner, paired with the intense competitive landscape, and decided to gracefully bow out."
--Written by Rebecca Borison in New York
>Contact by Email.