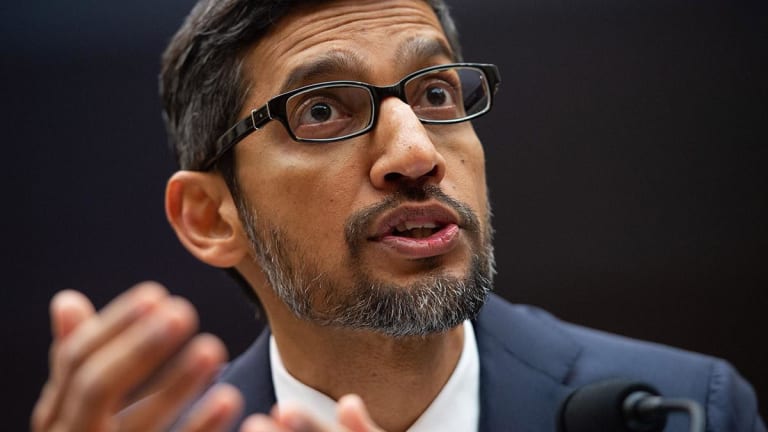 Alphabet's China Search Engine Might Be Done For
Google's controversial plan to build a censored Chinese search engine may be shelved, according to a report. The project sparked a backlash, both within and outside of the company.
Google's controversial plan to build a censored Chinese search engine may be shelved, according to a report. The project sparked a backlash, both within and outside of the company.
Alphabet's Chinese search engine might be getting shelved. 
Following an employee backlash, Google's Chinese search engine project, whose results would be censored in some form by the Chinese government, is "effectively ended" according to a report from The Intercept.
The project, nicknamed Dragonfly, has attracted a good deal of controversy, drawing both ethical concerns and questions around Alphabet's (GOOGL) - Get Report capacity to succeed in the massive market. Years after pulling Google Search from China in 2010 because of government demands to censor its results, some experts had doubted Alphabet's ability to re-enter the market and dominate, given formidable local competitors in search, such as Baidu (BIDU) - Get Report , and other Internet services.
Internally, some employees voiced concerns that Dragonfly would yield too much to Chinese authorities in a way that could compromise the rights of Chinese citizens. In one resignation letter for example, a former senior researcher on the project, Jack Poulson, raised alarm bells that the Chinese search engine could play a role in human rights violations, and lead to an "all-too-real possibility that other nations will attempt to leverage our actions in China in order to demand our compliance with their security demands."
The project also attracted scrutiny from lawmakers, who pressed Google CEO Sundar Pichai at a Dec. 11 congressional hearing for details on the Chinese search engine. Pichai offered mostly evasive responses, describing it as an "internal effort" and saying that the company has "no plans to launch a search service in China." Pichai revealed at one point that there were more than 100 people working on the project, but didn't go into detail about how specifically Google would cooperate with Chinese regulators.
The backlash, both inside and outside of the company has led Google to shelve the project at least for now, the Intercept reported.
Andrew Burt, a chief privacy officer at Immuta, added that the reaction to Dragonfly is a reflection of growing public debates around privacy -- and the tension between Alphabet's business interests and a need to exhibit corporate responsibility. 
"After a year dominated by privacy concerns -- the EU's GDPR coming into effect, Facebook's privacy struggles, and more -- privacy now directly impacts businesses' bottom lines. And that means privacy teams occupy a bigger and more vocal seat at the table," he said. "The Dragonfly project shows that this debate is far from over within Google -- and the American tech industry writ large."
As noted recently by TheStreet's Eric Jhonsa, the business incentives to launch a search engine are as strong as some of the ethical concerns raised by Dragonfly. An approved search engine could serve as an entry point for Google to launch versions of other popular products: "The list could include everything from Google Maps and the Play Store to the Google Cloud Platform (GCP), Pixel hardware and Waymo's self-driving systems," Jhonsa wrote. And the access to user data on hundreds of millions of Chinese internet users would also be extremely valuable to the company.
Accordingly, the Chinese search engine has been a key initiative for Pichai, who said at a Wired25 conference in October that: "We are compelled by our mission [to] provide information to everyone, and [China is] 20 percent of the world's population."
Alphabet's stock rose 2.2% to $1,048.02 on Tuesday and are now down just slightly for the year.
Alphabet is a holding in Jim Cramer'sAction Alerts PLUS Charitable Trust Portfolio. Want to be alerted before Cramer buys or sells GOOGL? Learn more now.
Save 66% with our '12 Days of Holiday Deals' Sale. Join Jim Cramer's Action Alerts PLUS club for investors and get our best deal of the year. Click here for details or to sign up.