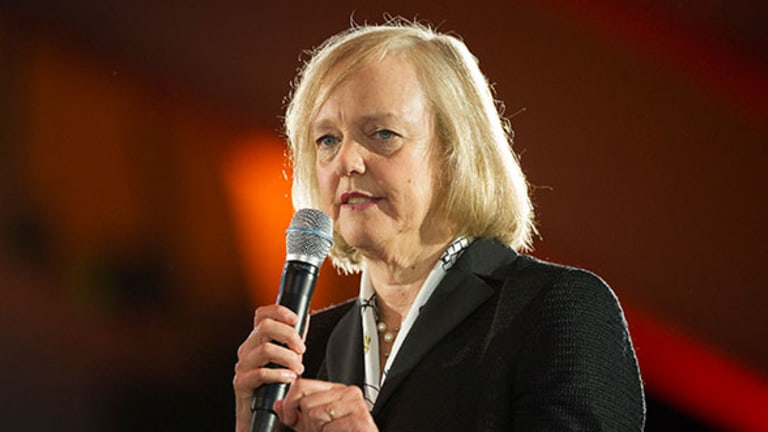 All Eyes on Whitman's HPE Remake as IT Icon Reports Q4 Earnings
The IT group is shedding $17 billion worth of operations as the company looks to become more nimble and liquid.
Meg Whitman can provide investors with an update on the moving pieces within Hewlett Packard Enterprise (HPE) - Get Hewlett Packard Enterprise Co. (HPE) Report , as the company works to close $17 billion worth of divestitures.
Analysts expect the company to post EPS of 60 cents in the fiscal fourth quarter on $12.8 billion in revenue, when Hewlett Packard Enterprise reports earnings after the close Tuesday.
"Clearly there is a lot going on at the company," Morningstar analyst Tim Feeney said of Whitman's moves.
Since splitting Hewlett Packard Enterprise from HP Inc. (HPQ) - Get HP Inc. (HPQ) Report last November, Whitman has been busy.
In May, Hewlett Packard Enterprise announced a tax-free spin-off and subsequent merger of its enterprise services business with Computer Sciences Corp. (CSC) . The deal values the enterprise services unit at $8.5 billion.
Whitman announced the $275 million acquisition of Silicon Graphics International (SGI) in August, boosting the company's presence in high performance servers, storage and software for scientific, business and government organizations.
Then, in September, Hewlett Packard Enterprise agreed to spin out software operations and merged them with Micro Focus International plc, valuing the business at $8.8 billion.
"Meg Whitman [is] doing so much to be able to bring out true value there," said Jim Cramer, TheStreet's founder and manager of the Action Alerts PLUS portfolio, which owns HPE. "I think they took share from Cisco (CSCO) - Get Cisco Systems, Inc. Report ."
The strategy stands in contrast to Dell Technologies, which loaded up on debt to acquire EMC.
"Hewlett Packard Enterprise is trying to make themselves nimble, agile and very liquid," Morningstar's Feeney said, as the company adjusts to changes in the data storage market brought on by public cloud offerings.
"I'd like to hear how their flash roll out is going," Feeney added. "That's definitely one of the growth areas of storage since the public cloud is displacing some of the more traditional IT business models."
Even as Whitman has lopped off pieces of Hewlett Packard Enterprise, activist firms have been picking up shares.
Investors such as Starboard, Jana Partners and FrontFour have picked up shares in Hewlett Packard Enterprise, according to a report from Lazard that analyzes Securities and Exchange Commission filings for investments by activists.
Financial engineering related to the spin off of the enterprise services and software businesses may limit Hewlett Packard Enterprise's options for the time being.
"While there has been increased interest from activist investor[s], we believe a go-private transaction is unlikely near/medium term as we believe [Hewlett Packard Enterprise] is unlikely to insert any risk to its tax-free spins," Wells Fargo analyst Maynard Um wrote in an earnings preview.
Shares of the IT icon were trading down 19 cents, or less than a percent, to $22.93 midday Tuesday. 
Cisco is a holding in the AAP portfolio.