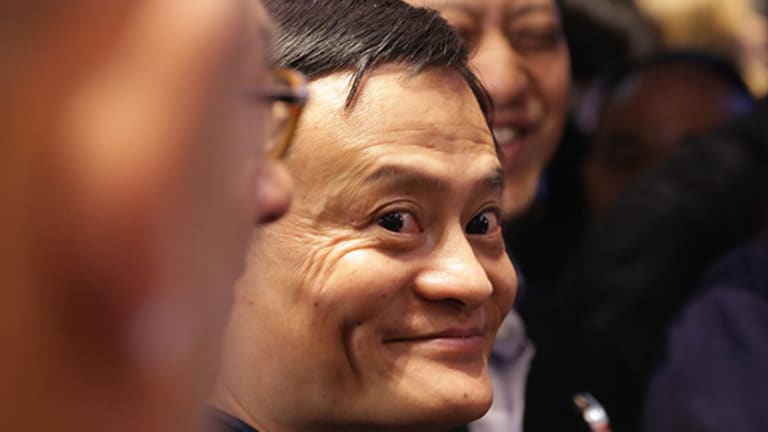 Publish date:
Alibaba's Jack Ma Talks Big, Even Trillion-Dollar Big
An ambitious target of $1 trillion in transactions is par for the course for Alibaba's chairman.
An ambitious target of $1 trillion in transactions is par for the course for Alibaba's chairman.
NEW YORK (TheStreet) -- Alibaba Group (BABA) - Get Report founder and Chairman Jack Ma is many things, but being shy about about speaking his mind is not one of them.
So when Ma said earlier this week his e-commerce company would conduct $1 trillion in transactions, it was no surprise that his comments turned heads among close observers of Internet commerce. But when Ma speaks, he often means what he says, which is why his trillion-dollar forecast also didn't surprise some e-commerce watchers.
"They're really not that far from that goal," said Gil Lauria, who covers Alibaba for Wedbush Securities. "They're growing at more than 40% and their going to double that within a year and a half, so, no, it's not crazy that they could hit that trillion-dollar mark by about 2019."
Ma made his comments on Alibaba's prospects at a meeting of the Economic Club of New York on Tuesday. For its most recent fiscal year, which ended in March, Alibaba said the gross merchandise volume of all the goods it sold reached $394 billion, a 46% increase from the prior year. That's more than the gross merchandise volume of eBay (EBAY) - Get Report and Amazon.com (AMZN) - Get Report combined in their 2014 fiscal years.
While the Chinese e-commerce market remains Alibaba's key source for growth, the company wants to turn on its head the trade that has China making millions of products for sale in the U.S. and other Western markets. Ma has said he wants to bring more American products into China and plans on adding 10 million small businesses to its e-commerce platform in the next two years to facilitate cross-border e-commerce with China.
"They have this e-commerce edge they can build on," Luria said. "At some point, they will want to operate in domestic Western markets as well as China, which is still growing tremendously."
Rob Enderle, of technology research firm the Enderle Group, said that while Ma and Alibaba have the potential to increase transaction volume to the $1 trillion mark, the scale for such an online system to become a reality still needs to be developed. That may prove to be a challenge.
"I think they are going to run into serious scaling issues long before they get to that run rate," Enderle said. "They will have an impressive set of growing pains as a result."
Alibaba shares fell almost 2% to close Thursday at $87.21. The company raised $25 billion in the largest initial public offering in U.S. history went it went public last September.