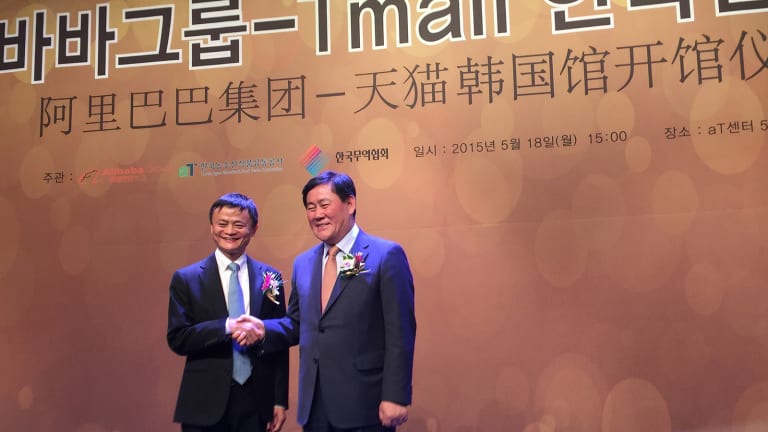 Publish date:
Alibaba's Cross-Border Efforts Move Forward With New 'Country Pavilions'
Alibaba is working hard to get more and more international merchandise on its site.
Alibaba is working hard to get more and more international merchandise on its site.
NEW YORK (TheStreet) -- Alibaba (BABA) - Get Report today announced the addition of 11 country-specific "pavilions" to its Tmall marketplace in order to help expand its cross-border efforts.
Alibaba has long voiced its desire to bring more international products to Chinese consumers, and this is one way it is trying to achieve that -- creating specific pages that curate products from individual countries.
South Korea was the first country to be represented by an Alibaba pavilion. Alibaba announced the South Korea pavilion in May, explaining that it would feature Korean goods as well as travel and cultural information.
"The Korea Pavilion is Alibaba Group's first official country pavilion and we will continue to work with governments of other countries to launch similar pavilions in the future in order to satisfy the needs of our Chinese consumers," Alibaba Executive Chairman Jack Ma said when he unveiled the platform in Seoul.
Now Alibaba is following through on that promise with pavilions for 11 other countries: the U.S., New Zealand, Australia, Switzerland, France, Britain, Spain, Singapore, Thailand, Malaysia and Turkey.
"Alibaba Group has been incubating this country pavilion project for some time now. Today, these 11 pavilions are the first fruit of this ongoing project to make global trade easier," Jeff Zhang, president of China retail marketplaces for Alibaba Group, said in a statement.
Besides the obvious motivation of getting more products on its site, Alibaba could use a greater cross-border presence to help ensure its products are authentic and not counterfeit, a problem that plagues Chinese e-commerce in general, and Alibaba specifically.
Alibaba has encountered much criticism regarding counterfeit goods as well as a practice known as brushing, in which sellers use fake customers to inflate sales numbers, improperly improving their online status.
The company has been making a strong effort to turn around its reputation and rid itself of counterfeit, and the country pavilions are one way to make that happen.
Alibaba shares have dropped by 18% year to date.