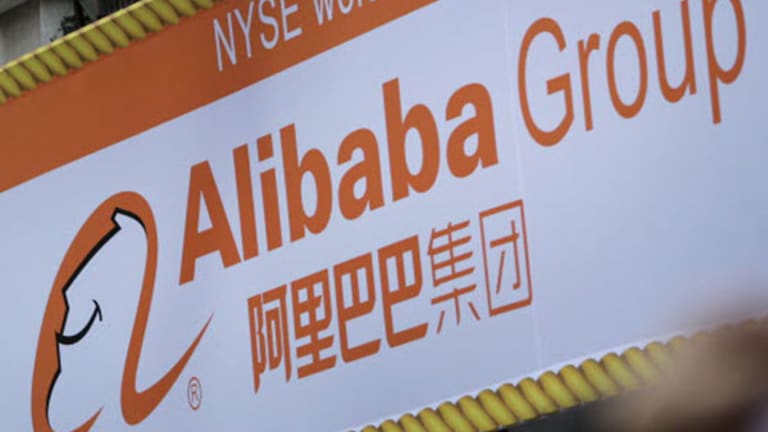 Alibaba's Cloud Services Will Be a Billion-Dollar Business by 2018, Analyst Predicts
Alibaba's cloud business could account for a significant portion of the company's revenue in just a few years, says SunTrust analyst Bob Peck.
NEW YORK (TheStreet) -- Alibaba (BABA) - Get Alibaba Group Holding Ltd. Sponsored ADR Report recently announced it is beefing up its cloud services via major partnerships. That focus looks to be well-placed.
In a research note Wednesday morning, SunTrust analyst Bob Peck predicted that Alibaba's cloud business could pull in $1.2 billion by 2018. Alibaba reported $204 million in revenue from cloud & Internet Infrastructure for the 2015 fiscal year, and SunTrust expects that number to rise to $393 million for the 2016 fiscal year.
Cloud services allow companies to outsource their data centers, freeing them from the obligation to host software and applications in-house. The cloud stores that data remotely, providing access through the Internet.
Alibaba's cloud business currently accounts for less than 2% of the company's total revenue, but that could grow to 10% in just five years, according to Peck. He rates Alibaba as a buy with a $110 price target.
"We believe that 'public cloud IT' is something that inherently fits into Alibaba's core mission of helping connect people and making it easier for people to do business," Peck said. "When Alibaba started, its mission was providing the marketplace for buyers and sellers to connect. However, as the Internet has developed in China, these buyers and sellers are requiring more and more services."
The U.S. cloud market is expected to grow to $75 billion by 2018, with the Chinese cloud market reaching $2 billion by 2018, according to IDC.
Aliyun, as Alibaba's cloud division is known, is already the leader in China's cloud industry, with a 23% market share, followed by two domestic companies -- China Telecom (CHA) - Get China Telecom Corp. Ltd. Sponsored ADR Class H Report and China Unicom (CHU) - Get China Unicom (Hong Kong) Limited Sponsored ADR Report -- and then two foreign companies -- Microsoft (MSFT) - Get Microsoft Corporation (MSFT) Report and Amazon (AMZN) - Get Amazon.com, Inc. Report -- according to IDC. But Aliyun certainly has room to grow both in China and in the U.S.
On Sunday, Alibaba announced it had forged partnerships with Intel (INTC) - Get Intel Corporation (INTC) Report, U.S. data center companyEquinix (EQIX) - Get Equinix, Inc. Report, Singapore telecom giant Singtel, and four other companies. These deals, paired with the opening of Alibaba's first U.S.-based data center earlier this year, are meant to help Alibaba compete in cloud services outside of China.
In the U.S. and globally, Alibaba will face stiff competition from market leaders Amazon, Google (GOOG) - Get Alphabet Inc. Class C Report, IBM (IBM) - Get International Business Machines (IBM) Report, and Microsoft. Amazon is currently the global leader, with a 29% market share. Amazon Web Services brought in $1.57 billion in revenue in the first quarter of 2015, and averages about $6 billion per year in revenue.
Even if Alibaba focuses on just the Chinese cloud market, it'll still be a worthy investment, Peck said.
"We see the Chinese market as significantly underpenetrated relative to the U.S. market," he said. "Looking at cloud revenues to GDP as a ratio, the U.S. market is 52 times more developed and over 100 times more developed per Internet user."
Since the cloud industry is less developed in China than it is in the U.S., Peck turned to Amazon Web Services' growth as an indicator of what might lie ahead for Alibaba.
"If we look to the growth of Amazon's AWS cloud service as a proxy and map Aliyun's growth from its inception vs. Amazon's AWS at inception, we think Alibaba could surpass $1 billion in just three years," Peck said. "We also point out that Aliyun could grow faster, as the cloud market is better understood and embraced than when Amazon first started."