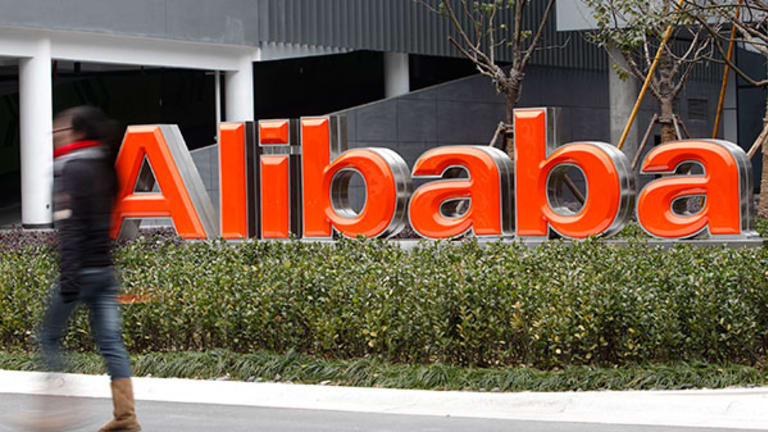 Alibaba's Opportunities May Spell Trouble for eBay and Amazon
Alibaba faces challenges and opportunities in its U.S. expansion. But one thing it won't need to change is its business model to land success in the West.
NEW YORK ( TheStreet) – Alibaba Group (BABA) - Get Alibaba Group Holding Ltd. Sponsored ADR Report is a huge success in China, but will its business model work in the U.S.?
This massive Chinese ecommerce company, which acts as a middleman between consumers and third-party sellers of a wide range of products, expanded into the U.S. earlier this year with the launch of 11 Main. But Alibaba faces a number of challenges in the U.S., one of which is it's entering a saturated market filled with large ecommerce players like eBay (EBAY) - Get eBay Inc. Report and Amazon.com (AMZN) - Get Amazon.com, Inc. Report , as well as boutique companies like bonanza and Etsy.
Alibaba also doesn't have anything new to offer consumers, nor merchants, especially those low-cost Chinese suppliers who are already selling to U.S. consumers via Amazon, eBay and others, said Gil Luria, a Wedbush Securities analyst. Other analysts also note Alibaba lacks brand awareness for 11 Main, faces hurdles in growing traffic to the levels of Amazon and eBay, and is likely to encounter logistical problems in transporting merchandise to the U.S. from China.  
But, the company is also well-positioned to seize opportunities in the U.S. using its existing business model. Alibaba's business model could spell trouble for eBay, Amazon, Google and others.
Alibaba's three main websites -- Alibaba.com, Tmall and Taobao -- feature a blend of similar product offerings as Google (GOOG) - Get Alphabet Inc. Class C Report , eBay and Amazon, said Rob Enderle, principal analyst at the Enderle Group. But he noted Alibaba brings more to the table, citing its "uniquely Asian product source." 
Those products give Alibaba a beachhead, and if it can broaden that to include the kind of offerings and capabilities of its main U.S. domestic rivals, Alibaba could potentially "displace them," Enderle said.
Wedbush's Luria cited other opportunities for Alibaba. "But realistically, Alibaba's greatest opportunity outside of China has to do with cross border sales," he said.
Alibaba could attract U.S. merchants with their western brands to list their merchandise on Alibaba's Chinese-language Tmall business-to-consumer Web site, he said. Tmall and Alibaba.com are both B2C Web sites. Sellers on Alibaba.com are typically manufacturers and distributors based in China and other manufacturing countries, including India, Pakistan, Thailand and the U.S., who sell products wholesale.
, a consumer-to-consumer (C2C) Chinese Web site that last year ranked as China's largest shopping site in terms of gross merchandise volume, said the company, citing iResearch data.
The 11 Main site that launched in June seems to be nothing more than a "placeholder" for Alibaba in the U.S., said Luria. The site does not appear to offer anything new to either consumers or retailers, he said, adding it was more likely that Alibaba would "acquire its way" to become a major e-commerce player in the U.S.
The site allows U.S. consumers to buy apparel, electronic and toy products, along with a limited number of other categories. The site features specialty shops and "boutiques" using a limited number of vendors that Alibaba selects by invitation only.
Alibaba spokesman Robert Christie didn't give any insight into his company's plans for the 11 Main site or its U.S. plans in general, saying China remains its main focus. He also didn't respond to a request for comment on why it opted to use the new 11 Main brand instead of Alibaba, which a growing number of U.S. consumers have become familiar with since the company's recent IPO. Nor did he give a timeline for the planned introduction of an English-language version of its Taobao online marketplace.
Alibaba's core business model is strong, said Oppenheimer analyst Ella Ji. But she noted Alibaba will likely focus on other international emerging markets first, including Brazil and Russia, before spending a lot of time on the U.S. market. 
It would take Alibaba 14 business days to ship products out of China and deliver them to the U.S., she said. A faster delivery option will bring "super high costs," so it may consider building warehouses in the U.S. and using its big-data analysis to pre-ship products to improve the delivery efficiency -- but that will take time, she said.
Alibaba might consider mergers or acquisitions if it wants to further expand its U.S. market share, said Ji. A B2C platform has greater growth potential than C2C and the counterfeit product concern that continues to linger around Alibaba is mainly associated with the C2C platform it uses on the Taobao online marketplace, she said.
Regardless, Alibaba "shouldn't have to change" its business model to fin success in the U.S., said Enderle. He noted, however, the company will need to establish a presence in the U.S. to deal with regulatory issues here and create product offerings that are more attractive to this market, as well as advertise its efforts more effectively.
Alibaba needs to, according to Enderle, "just focus on those aspects of this market that make it unique in order to optimize the opportunity."
This article is commentary by an independent contributor. At the time of publication, the author held no positions in the stocks mentioned.