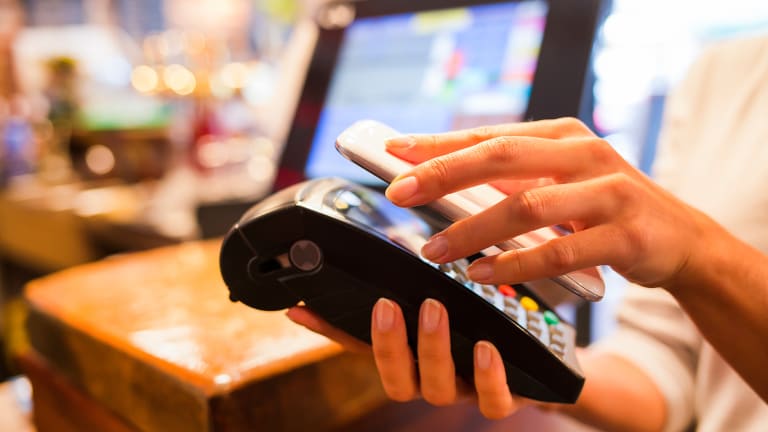 Alibaba's Alipay is Winning the Mobile Payments Game in China
Mobile payments are growing even faster in China than in the U.S., and Alibaba's financial arm Ant Financial is leading the way with Alipay.
NEW YORK (TheStreet) -- As mobile payments pick up speed in China, Alibaba (BABA) - Get Alibaba Group Holding Ltd. Report is aiming for gold with its financial arm Ant Financial's digital wallet Alipay.
With more than 350 million registered users and 270 million monthly active users, Alipay Wallet trounces its U.S. counterparts. Paypal, a unit of ebay (EBAY) - Get eBay Inc. Report, by comparison, has 165 million active digital wallets. Alipay Wallet, which can be used for e-commerce purchases and in physical stores, has grown on the backs of more than 289 million monthly active users, who increasingly use it as opposed to entering in a credit card number.
"Alipay was established in 2004, initially to support escrow payment for Alibaba's online marketplace transactions," said Fan Zhiming, VP of Ant Financial Services Group. "Mobile payment is becoming more important, especially the younger generation, and they make up a great part of Alipay users. So it is important that we develop our mobile payment capabilities via Alipay Wallet."
Credit cards are still not very widespread in China, according to Marshall Meyer, professor at the University of Pennsylvania's Wharton School, and the largest currency note is the 100 yuan note, about the equivalent of $16. This means that people are carrying around huge stacks of cash, so a better payment system would be a huge relief for consumers.
From Alibaba and Ant Financial's side, more people using Alipay means more people in the Alibaba ecosystem who can more easily shop on Tmall and Taobao (Alibaba marketplaces).
"It's very important for Alibaba and Alipay that Alipay is successful in mobile payments," Wedbush analyst Gil Luria said. "The mobile wallet and digital wallet are important aspects of how payment are going to be done in the future and there's no reason why Alipay shouldn't lead the way."
Tencent's Tenpay and the Chinese government's Unionpay are Alipay's biggest competitors in China, but Alipay is the largest player, according to Luria. Nonetheless, a lot is at stake here, so Alibaba and Ant Financial can't afford to sit on their laurels.
"[Mobile wallets] expand their addressable opportunity," Luria said. "In terms of in-app it cements Alibaba's play for e-commerce; in terms of the store, that expands the market opportunity.
"Even in China where ecommerce is growing very fast it's still a relatively small part of overall commerce, so by enabling a mobile wallet for Alipay they're expanding their addressable market by a large factor. It's the same thing Paypal is trying to do in the U.S.--go from e-commerce to all of commerce by going in-store as well."
While Alipay has been powering online transactions for more than a decade, it still has room for improvement when it comes to brick and mortar stores.
The mobile wallet currently uses QR codes as its backend technology, meaning that a cashier will scan the phone screen's bar code to process a payment.
However, there have been reports of Alibaba possibly partnering with Apple (AAPL) - Get Apple Inc. Report to bring Apple Pay to China, which if combined with Alipay would mean a shift to NFC technology, where a consumer taps a smartphone on a terminal. Chinese retailers already have NFC terminals that are actually in place for consumers to tap their credit card to pay, which is more popular than the dip to pay that's common in the U.S.
On top of a possible partnership with Apple Pay and the adoption of NFC, Ant Financial has also been working with Chinese smartphone maker Xiaomi on powering the company's smart wristbands with Alipay so that consumers can pay with the Mi Band in physical stores.
"Increasing more applicable offline scenarios to support Alipay is very important for Ant Financial," Zhiming said. "Recently we have collaborated with Walmart, and the supermarket chain began accepting Alipay as a payment option at their cashiers. We will continue to work with retailers in China to upgrade our services."