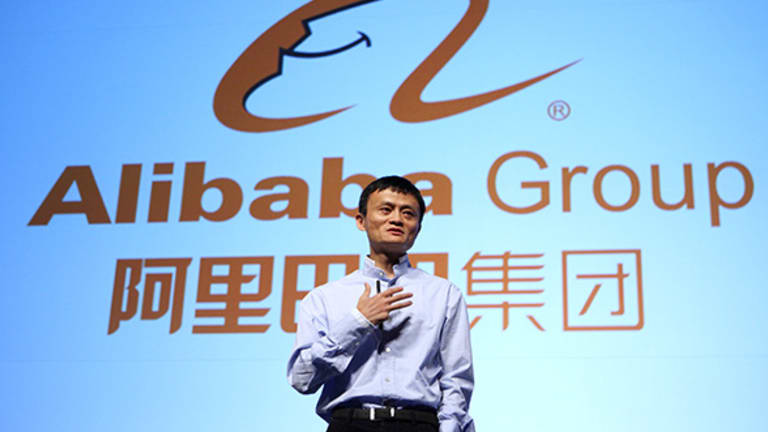 Alibaba to Challenge Top Tech Companies in U.S. Cloud Market
Alibaba today launched its first U.S. cloud center in hopes of expanding its business to new customers.
NEW YORK (TheStreet) -- Alibaba (BABA) - Get Alibaba Group Holding Ltd. Report is entering the U.S. cloud market, putting it in direct competition with many of the world's most powerful tech companies for a share of computing services in the world's largest economy.
On Wednesday, Alibaba's cloud division Aliyun launched its first U.S. cloud center in Silicon Valley, betting that it has what it takes to compete for clients against IBM (IBM) - Get International Business Machines Corporation Report, Google (GOOG) - Get Alphabet Inc. Class C Report, Microsoft (MSFT) - Get Microsoft Corporation Report, Salesforce (CRM) - Get salesforce.com, inc. Report, Rackspace (RAX) .
Cloud services allow companies to outsource their data centers, freeing them from the obligation to host software and applications in-house. Cloud stores that data remotely, providing access through the Internet. 
According to research firm IDC, the public cloud services market could grow into a $100 billion industry by 2017, so there is a lot at stake for the tech giants vying for a share of the market.
Amazon (AMZN) - Get Amazon.com, Inc. Report Web Services is another provider that Alibaba will likely challenge. Next quarter, for the first time, Amazon plans to make known its sales from AWS. Baird Equity Research projects AWS's standalone value to be as high as $50 billion while the unit is projected to generate more than $8 billion in sales in 2015.
Alibaba has said that it will start by targeting Chinese companies with U.S. operations, so that will be an easier start, since these companies already know and trust Alibaba. Plus, there may be some national pride that helps them there.
The question is whether or not Alibaba can ever convince American companies to choose them over AWS or any of the other cloud services.
"For the time being, we are just testing the water," Sicheng Yu, Aliyun vice president and head of its international business, said on Alizila, Alibaba's news site. "We know well what Chinese clients need, and now it's time for us to learn what U.S. clients need. The market is quite crowded in the U.S. but we offer some unique value and there's room for us."
Alibaba declined to comment beyond the press release and Alizila article.
Erik Gordon, a professor at the University of Michigan, doubts Alibaba will have much success with U.S. or European companies, though he does see them doing better in other parts of the world that don't already have numerous cloud providers.
"I think they face a lot of problems in the U.S., not just that Amazon is huge," he said. "In the U.S., nobody trusts them, many fear them. They are seen as the beneficiary of unfair competition in China where the government has favored them and made life difficult for Google and Amazon."
So yes, Alibaba may sign on a few Chinese companies, but expanding to American companies will likely be a tough challenge.
"It's one thing to run your cloud services computers in small countries that don't have players like Amazon or Google," Gordon said. "It's another thing to show that you can compete in the U.S. against the biggest and the best."