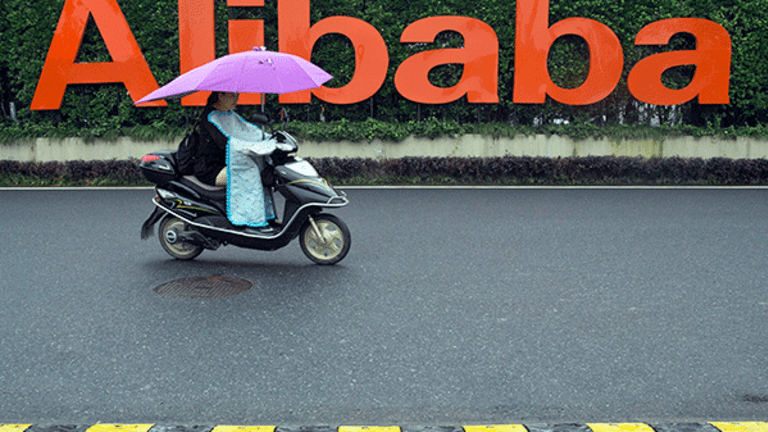 Alibaba's Battle With Amazon Over India Continues With Deal for E-Commerce Player Paytm
The Chinese tech giant just poured $177 million more into India's hotly-contested e-commerce market.
The war between Amazon.com (AMZN) - Get Amazon.com, Inc. Report and Alibaba Group Holding (BABA) - Get Alibaba Group Holding Ltd. Sponsored ADR Report might have just escalated in India.
The Chinese e-commerce giant announced Thursday it took a controlling stake in India's Paytm E-Commerce with a $177 million investment, according to a regulatory filing by the Indian company.
Alibaba.com Singapore E-Commerce, one of Alibaba's 40 significant subsidiaries and consolidated entities, gained another 36.3% stake in Paytm E-Commerce, adding to the 40% stake it already holds with Ant Financial Services Group, Alibaba's finance arm. Alongside Alibaba, Hong Kong-based venture capital firm SAIF Partners also picked up a 4.7% stake in Paytm E-Commerce by investing $23 million.
"It is a very logical and strategic investment and a deeper commitment in this space. Alibaba's strategy is to expand its footprint and minimize its country risk. China is still its core market but it has slowed," said Santosh Rao, head of research at Manhattan Venture Research.
Editor's note: This article was originally published by The Deal, a sister publication of TheStreet that offers sophisticated insight and analysis on all types of deals, from inception to integration. Click here for a free trial.
"The Indian e-commerce market is at the cusp of a major boom, in step with the growing penetration of cellular phones. The online payments companies are going to be a major beneficiary of the ecommerce boom, led by Paytm," added Rao.
Founded in 2010, Paytm is an Indian mobile payment and e-commerce company. It is also the consumer brand of mobile internet company One 97 Communications, in which Alibaba and its associates are also the largest shareholders. As a whole Paytm is valued at $4.8 billion after raising $60 million in August last year, according to an Indian tech news site.
"Paytm, with a payment and online retail division, comes closest to Alibaba's model in China. So it's a very synergistic partnership. I won't be surprised if Alibaba acquires Paytm down the road," said Kartik Hosanagar, professor of technology and digital business at The Wharton School of the University of Pennsylvania.
The funding is for Paytm's e-commerce business, which spun off from Paytm's payments unit Paytm Payments Bank last year.
"With it's 200 million client base, Paytm will provide a big boost to Alibaba's e-commerce initiatives in India. The Indian e-commerce market, which is still evolving, is expected to exceed $100 billion in the next three years through 2020," said Anindya Ghose, professor of marketing at New York University's Leonard N. Stern School of Business. "India will be Alibaba's second biggest market after China, and Alibaba plans to have several million Indian businesses on its B2B platform, while still expanding its presence among retail consumers."
The fresh round of investment not only expands Alibaba's already burgeoning presence in India but also poses direct threats to Amazon India and two native e-commerce players Flipkart and Snapdeal.
"The e-commerce challenge in India today is the aggressive pricing by Amazon. Competitors like Flipkart and Snapdeal are finding it challenging. So the challenge for Alibaba is that it's not clear if India can deliver the kinds of margins that Alibaba is seeing in China," said Hosanagar.
After failing to capture the massive Chinese market, Amazon CEO and chairman Jeff Bezos has invested heavily in the expansion of Amazon India. Bezos invested $3 billion in Amazon India in June 2016 after pledging $2 billion in July 2014. But Amazon India not only has much deeper pockets than Flipkart and Snapdeal but also less to worry about in terms of valuation and operating costs.
Bangalore-based Flipkart is still considered a leading e-commerce player in India and saw its valuation slashed repeatedly by Morgan Stanley (MS) - Get Morgan Stanley (MS) Report last year. In the latest reduction, the Morgan Stanley fund trimmed the valuation of Flipkart to $5.37 billion, which came after a 38.2% reduction in September that had pegged the company at $6 billion. Caught in between two global e-commerce behemoths, Snapdeal seems to have been affected the most. In a letter to their employees on Feb. 22, Snapdeal founders Kunal Bahl and Rohit Bansal said they will take a 100% salary cut while initiating company-wide layoffs that could impact roughly 500 to 600 employees.
Anindya Ghose, marketing professor at NYU Stern Business School, predicts that the Alibaba-Paytm relationship is going to directly affect the future of Flipkart and Snapdeal in a non-trivial way.
"An M&A activity between Snapdeal and Alibaba is a solid possibility here, given that their attempt to acquire Flipkart last year did not go through. An acquisition of Snapdeal can be a part of Alibaba's grand plan to take on Amazon in India by strategic stake holdings in leading players of the region," said Ghose.
There have been repeated rumors about Alibaba's intention to acquire Snapdeal but the eventual clash of Amazon and Alibaba in India is what analysts and experts are keeping close tabs on. Although Amazon India won't have to deal with Alibaba directly in its home field and navigate the complicated relationship between Chinese business and politics, Alibaba's aggressive investments in the region as well as its ambitious global expansion plan still pose stiff competition for the U.S. tech giant.
"These two leaders are moving into a landscape that they know how to maneuver in. The competition is starting but it's not yet Godzilla meets King Kong but eventually it could be," said Eric Schiffer, chief executive of Southern California private-equity firm Patriarch Organization, which regularly conducts business in China. "You could see an ultimate merger [between Amazon India and Alibaba's Indian e-commerce business] there. If Amazon ever wants to get out, that would be an interesting way to get out."