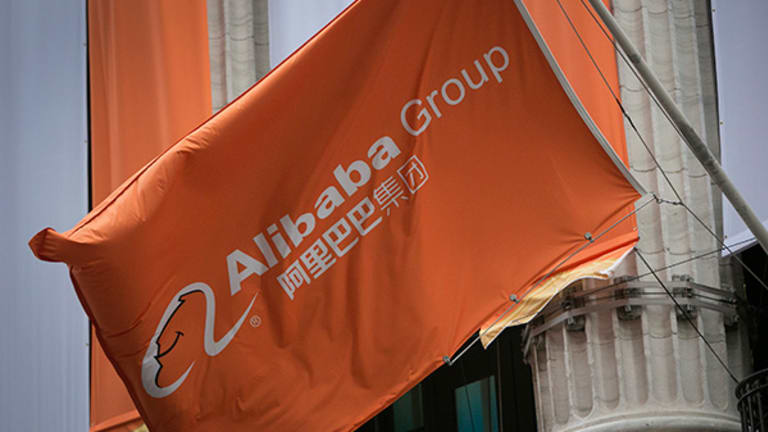 Alibaba Shares, Down 45% From Their Peak, Have Had A Wild First Year
It's been an eventful year since the Chinese e-commerce giant first went public to much fanfare and excitement.
NEW YORK (TheStreet) -- Alibaba (BABA) - Get Alibaba Group Holding Ltd. Report went public on the New York Stock Exchange on September 19, 2014, to much fanfare and excitement. Shares soared 28% on their first day of trading and the IPO, which raised $25 billion, became the largest in history.
A year later, that excitement has grown a bit more tempered as concerns rise about China's economy.
After closing their first day of trading at $93.89, Alibaba shares have ridden quite the roller coaster, soaring as high as $119.45 in November and then recently dropping below their IPO price of $68. Shares were trading down 1.26% to $65.16 on Friday, representing a drop of 45% from their November peak.
Much of that drop can be attributed to the instability in China's economy, but there have been other bumps as well, such as allegations of counterfeit and brushing, a practice in which sellers use fake customers to inflate sales numbers, improperly improving their online status.
Alibaba has also had issues doing business in Taiwan, and is facing increasing competition from companies like JD.com (JD) - Get JD.com Inc. Report . On top of all that, the company's growth rates seem to be slowing down, especially on desktop sales, which has analysts concerned.
But there were also some significant peaks over the past year, such as wild sales numbers on Singles Daywhen more than $9 billion in sales were recorded, and increased efforts in cross-border commerce.
"Alibaba has had a spectacular first year as a publicly traded company from the peaks of the hype during the IPO and through Singles' Day in November to the disillusionment as growth rates decelerated and concerns over China's economy have brought shares back below their IPO price," said Wedbush analyst Gil Luria.
A recent takedown of Alibaba in Barron's added some more negative sentiment as the company neared its IPO anniversary, claiming that Alibaba shares could drop another 50%. But Alibaba is nowhere near the end of its days.
Alibaba controls 80% of the e-commerce market in China, according to Chinese investment group CLSA. And while JD and others may be catching up a bit, Alibaba is still the 800-pound gorilla in the room.
"Alibaba is still the overwhelming market leader for e-commerce in China and one of the best ways to invest in the growth of the Chinese consumer," Luria said. It's just that China's slowing economy is making it harder to get an accurate picture of the industry and Alibaba's performance.
Alibaba shares may have some more downward spirals to ride, but if investors can wait out the hard times, the fall could be temporary. Forty-four of the 52 analysts tracked by Bloomberg rate the stock a buy, and only two recommend selling.
As Alibaba founder Jack Ma wrote in a letter with the IPO filing:
"From the very beginning our founders have aspired to create a company founded by Chinese people but that belongs to the world. In the past decade, we measured ourselves by how much we changed China. In the future, we will be judged by how much progress we bring to the world. This challenge is enormous, but it is also a blessing to have this rare opportunity. This challenge requires us to do our best day-to-day, but most importantly it requires us to think about what is best over the long-term."
Emphasis on the long term.