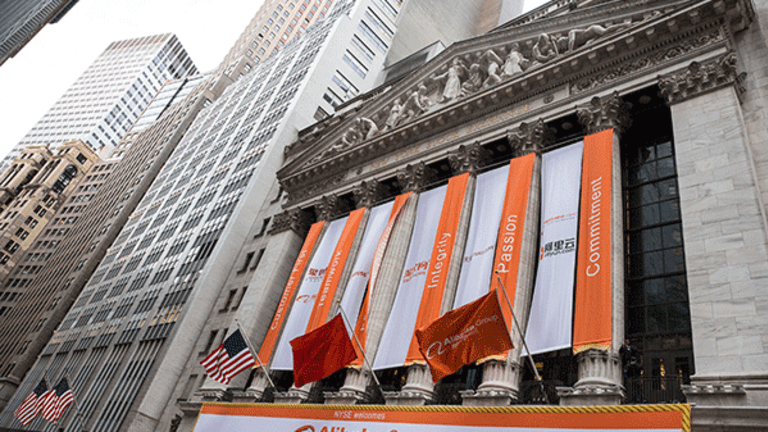 Publish date:
Alibaba's Damai Acquisition Seen as Complementary to Key Entertainment Platforms
Alibaba asserts full control of Chinese online ticket vendor Damai.cn.
Alibaba asserts full control of Chinese online ticket vendor Damai.cn.
Alibaba (BABA) - Get Report  continued its quest to dominate all forms of online entertainment and retail, Tuesday, as the company announced it had acquired Beijing-based online ticketing vendor Damai.cn.
"Damai.cn as China's leading entertainment ticketing and event management company fits nicely into our 'health and happiness' strategy and forms a strategic part of the value chain in our media and entertainment business," an Alibaba spokesman told TheStreet. "Damai.cn will be a powerful platform to distribute our media content as well as expand our user reach and engagement. There will be extensive collaboration opportunities with our other entertainment assets including Alibaba Music, Alibaba Pictures and Youku."
Alibaba's shares ticked down about 1.6% midday Tuesday to $105.55 per share. The company has a market cap of $265 billion.
"Generally speaking, I view the Damai acquisition as complementary to a number of Alibaba's existing platforms, including content distribution or marketing synergies with its entertainment properties like Alibaba Pictures and Youku," said R. J. Hottovy, consumer equity strategist at Morningstar. The deal "could see some benefits for its core retail platform: better customer data about entertainment-related products and mobile marketing opportunities at theaters or concert venues, and even its O2O platforms."
Alibaba likely snapped up Damai for more than just its ticket-selling prowess as the company already has a similar ticket service called Tao Piao Piao for Alibaba Pictures Group. Damai, with a number of independently-run subsidiaries, including Damai Performance, Damai Sports, Damai Film and Damai Entertainment, could further boost Alibaba's entertainment presence and help it compete with long-time rivals Baidu (BIDU) - Get Report and Tencent in a hotly-contested market at home and abroad.
The deal, which will allow Alibaba to assert full control of Damai, took three months to come together, according to an internal letter posted by Daimai co-founders Jie Cao and Yuhong Feng to its employees.
The co-founders said in the letter that the decision to join Alibaba was not difficult to make and Daima intends to shift from its former goal of becoming China's Ticketmaster to becoming the country's Live Nation Entertainment (LYV) - Get Report .
Financial terms of the deal were not disclosed by either company but Alibaba already had a 32% stake in Damai from an initial investment back in July 2014.
On completion of the deal, Alibaba vice president Yu Zhang will become the CEO of Damai while Daimai's current CEO Jie Cao will serve as a special adviser.
"Ali announces its acquisition of Damai, part of our big entertainment strategy," the firm said on its Sina Weibo platform, China's Twitter (TWTR) - Get Report -like service. "This means our earnest three-year romance has consummated in a marriage."
Founded in 2004, Damai is the largest entertainment and distribution platform in China. The company says it has global operations in 330 cities and has provided professional ticketing technologies, marketing and distribution services for over 1.8 million performances and sports events.
The deal continues Alibaba's aggressive growth push which includes full-out acquisitions and strategic investments.
The Chinese e-commerce giant said March 17 it was planning to expand its mobile gaming platform, and on March 3 it acquired a controlling stake in India's Paytm for $177 million.
For more on Alibaba's expansion plans check out:Alibaba Plans to Win Over Southeast Asia Through More Than Just Acquisitions