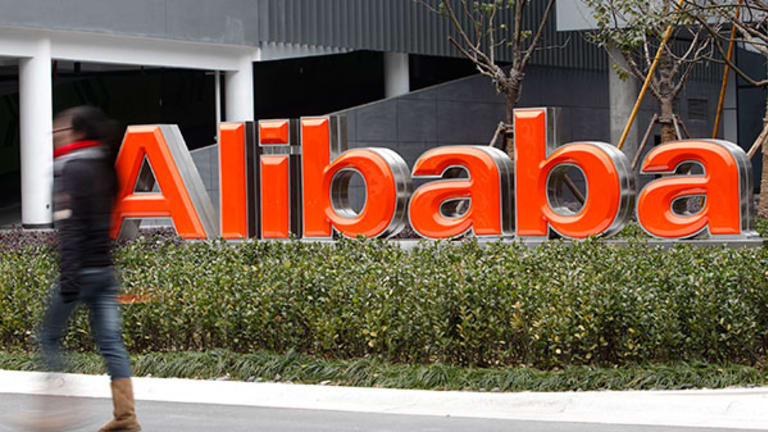 Alibaba Posts Strong Second Quarter Mobile Results Ahead of IPO
Alibaba posted strong calendar second quarter mobile growth, as the Chinese e-commerce company moves towards an initial public offering in September.
NEW YORK (TheStreet) – Alibaba posted strong calendar second quarter mobile results, as the Chinese e-commerce company moves towards an initial public offering expected sometime in September.
The company grew revenue over 46% from year-ago levels to $2.54 billion, while total gross merchandising volumes (GMVs) rose a similar percentage, led by a near-doubling in Tmall volumes. Alibaba also disclosed in its second quarter results that mobile GMVs now account for 32.8% of the company's total marketplace volume, a near tripling from this time last year.
Alibaba's quarterly results indicate that the company is making continued progress in capturing a rising share of the Chinese mobile commerce market ahead of its highly anticipated initial public offering. However, mobile growth may be cutting into the company's short-term profitability trends. Alibaba's operating profit rose 26% to $1.1 billion, a slower pace than the company's overall revenue growth rate.
Earlier in August, Alibaba restructured its relationship with payments business Alipay in a move that gives the e-commerce giant a smaller exposure to financial services, but the potential to receive a larger pie of fees from those businesses.
Alibaba disposed its SME loan business to Small and Micro Financial Services Company, which also owns Alipay, for a $518 million cash consideration and annual fees for seven years based on the average daily size of the SME loan portfolio. Between 2015 and 2017, Alibaba will receive a fee equal to 2.5% of the daily average loan balances of the SME business. For remaining years, Alibaba will receive an amount equal to its 2017 fee.
Overall, the disposition will allow Alibaba, which is partially owned by Yahoo! (YHOO) , to focus on its core e-commerce business and eliminates the direct risks of carrying a loan portfolio on its balance sheet, the company said. Instead, Small and Micro Financial Services Company (SMFSC) and its Alipay arm will carry those risks, and realize any associated synergies.
Under the new terms of its relationship, Alibaba will also take a smaller portion of the pre-tax income generated by Alipay, but receive a larger portion of overall financial services payments streams given a new revenue sharing agreement that now includes all of SMFSC's businesses, including Alipay.
"We believe this will be beneficial to us in the long-term because, while the profit sharing percentage is lower, the profit pool that we are entitled to share will come from all of the current and future businesses operated by Small and Micro Financial Services Company," Alibaba said.
As part of the August deal, the value of Alibaba's interest in (SFMSC) and Alipay will also no longer be capped. Alibaba is currently due a payment of 37.5% of the value of SMFSC and Alipay in the event of an initial public offering or sale of the company. While the value of that payment had been capped at $6 billion, it is now effectively un-capped.
In fiscal 2014, Alibaba received $390 million in other income from Alipay as a result of its profit sharing agreement.
Alibaba's Initial Public Offering
Alibaba's IPO may come after the Labor Day holidays as investors return from summer vacation. It was initially speculated to happen earlier this month. 
Alibaba has hired six underwriters, Credit Suisse, Deutsche Bank, Goldman Sachs, JPMorgan, Morgan Stanley and Citigroup, to lead its U.S.-based IPO.
The company will list its shares on the New York Stock Exchange.
-- Written by Antoine Gara in New York