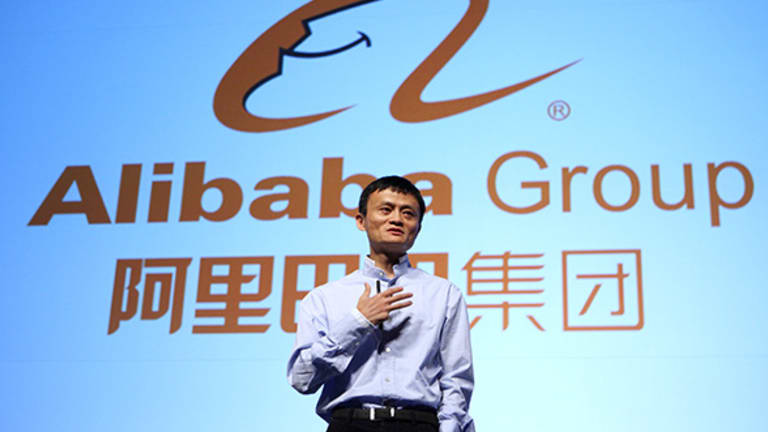 Alibaba Is Making Moves in Russia
While Chinese e-commerce giant Alibaba isn't coming to the U.S. anytime soon, it's implementing serious expansion plans in Russia, where a lack of competition gives it an opportunity to dominate.
NEW YORK (TheStreet) -- Alibaba (BABA) - Get Report is comfortably dominating the e-commerce market in China, but hoping to keep the growth coming, the company is looking to a new cohort of consumers: Russians.
"E-commerce truly meets Russian consumer demand in a way that traditional retail cannot -- it gives shoppers the option to choose for themselves when and where they want to purchase their personal goods," said Mark Zavadskiy, general manager of Alibaba Russia. "Chinese sellers have grown in popularity with Russian consumers because they have the products consumers want at prices they want to pay. It makes sense that we follow this demand."
With a $14.5 billion e-commerce market, Russia has a few local players, including Ulmart and Ozon, but there's still room for Alibaba to sweep in and provide a selection and price otherwise unavailable.
As an emerging market, Russia poses an opportunity for Alibaba to get in early before other players emerge to challenge them. Amid this lack of competition, Alibaba offers a selection of products that Russian consumers likely wouldn't have access to otherwise. "Consumers [in Russia] have fewer retail choices compared to consumers in similar economies," said Erik Gordon, an expert in Chinese businesses and a professor at the Ross School of Business at the University of Michigan.
Alibaba first launched a global marketplace, known as AliExpress, in 2010, and it has since launched a Russian-langauge version tailored specifically to consumers in Russia. Over the past three years, Alibaba has partnered with different payment solutions providers in Russia (QIWI, WebMoney, and Yandex Money) to make the transaction process more convenient for Russian consumers. In February, Alibaba partnered with Russian delivery company SPSR Express to improve its logistics in the area.
According to Russian newspaper Kommersant, Alibaba registered the URL www.alibaba.com.ru in May, signifying that there may soon be a standalone site outside of the general AliExpress. And then this week, Alibaba opened up its first sales office in the country, according to Forbes. 
"The reason you have people in those regions is to better understand the consumer preferences and get more acclimated with the consumer in the region before investing more," Morningstar analyst RJ Hottovy said. "Get a better understanding for the specific needs of the region, and beyond that, you can tailor your marketplaces to them."
AliExpress is already popular in Russia, with an average of 15.6 million Russian visitors a month in the second half of 2014, according to Kommersant. By contrast, eBay (EBAY) - Get Report saw only 3.7 million visitors a month, while Amazon (AMZN) - Get Report saw just 1.7 million.
"In Russia, we have seen steady organic growth in Russian consumers shopping on our AliExpress platform ever since it launched in 2010," Alibaba spokeswoman Molly Morgan said.
Products on AliExpress are cheaper than most products in Russia, Morgan added, and with millions of products across more than 20 categories, it offers a wider selection for Russian consumers.
However, there is still a huge political risk involved in investing in the region, which could be challenging for Alibaba. That could be why Alibaba is establishing a physical presence in Russia -- to help deal with these political issues.
"The risk of losing everything based in shifting political tides is even higher than in China, and Russian consumers have no love for China," Gordon said.
Nonetheless, the potential for profits outweighs the risk, according to Wedbush analyst Gil Luria.
"Russia presents a specifically attractive opportunity for Alibaba because it is still a nascent e-commerce market without any dominant players," Luria said. "Alibaba can leverage its experience in developing a logistics infrastructure that is lacking in Russia and position itself for the rapid growth in this market."