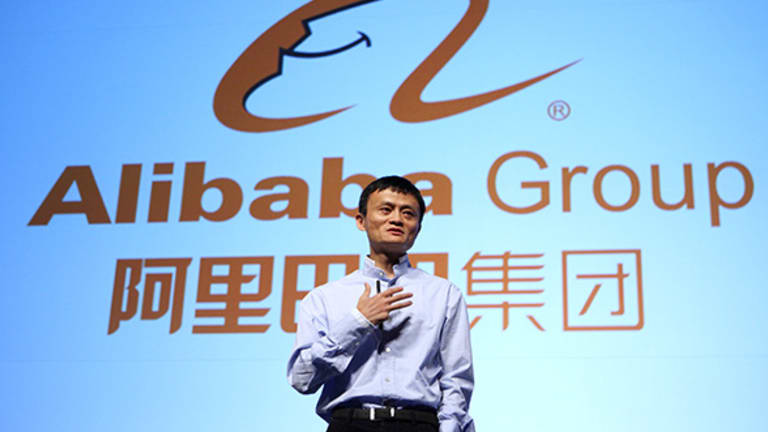 Alibaba Investors Need Not Panic--Chinese Consumer Spending Isn't Cooling Yet
Despite market turmoil and Alibaba's plummeting stock price, investors need not worry yet about spending by Chinese consumers declining.
NEW YORK (TheStreet) -- Alibaba (BABA) - Get Alibaba Group Holding Ltd. Sponsored ADR Report shares fell to an all-time low Monday morning, dropping below their IPO price, but investors ought to take a deep breath and a closer look at the company before making any rash decisions.
Alibaba chief executive Daniel Zhang recently told employees to "forget about the share price," according to The Financial Times, and perhaps it's time investors do the same.
While Alibaba may be struggling to keep up its share price, it doesn't seem to be having a hard time attracting and keeping Chinese consumers on its site.
Seventy-seven percent of Chinese consumers said they would not reduce near-term spending on goods and services in response to the stock market correction, according to a survey published on Tuesday by investment research firm MKM Partners. Forty-two percent of respondents plan to shift more of their spending online. 
And those respondents seem likely to direct that increase in spending towards Alibaba, with 67% saying they prefer Alibaba sites (40% choosing business-to-consumer marketplace Tmall and 27% picking business-to-business marketplace Taobao). Alibaba rival JD.com (JD) - Get JD.com, Inc. (JD) Report will likely benefit from this shift too, with 19% of respondents preferring the site.
Another reassuring sign is Apple (AAPL) - Get Apple Inc. (AAPL) Report CEO Tim Cook's recent claim that iPhone 6 sales in China are hunky dory. "We have continued to experience strong growth for our business in China through July and August," Cook said in an email to TheStreet's Jim Cramer.
Retail indicators like these are crucial to Alibaba's health. "If the Chinese consumers slow down their purchasing, Alibaba's fundamentals will deteriorate and shares will decline even more," Wedbush analyst Gil Luria said.
Despite the fact that stock market volatility isn't necessarily indicative of the actual Chinese economy, it certainly could impact consumer behavior down the line. "If the selloff is sustained for an extended period of time, then yes it'll definitely impact the psyche of the Chinese consumer and impact their propensity to spend money, but so far we haven't really seen that," Cantor Fitzgerald analyst Youssef Squali said.
Luria agreed that it's still too early to evaluate the impact of China's market turmoil on Chinese consumers.
"The Chinese stock market shouldn't have much to do with Alibaba's stock price because stocks are not as widely held in China as they are in the U.S. so there shouldn't be much of a wealth effect," Luria said. "However, if the weakness in the stock market is a reflection of a weakening economy, including a weakening Chinese consumer, that would not bode well for Alibaba. The government data has not indicated a further slowdown in the most recent quarter, but keep in mind Chinese government data is being cast in doubt right now."

Luria added that the most recent quarter for Alibaba may have already indicated a slowdown in spending could be coming.
Analysts were quite disappointed with the quarter, unenthused with the slowing performance on desktop as mobile continues to grow. On top of that, Alibaba reported its slowest year-over-year revenue growth in more than three years. The previous 12 quarters saw growth on average of 56%, according to Bloomberg, while the most recent quarter only saw revenue grow by 28%.
JD, on the other hand, reported strong volume growth, with revenue up 61% year-over-year, but Squali emphasized that JD is starting from a much smaller base. "JD remains more niche within e-commerce in China," he said. "They tend to focus on the higher end customer, whereas Alibaba is catering to everybody, and by definition your growth will slow down over time."
MKM analyst Rob Sanderson, unswayed by the slowing in growth, is bullish on Alibaba, with a buy rating and $105 price target.
"The Chinese stock market correction has been treacherous for Alibaba's [stock] along with China Internet and China large-cap peers," Sanderson wrote in a research note Tuesday morning. "We are encouraged by initial consumer feedback that a potential spending dislocation may be somewhat muted and may accelerate the shift in allocation to online."
Sure there may be more turmoil ahead for Alibaba shares, but Sanderson is a long-term believer in the company.
"While country risk remains high and uncertainty may persist in the near term, we believe the investment thesis remains intact and recommend that investors continue to accumulate Alibaba shares," he said.
Squali, who has a $95 price target for Alibaba, is in a similar boat. "We're not changing our tune on the company," he said. His advice to investors? "Stay the course."