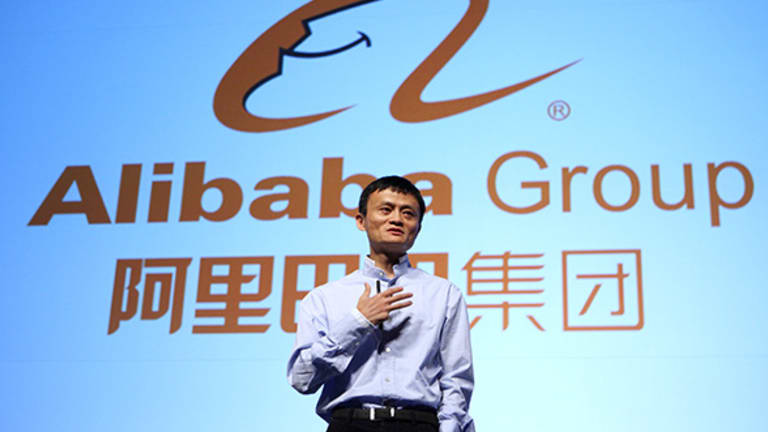 Alibaba Can't Seem to Shake Its Counterfeit Products Problem
Recent changes at Alibaba have analysts worried about the short-term impacts.
Recent changes at Alibaba have analysts worried about the short-term impacts.
NEW YORK (TheStreet) -- Alibaba (BABA) - Get Report has been tumbling since November, and it doesn't appear that a turnaround is in the immediate future.
The downward spiral can be attributed to a number of different causes, but one major problem is the Hangzhou, China-based e-commerce company's struggles with counterfeit and regulatory issues. Shares hit a post-IPO low of $81.58 on March 3, recovered a bit, but are trading around $82.41. That's more than 30% lower than its November high.
Alibaba's misfortunes were amplified in January when the Chinese government accused the company of allowing fake goods to be sold on its site and failing to sufficiently regulate illegal activity. China's State Administration for Industry and Commerce then published a white paper detailing the accusation, but soon retracted it after Alibaba claimed it was false. Alibaba chairman Jack Ma met with the head of China's commerce regulator to smooth things over.
But that wasn't the end of it. Earlier this month The Wall Street Journal reported on a common illegal practice in China called "brushing," in which sellers use fake customers to inflate sales numbers, improperly improving their online status. According to the Journal, Alibaba uses "sophisticated tools" to counter-brush, but the practice is hard to detect, calling into question the large volume of transactions reportedly taking place on the e-commerce site.
Alibaba's Vice President Yu Weimin even admitted to the high percentage of brushing on the site. In November, he told China's state-run Xinhua News Agency that in 2013, 1.2 million sellers or about 17% of all merchants on Taobao, Alibaba's main shopping site, had faked 500 million transactions (worth 10 billion Yuan, or about $1.6 billion USD). This, he explained, was a "conservative estimate."
Following the controversy over fake goods, Alibaba yesterday decided to dismiss Wang Yulei, the head of Tmall.com (the business-to-consumer version of Taobao), from his role and reassign him elsewhere. Alibaba appointed Jeff Zhang, former president of Taobao, to head an umbrella unit for Taobao, Tmall and Juhuasuan (Alibaba's group buying platform).
On March 2, Tmall announced new regulations that will only allow merchants to join on an invitation basis. TMall will also adopt a new anti-cheating mechanism to counter brushing.
"Alibaba Group is dedicated to the fight against these activities," an Alibaba spokesperson said in an email. "We work closely with our government partners, brands and industry associations to tackle this issue at its source. We also utilize technology like data mining and big data to scrub our platforms of these activities."
On top of all of the brushing issues, Alibaba is facing an eviction notice from Taiwan because it is from mainland China. Taiwan has ordered Alibaba out by August.
Plus, Alibaba already delivered disappointing numbers in its most recent earnings report, missing analyst expectations of revenue by $230 million.
Jack Ma also added more negative feelings when he decided not to give out annual bonuses for the Lunar New Year because "in the past year, Alibaba Group has not had exceptional results and not had any special surprises."
All these issues are causing analysts to reconsider their valuations of Alibaba.
Yesterday, Credit Suisse lowered its price target for Alibaba from $113 to $112, explaining that they are "more cautious on near-term GMV growth with multiple small incidents happening at the same time." They also lowered 2015 earnings per share by 2%, 2016 by 7.1%, and 2017 by 3.7%.
GMV, or gross merchandise volume, measures total sales value for merchandise sold through a marketplace over a particular period of time. Over the past two years, Alibaba has steadily grown GMV to 787 billion RMB from 346 billion RMB, with year-over-year growth hovering at 49% for the past two quarters.
Credit Suisse maintained its outperform rating for Alibaba, but decided to "err on the side of caution regarding BABA's GMV forecast over the next few quarters." They expect headwinds on GMV as Alibaba tries to improve service quality on its site, enforces stricter requirements on Small and suspends lottery sales.
However, Credit Suisse is optimistic that the changes will be positive in the long term -- just not necessarily in the short term.
"We believe that TMall will benefit from the improvement of merchant quality in the long run, while, in the near term, the negative impact from slowdown in merchant population could weigh on the GMV and commission revenue growth," the Credit Suisse analysts wrote in the research note. "These policy changes should be positive for BABA in the long run, with higher merchant ROI, better user shopping experience and relatively better experience versus vertical sites."