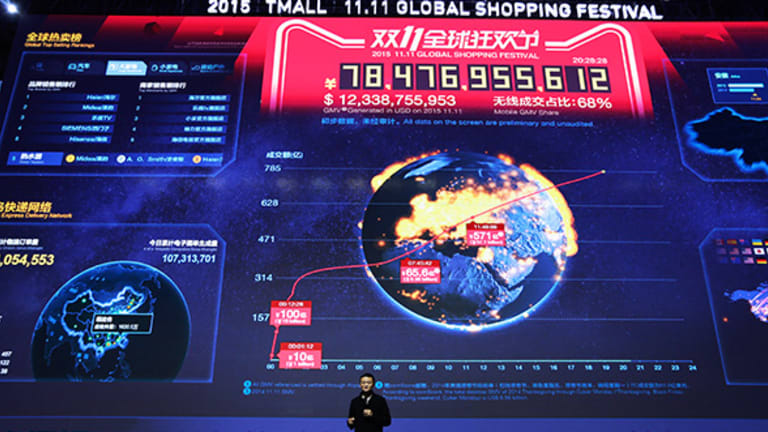 Alibaba and JD.com Shatter Sales Records on Singles Day
Alibaba outdid its already-massive sales results from last year by over 50%.
Updated from 9:02 a.m. to include more recent numbers.
Singles Day, China's biggest shopping day of the year, has officially ended, and e-commerce companies Alibaba (BABA) - Get Report and JD.com (JD) - Get Report  smashed their record sales results from the previous year.
For the entire 24 hour period of November 11, Alibaba brought in $14.3 billion in sales, up over 50% from $9.3 billion in 2014. Alibaba's mobile gross merchandise volume (GMV) topped the company's total GMV in 2014, with 94 million mobile buyers purchasing $9.8 billion worth of products during Singles Day. Last year, Alibaba generated $9.3 billion in total GMV on Singles Day. The company passed that volume at 12:32 p.m. China Time.
Alibaba also surpassed the total sales that took place in the U.S. on Cyber Monday last year in just minutes.
The e-commerce giant said that it had reached $1 billion in GMV 8 minutes into Nov. 11, $2 billion in 16 minutes, and $2.7 billion -- the total amount spent by U.S. shoppers on Cyber Monday last year -- after just 25 minutes.
As of 7:45 p.m. China Time, the company had processed $12 billion in GMV, surpassing SunTrust analyst Bob Peck's estimates for the day.
Alibaba also broke records for total number of packages delivered. Last year, its delivery affiliate Cainiao received 278 million orders on Singles Day, and this year that number had increased to 310 million delivery orders by 2 p.m. China Time.
On top of the fast growth, Alibaba also said it was seeing the majority of the action coming from mobile. As of 2 p.m. China Time, 71% of the total GMV took place on a mobile device. There were more than 70 million mobile buyers as of 2 p.m. China Time.
"This year, Alibaba Group has transformed 11.11 into an unprecedented mobile shopping experience," said Daniel Zhang, chief executive officer of Alibaba Group.
After a tough year for Alibaba shares, a strong performance in the company's recent quarter sent shares back up a bit, but the stock is still down more than 13% from its first day of trading, so a solid Singles Day could certainly help. In morning trading on Thursday, shares of Alibaba were trading down about 2.8% to $79.14, possibly because of growing concerns about counterfeit goods being sold on its platforms.
And Alibaba's not the only one that will benefit from the big day. JD.com, a longtime rival of Alibaba, is also capitalizing on Singles Day this year with its own sales and promotions.
As of 5 p.m. China Time, JD had processed 20 million orders, surpassing last year's 14 million orders for the full 24 hours. The company also said that it passed its 2010 orders in 2 minutes, 2011 orders in 15 minutes, and 2012 orders in 36 minutes. It matched its 2014 sales orders at 11.58 a.m. China Time. By 6:30 p.m. China Time, JD has received more orders than it did in the past five Singles Days combined.
"We've seen extremely strong volumes across all categories, with apparel continuing to be an area of strength," said JD.com spokesperson Josh Gartner.
While JD.com did not disclose how much GMV last year's Singles Day generated for the company, it did say that this year's Singles Day GMV had already more than doubled that of last year's.
"No company can own a day," said Wedbush analyst Gil Luria. "That's why JD should have a very successful day as well. As of last year it was very much an Alibaba event. I would expect starting this year for it to be a broader event than just Alibaba."