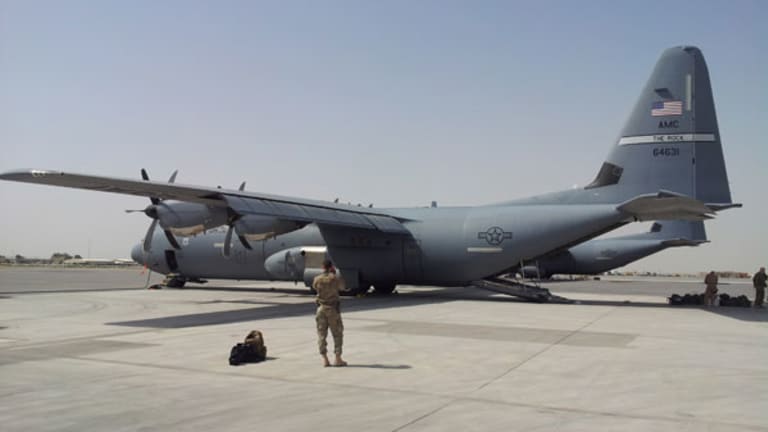 Publish date:
Air Force Targets $50M Savings With Apple iPads
Apple's iPad is now a key weapon in the U.S. Air Force's battle for efficiency savings.
Apple's iPad is now a key weapon in the U.S. Air Force's battle for efficiency savings.
NEW YORK (
) --
Apple
(AAPL) - Get Apple Inc. (AAPL) Report
iPads may be commonplace in homes and offices, but the popular tablet is now a key weapon in the U.S. Air Force's battle for efficiency. The lightweight Apple tablet has opened the door to more than $50 million in cost savings over the next 10 years, according to the military.
Last year the Air Force's Air Mobility Command (AMC) awarded a $9.36 million contract for up to 18,000 iPads as part of an ambitious project to replace flight manuals with state-of-the-art tablets. Contractor
Executive Technology
clinched the deal to deploy the so-called Electronic Flight Bags (EFBs).
Also see:
Afghanistan: Air Force Downtime in Kandahar
AMC, which provides Air Force cargo, passenger transport, refueling and
services, aims to boost efficiency
and
save millions of dollars through the tablets. For a typical aircrew, this means doing away with dozens of manuals containing literally tens of thousands of pages of information.
"We're saving about 90 pounds of paper per aircraft and limiting the need for each crew member to carry a 30 to 40 pound paper pile
of flight manuals," said Major Brian Moritz, EFB program manager, in a phone interview. "It adds up to quite a lot of weight in paper."
The weight savings vary by aircraft across AMC's vast airfleet, from as much as 250 pounds in a four-person C-17, up to 490 pounds in a hulking C-5 with its 10 crewmembers.
Also see:
Rogers: Inside the Busiest Restaurant in Afghanistan
This journalist saw one of these iPads in action during his recent
with the U.S. Air Force. In addition to easing the physical burden on aircrew, who no longer need to haul heavy flight manuals, the Department of Defense is also making big financial savings.
"By removing all that paper, AMC will capture about $750,000 in fuel savings
annually just based off the decreased weight," said Moritz.
Also see:
Afghanistan: How Medical Technology Is Saving Lives
Removing the need to print and distribute thousands of flight manuals, however, equates to an even greater cost saving. "It comes out to just over $5 million a year," noted Moritz. "With fuel savings, it comes out to $5.7 million annually in pure cost. When you look at $5.7 million a year, over 10 years, that's well over $50 million."
Some 16,000 of the third-generation iPads are now being used by AMC aircrew, with the contract's remaining 2,000 iPads deployed across other Air Force units. The device's 9.7-inch display, its user interface, and the ability to access information rapidly were all key selling points, according to Moritz.
Even the simple "CTRL F" word search function, for example, is a huge time saver, something that could be crucial in an emergency. "Say that you have an engine problem or an engine fire over the North Atlantic," said Moritz. "Having a device that you can use the search function and quickly pick out key words will drive you to a deeper level while you're pushed for time."
Like any electronic device used by the military, security is of paramount importance. "The camera and the Wi-Fi are turned off unless the device is in a pre-determined, undisclosed location where its OS certificates can be updated," said Jeff Shields, advanced technologies branch chief in AMC's Communications Directorate. "They are allowed to enable that wireless for a minimal pre-determined amount of time -- we coordinated long and hard to develop some pretty clear guidance documentation that went out to all units."
Clearly, the EFB trend is taking off. The Air Force's Global Strike Command, for example, recently advertised for a contractor to supply 700 to 1,000 EFB application licenses.
Apple sold 19.5 million iPads during its recent fiscal second quarter, up from 11.8 million in the year-ago quarter.
-- Written by James Rogers in New York.
>To submit a news tip, send an email to:
.