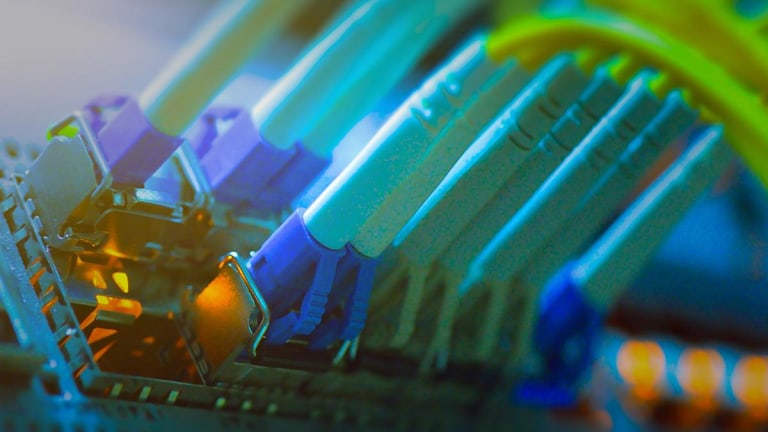 Adtran Stock Slumps on Weak Sales Preview and MKM Downgrade to Neutral
Adtran stock yields more than 4%. But it's slumping after the networking-equipment company estimated a third-quarter sales miss and a loss, and saw its rating and price target cut at MKM Partners.
Adtran (ADTN) - Get Free Report  stock was downgraded to neutral from buy by MKM Partners' analyst Michael Genovese.
The stock is a "show-me story that could take time to bring many investors back from the sidelines," Genovese said, lowering his price target to $11 from $17. That $11 level is the lowest on Wall Street.
Shares of the Huntsville, Ala., networking and communications equipment provider finished Thursday trading at $8.81, off 19%.
The slump reflected the downgrade and the company's disclosure of a preliminary third-quarter sales miss stemming from a "continued decline in orders at Deutsche Telekom (DTEGY) and a pause in shipments to Telmex."
The German and Mexican telecom companies were both 10% customers for Adtran in the second quarter, according to Bloomberg.
Needham analyst Richard Valera said Adtran's issues with Deutsche Telekom and Telmex are "typical of the volatility Adtran faces in dealing with its large carrier customers," Bloomberg reported.
Each of the six analysts surveyed by FactSet has a hold rating on Adtran. The average price target is $12.80. Adtran's dividend yields 4.1%.
Valera reiterated his hold rating, said he did not "see a clear path to sustainable levels of profitability that would justify a more positive stance" on the company.
Based on preliminary information, revenue for the quarter is expected to be about $114 million. The FactSet consensus is $135.8 million.
For the quarter, Adtran expects a loss of about 96 cents a share on a GAAP basis, or an adjusted loss of 6 cents. The FactSet consensus is a profit of 2 cents a share.
The bottom line is expected to be hurt by a one-time non-cash valuation allowance of about $37 million. The item will be recorded to income tax expense, to reduce the carrying value of the company's deferred tax assets, Adtran said.
"Our revenue this quarter has been significantly impacted by a pause in shipments to a Tier 1 customer in Latin America and the continued slowdown in the spending at an international Tier 1 customer," Chief Executive Tom Stanton said in a statement.
"With the exception of these two large customers, revenues generated from the rest of our business grew 20% over the previous quarter.
"Although we expect our Latin American customer sales to rebound, our current visibility regarding timing is limited. For the international Tier 1 customer, we expect that sales should resume with the new capital cycle in 2020."
For Q4 Adtran expects revenue to range from flat with to slightly down from the third quarter's figure. FactSet's Q4 revenue estimate is $132.1 million.