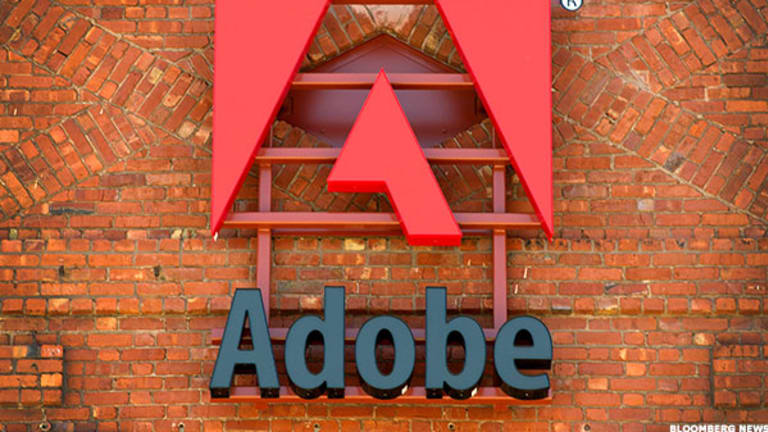 Adobe Flies High With Creative Cloud: What Wall Street's Saying
Analysts applaud a jump in users but express disappointment with the company's third quarter expectations
NEW YORK (TheStreet) -- Adobe Systems (ADBE) wowed analysts Wednesday by attracting more subscribers than expected to its suite of design software. 
The 639,000 new subscribers who signed up for the San Jose, Calif.-based company's Creative Cloud in the second quarter beat the expectation of 575,000. The rise came after a lower-than-expected first quarter  in which the company added 517,000 subscriptions, compared to analyst estimates of 573,000.
That helped drive revenue for the quarter to $1.16 billion, right in line with an average of analyst expectations calculated by Thomson Reuters. Earnings per share went above the adjusted 45 cent estimate to 48 cents. 
Despite the upbeat news about Creative Cloud, analysts were take aback by Adobe's guidance for the third quarter. Along with the other earnings data released after the market closed Tuesday, the company said it expects third quarter revenue of between $1.175 billion and $1.225 billion. That isn't as high as the $1.25 billion analysts in a Thomson Reuters survey were hoping for.
Adobe shares, at $79.28, are off close to 1% Wednesday but up 9% for the year to date.  
While some noted the poor projections for the third quarter, analysts cited the news on Creative Cloud users as they boosted price targets for the stock. 
Here's what a few had to say:
JPMorgan analyst Sterling Auty (Overweight, $91 PT):
"The most critical metric, in our opinion, for this quarter was the number of newCreative Cloud subscribers added. This metric declined sequentially last quarter forthe first time since the beginning of the subscription transition. So the 24% sequentialjump is what the stock needed, in our view. Now, focus can shift to ARR (annualrecurring revenue) and the acceleration in the income statement in 2H15. The onlything that marred the quarter from providing the stock a big lift is the incremental FXimpact that provides an incremental $80M headwind for FY15."
Pacific Crest Securities analyst Brendan Barnicle (Overweight, $90 PT):
"Results were strong, with impressive upside to ARR, new subscribers and operating cash flow. The company also saw continued stabilization in average revenue per user. ARPU should drive long-term upside... Adobe lowered guidance for FX impacts, but based on the FQ2 cash flow upside, we are increasing our F2016 FCF estimate to $2.87 from $2.57 and increasing our target to $90. All of the changes to guidance were based on FX. Despite FX headwinds, the company increased its ARR guidance. We are lowering our FQ3 EPS estimate, but our F2016 EPS estimate remains $2.10, which is above guidance of $2.05."
JMP Securities analyst Patrick Walravens (Outperform, $85 PT):
"The main positive is that Adobe handily beat the Creative Cloud subscriber estimates (it added 639K vs. consensus of 575K), making up the 56K shortfall from last quarter and supporting the view that Adobe is on track to achieve its target of 5.9M subscribers by year end. On the negative side, Adobe's F3Q15 guidance was disappointing with revenue of $1.175-$1.225B, up 17-22% y/y (consensus $1.24B, up 24% y/y), and non-GAAP EPS of $0.45-$0.51 (consensus $0.54), although it maintained full-year guidance. We maintain our FY15 non-GAAP EPS estimate of $2.09 (consensus $2.08), reduce our FY16 non-GAAP EPS estimate from $3.49 to $3.46 (consensus $3.22), and maintain our FY17 non-GAAP EPS estimate of $4.15 (consensus $4.05). Adobe currently trades at a 2016E P/E multiple of 23x and a 2017E P/E multiple of 19x, while our new $85 price target implies multiples of 25x (roughly in line with Adobe's projected revenue growth rate in 2016) and 20x, respectively (vs. 2016E P/E multiple of 23x prior)."
Deutsche Bank analyst Greg Poole (Buy, $85 PT):
"Full-year guidance remains unchanged, allowing headroom. Adobe reported solid 2Q15 results with revenue/EPS of $1.16b/$0.48, ahead of consensus est of $1.16b/$0.45, from healthy Creative Cloud revenue, as net CC subscriber adds grew 37% y/y to 4.6m. Management trimmed revenue guidance for FX but left guidance for key metrics unchanged: 5.9m CC subs and 30% MC bookings growth. We see ADBE continuing to outperform with an expanded product suite and improving competitive position. Reiterate Buy and $85 PT."
This article is commentary by an independent contributor. At the time of publication, the author held no positions in the stocks mentioned.