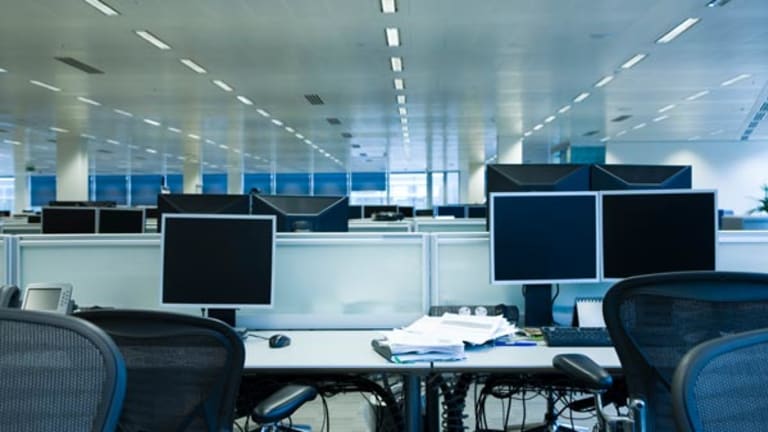 Adobe CFO: Flash Debate Won't Hurt Sales
Adobe CFO Mark Garrett addresses the battle over Apple and Flash, remains bullish on Google's Android OS.
NEW YORK (TheStreet) -- Near the center of the smartphone OS war sits Adobe Systems (ADBE) , the 28-year old Silicon Valley software firm whose multimedia products, namely Flash, help developers create cutting-edge apps.
has been the subject of many recent headlines, first for getting
slammed by Apple
CEO Steve Jobs and, more recently, on rumors that
Microsoft would take over the company.
To dispel some of the talk,
TheStreet
caught up with Adobe's CFO Mark Garrett earlier this week at a New York City investor conference. Garrett gave us his thoughts on the company's push into the mobile app space, acquisition rumors and the debate over Flash.
The transcript has been edited for clarity and length.
TheStreet: Adobe has been making a huge push into the app space, announcing last month that its AIR software would be available for mobile, tablets and TVs. What type of revenue opportunity do you see from expanding Adobe's scope?
We're going to be on millions and millions of
Google
(GOOG)
Android devices, as well as other operating systems once they're launched. We're becoming the platform of choice for global developers because we make content distribution seamless. If you're trying to create content for a PC, TV, mobile phone or a slate device, we help you create it once, and then deploy it everywhere.
Mobile is just another platform, and it's going to be one of the biggest ones -- obviously. In the short term, we'll sell more development tools. Developers making content for mobile will buy our applications and our software packages.
Is Microsoft's (MSFT) Windows Phone 7 a platform you're focused on?
We're going to focus on all of the non i-Device manufacturers.
Adobe is slowly transitioning its business model from one where creative business was the primary growth driver to one that's more enterprise-focused. Why is this transition is taking place? What are some of the key initiatives or products the company is launching in line with this shift?
The big transformation for us is moving from a shrink-wrap desktop company to a major player in the enterprise space, and there are three major trends that we're going to capitalize on.
One is the trend towards multi-screen devices and our ability to migrate more and more content to these types of devices. The second is data-driven marketing -- the ability for people to really understand where to put their marketing dollars and how to analyze and optimize that market spend.
The third big trend is the consumerization of IT. Consumers use applications like iTunes at home, but then use these very archaic applications with terrible interfaces at the office. People don't want that anymore ... they want all interfaces to like
Facebook
or iTunes. We're really looking at customer experience management where we can help make the interface to application much more design-oriented, which is where our strength is.
There's been recent speculation that Microsoft could team up with Adobe to better compete with Apple (AAPL) in the mobile space. Could you comment on the nature of that relationship?
We're not going to buy Microsoft. I can't speculate on acquisitions. We'll partner with all large tech companies. To some extent we partner with Apple still, and we partner and compete with Microsoft and Google. That's just the nature of the business these days.
I can't comment on our specific partnership with Microsoft, but the relationship is good.
Adobe has been fairly acquisitive in the last year, with purchases of Omniture and Day Software. What is Adobe eyeing going forward in terms of M&A?
We want to be a $5 billion company by 2012. If you do the math on that, and say that we grew in the low double digit percentages, there's a few hundred millionish we'd need to acquire. We're not obsessed with getting to $5 billion just by doing M&A. That doesn't make sense, but odds are we'll do smaller deals.
The only two large deals we've done in our history were
Macromedia
in 2005 for $3.4 billion and Omniture
in 2009 for $1.8 billion. We'll likely do more acquisitions that are similar in size to Day.
We'd look at acquisitions in the space around Omniture to fill out its product line, and in the enterprise market.
A few months ago, Adobe said that sales of its software packages have not been hurt by its public battle with Apple over Flash. However, the company's stock is down almost 13% in the last 6 months. Does Apple's decision not to offer Flash on its iPhone and iPad devices hurt Adobe's financial performance or are investors overreacting?
From an investor perspective, they're overreacting. It's not going to impact our revenue stream. If you look at our software sales, they haven't been impacted on this debate over Flash vs. HTML5. We'll support both. People are still going to develop content using our tools, it's just a matter of which way they go -- Flash or HTML5.
How did Apple's decision in September to loosen up restrictions on iOS development impact Adobe?
It helps a little bit from an investor perspective. However, it's not what we'd ultimately like. We'd like Apple's platform to be more open and support Flash on the iPhone or iPad, but that's not going to happen. In the meantime, we'll work with everybody else.
Some critics of Flash -- including Apple CEO Steve Jobs -- say it is losing relevance, and that the technology suffers from reliability and security issues as HTML5 continues to gain ground.
It's honestly just not true. Flash's relevance is as strong as it's ever been, and adoption with the latest version of Flash has been faster than it's been for any other version. There's a lot of use cases for Flash, and some for HTML. We'll support both.
Any thoughts about the new Skyfire app that bridges Flash video to the iPhone?
Anything that helps the Flash ecosystem is helpful to Adobe.
--Written by Olivia Oran in New York.
>To follow the writer on Twitter, go to
.
>To submit a news tip, send an email to:
.