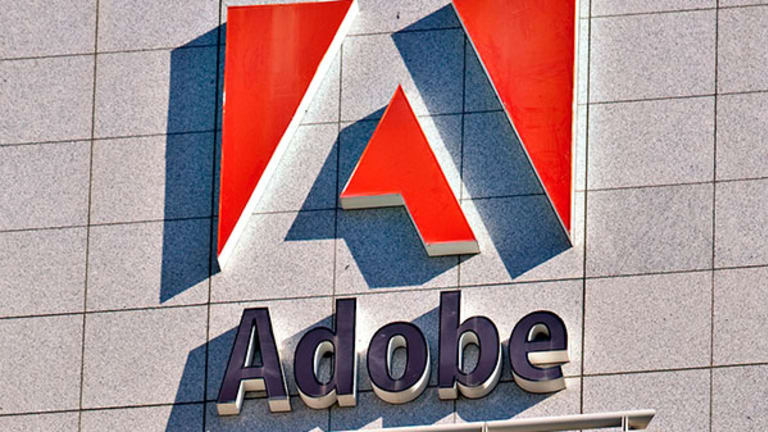 Adobe Cashes In On Cloud
Adobe beat analysts' first-quarter forecasts this week, fuelled by strength in the company's Creative Cloud and Marketing Cloud products. Wall Street welcomed the numbers, highlighting ongoing demand for the services.
NEW YORK (TheStreet) -- Adobe (ADBE) - Get Adobe Inc. Reportbeat analysts' first-quarter forecasts earlier this week, fuelled by strength in the company's Creative Cloud and Marketing Cloud products. Wall Street welcomed the numbers and highlighted ongoing demand for the services, which let creative and marketing professionals share their files in the cloud.
"ADBE continues to add CC subscribers at a rapid pace, and subscriber targets appear increasingly conservative, in our view," wrote Evercore Partners analyst Kirk Materne, in a note. "We expect ADBE will continue to incentivize Creative Suite (CS) customers to migrate to the CC offering, and note that the company's plans to pull CS6 perpetual licensing from the channel will likely only accelerate the transition. Combined with the 'major update' to Creative Cloud within the next few months, we believe the company is well positioned to continue to drive the transition to a more ratable model on the creative side of the business."
The San Jose, Calif.-based firm ended the quarter with 1.84 million paid Creative Cloud subscriptions, an increase of 405,000 from the prior quarter.
Materne, who has an 'overweight' rating and $75 price target on Adobe, expects good things from Adobe's Marketing Cloud. "We continue to believe that ADBE's comprehensive suite of digital marketing offerings positions the company well as CMOs and marketers increasingly seek out 'one pane of glass' for their marketing initiatives," he wrote.
Adobe brought in total first-quarter revenue of $1 billion, at the high end of its $950 million to $1 billion target range. The company's Marketing Cloud revenue was $267 million, a year-over-year hike of 24%.
"After a strong quarter of results beating consensus across the board, we believe that ADBE will continue to benefit from the Creative Cloud offering adoption for increased market share, while converting massively to a recurring subscriptions model," wrote Sterne Agee analyst Robert Breza, in a note released on Thursday. "In our opinion, ADBE is well on its way to posting $2.00 in EPS in FY15 and greater than $3.00 in FY16."
More than half of Adobe's first-quarter revenue came from recurring sources, such as Creative Cloud subscriptions and the Marketing Cloud.
Speaking during a conference call to discuss the results, Adobe CFO Mark Garrett noted that recurring sources accounted for 52% of the firm's total revenue, which he described as "truly a major milestone" in the company's transformation.
Sterne Agee, which has a 'buy' rating and $80 price target on Adobe, also expects the company's Digital Marketing summit next week to serve as a catalyst.
Adobe shares, which have gained 14.83% this year, rose 1.69% to $68.77 during Thursday trading.
--Written by James Rogers in New York.
>Contact by Email.