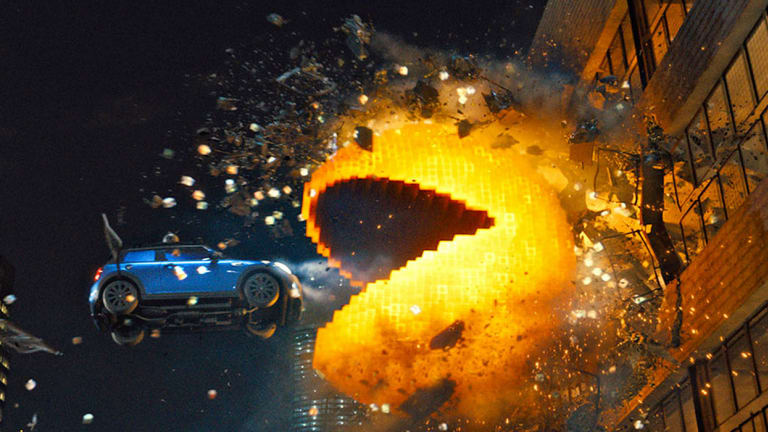 Adam Sandler's Parting Gift for Sony Pictures Is Another Dud
The star comedian's departure from his longtime home at Sony Pictures to Netflix could be addition by subtraction for the Hollywood studio, whose new boss is looking to cut costs.
LOS ANGELES (TheStreet) -- In a summer of success at the box office, Adam Sandler's sci-fi comedy Pixels appears to be another clunker for the comedian and for Sony's (SNE) - Get Sony Corp. Report Sony Pictures Entertainment. But there's a silver lining: Sony and Sandler probably won't work together much any more.
Sandler, 48, who will lend his voice again to Sony's upcoming animated film Hotel Transylvania 2, has no other films in the works at the studio and is in the midst of a four-film deal with streaming service Netflix (NFLX) - Get Netflix, Inc. Report, effectively putting a hold on future work for Hollywood's biggest studios.
Pixels' draw of $24 million at the domestic box office over its just-completed opening weekend is a fitting send-off to Sandler's relationship with Sony. The film is a mostly critically panned, expensive project that leaves the studio with $88 million in costs and slow ticket sales.
Sandler's departure could turn out to be addition by subtraction for the studio under new boss Tom Rothman, a known cost-cutter who has emphasized better stories and quality production over higher-priced talent.
Pixels, about an alien invasion that takes the form of early video games, fell below opening weekend expectations of $39 million forecasted by Boxoffice.com and $30 million by Wells Fargo analysts. The film pegged to top the box office was edged out by Disney's (DIS) - Get Walt Disney Company ReportAnt-Man at $24.8 million in its second week.
Pixels cemented Sony's quiet year at the box office, too. While overall ticket sales are up 8.9% domestically, the studio has grossed some $240 million on the year -- less than expected.
Although Sony had pinned its light summer lineup hopes on Pixels, the movie performed more or less in line with how Sandler's films have done over the past few years, said Rentrak box office analyst Paul Dergarabedian.
"The issue is that it's a pretty expensive movie," Dergarabedian said. "Where they [Sony] are going to make up a big part of the revenue is going to be in the overseas market. That's going to be very important."
Top summer films gross about 70% of ticket sales outside of the U.S. and Canada on average, Dergarabedian said. Although studios usually have lower margins abroad, Pixels has already taken in $25.4 million overseas. Early on in production, the studio made sure to scrub a scene where aliens put a hole in China's Great Wall to improve chances of a release in the country.
Sandler's exit from the traditional studio system for Netflix should be an arrangement that suits both the actor and the streaming service. The former Saturday Night Live star -- whose films have grossed $4.3 billion worldwide since his 1995 debut Billy Madison -- gets to make movies without the glare of producing a box office hit. Netflix gets the original content consumers crave.
"Adam Sandler's audience is really no longer there theatrically like it once was," Exhibitor Relations box office analyst Jeff Bock told Variety. "They're not following him any more.... It's not that Netflix is purgatory, but he probably wouldn't have made that deal if his films were still doing $100 million or more at the box office."
Sandler's move to Netflix demonstrates how film production has become more fractured and varied with the rise of streaming and video on-demand. But it also signifies that with new media, there are still pastures for A-listers past their big-budget prime.
Chances are Netflix won't need Sandler to draw like his old self for a movie to make sense financially. Although Netflix does not release viewership figures for its programming and the service's flat monthly fee makes an equal comparison to a theatrical release difficult, Netflix would only need about a tenth of its 65.5 million subscribers to tune in to replicate the number of moviegoers for a $50 million film domestically.
Still, even if Sandler goes on hiatus from theaters during his Netflix deal, don't expect the prolific comedian -- Sandler appeared in 21 Sony films in the last 16 years -- to stay away from studio fare forever. 
"He still is a major movie star," Dergarabedian said.
"The Netflix deal is very smart for him," he added. "But I don't think this is the end of his big screen endeavors."
This article is commentary by an independent contributor. At the time of publication, the author held no position in the stocks mentioned.