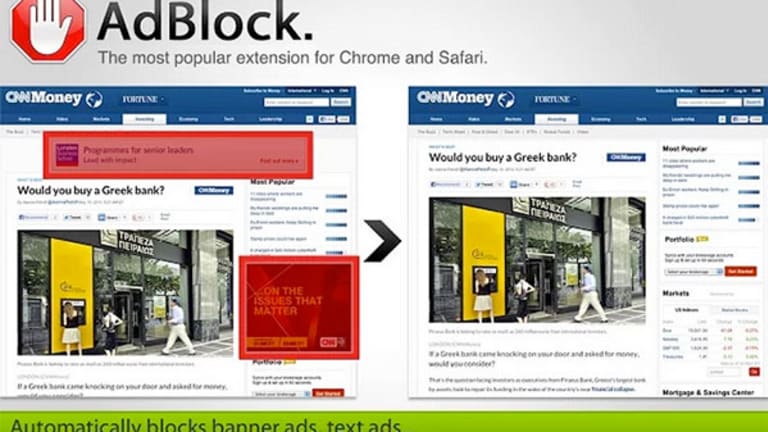 Ad-Blockers Squeeze Publishers While Netflix Benefits
With ad-blocking technology rising in popularity, and subscription services like Netflix pledging not to use ads at all, Internet companies that depend on advertising must reevaluate their revenue models.
NEW YORK (TheStreet) -- When rumors swept the Internet earlier this summer that Netflix (NFLX) - Get Netflix, Inc. (NFLX) Report would soon start running commercials, customers of the streaming platform collectively freaked out.
Faced with an onslaught of social media condemning the move, Netflix CEO Reed Hastings was quick to put the kibosh on any talk of advertising. Hastings took pains to emphasize that Netflix had only engaged in user testing to gauge the possibility of offering short trailers for original programming, similar to the previews Time Warner's (TWX)  HBO shows before streams. "No advertising coming on Netflix," Hastings wrote on Facebook (FB) - Get Facebook, Inc. Class A Report. "Period."
While it might be difficult to understand why a subscription service would take such a firm stance against third-party advertising, given the potential of additional revenue, it's easy to see why consumers were so outraged.
"People hate advertising," said Deacon Webster, chief creative officer at Walrus, a New York advertising firm. "It's reached a point where people are getting really annoyed with the way it's altering their Web experience." 
The collective distaste for advertising, including pop-ups, auto-play videos and other invasive ads, has spawned a growing ad-blocking industry, and consumers are increasingly adopting the technology. A joint report released in September 2014 by Adobe Systems (ADBE) - Get Adobe Inc. Report and advertising consulting startup Pagefair revealed that ad-block usage had grown 70% since 2013.
Apple (AAPL) - Get Apple Inc. (AAPL) Report jumped on the ad-blocking bandwagon this summer, announcing on the last day of its June Developers' Conference plans to introduce built-in ad blocking for its mobile and computer operating systems.
The new extension, Apple promised, will block unwanted content (read: advertising), allowing Web pages to load faster, which will in turn decrease the network activity that often sucks up iPhone battery life.
That's great news for consumers, but what about the Internet companies whose revenue models depend on advertising? With users increasingly able to block online advertisements, media outlets and other content providers could find themselves in financial trouble.
One solution, Webster says, is to develop technology that will combat ad-blocking technology. But the adoption of such a strategy could result in an online arms race -- and only result in further alienating consumers.
Instead, Webster proposes, Web publishers must consider adopting a premium model, similar to that of Spotify, that affords users the option of either streaming music for free, and putting up with occasional advertisements, or paying a subscription to listen to music free of advertising.
Even better, advertisement creators like Webster could keep consumers from turning to ad-blockers by simply producing better ads. As UnivisionCommunications Chief Strategy and Data Officer Kevin Conroy argued in a recent piece for Ad Age, ads are not universally hated. TV viewers still look forward to Super Bowl commercials, after all.
"We are always keeping the consumer in mind when we're making the ad," Webster said. "Our thought process is, I know I'm an ad, you know I'm an ad, let me at least entertain you."
If the quality of advertising is improved across the Internet, consumers will be less driven to adopt ad-blocking as a means to get away from it. Commercial breaks may never be seen as preferable to an uninterrupted marathon of Mad Men - but that doesn't mean they can't be enjoyable.
This article is commentary by an independent contributor. At the time of publication, the author held no positions in the stocks mentioned.