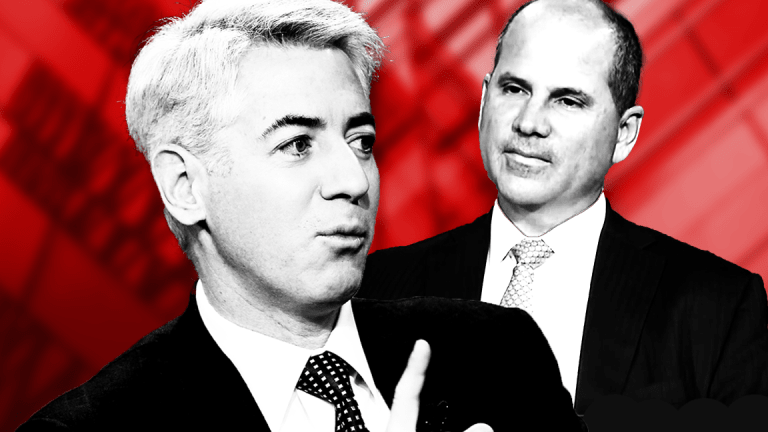 Bill Ackman Overwhelmingly Loses ADP Battle in Latest Blow to Activist Investor
The insurgent hedge fund manager, who suggested he may be back in 2018 with another boardroom battle, fails in his effort to elect three dissident directors to the board of the payroll processor.
Embattled billionaire activist Bill Ackman on Tuesday, Nov. 7, overwhelmingly lost his bid to shake up the board and massively restructure Automatic Data Processing Inc. (ADP) - Get Automatic Data Processing, Inc. Report  in a definitive blow to the fund manager who has had a string of failures in recent years.
Specifically, ADP shareholders voted to re-elect all of the payroll company's directors, bringing to a conclusion probably the most heated director fight of the year and one in which many investors and outside observers were left scratching their heads. Ackman had been seeking a minority slate of three seats on ADP's board, including one for himself with a campaign in which he had argued that the payroll processor's board's problems, from a share-price performance perspective, lay ahead of it. 
But investors weren't interested or simply couldn't wrap their head around Ackman's arguement. According to ADP, Ackman and his two other candidates received support from holders of less than 25% of the shares voted at the meeting. However, Ackman disputes ADP's count, insisting that he received 31% of the shares voted. He also noted that about 14% of shares voted to "withhold" against ADP director Eric Fast, all of which he argues sent a message suggesting that a large minority of investors backed his candidacy. 
Nevertheless, Ackman still fell far short of winning the contest. A key blow for Ackman came last month from influential investor advisory firm, Institutional Shareholder Services, which recommended that investors oppose Ackman's three candidates based on the argument that incumbent directors had presided over a "period of strong long-term total shareholder returns and shareholder-friendly corporate governance."
Ackman wanted ADP to focus more on innovation and technology, integrate operations and its head offices and ax some of its 130 offices around the U.S., which he insisted had real estate value and were a "vestige" of a previous era when payroll service companies needed costly physical offices in a variety of locations. He also argued that ADP needed to substantially reduce its layers of management to compete smaller rivals, with better focuses, such as Paychex.
On Tuesday, Ackman suggested that the risks that ADP doesn't heed key risks are meaningfully lower than 90 days ago, when he had launched the battle. "ADP's shareholders and management are now fully informed about the opportunities for improvement, and the risks of management's failure to perform," he said. "All of us have seen far too many great and dominant companies -- think Kodak, Polaroid, IBM to name a few -- disappear or fade away because of complacency, an unwillingness to take new competitors seriously, resistance to change, and deteriorating culture."  
Ackman also suggested that he will hold ADP accountable for a variety of commitments they have made in response to his campaign. "Here's to hoping that the company delivers and we don't need to run for election next year," Ackman said.
Right from the beginning, it was clear that Ackman and ADP CEO Carlos Rodriguez weren't going to get along. In August, Rodriguez interrupted Ackman's vacation by disclosing his campaign with a release noting the insurgent investor wanted to take over the board and install five dissident director candidates. In an early interview on CNBC, Rodriguez called Ackman a "spoiled brat" who did not "do his homework" for his approach to ADP. 
On Tuesday, Rodriguez said in a statement that he plans to maintain an active and productive dialogue with shareholders as we "continue to transform ADP's business and create value for all of our stakeholders."
The two sides had engaged in heated rhetoric about Ackman's strategy for the company. Rodriguez suggested recently that Ackman's goals at ADP could only be achieved fast by eliminating 15,000 to 20,000 of its 58,000 employees. Ackman responded in an interview with TheStreet suggesting that Rodriguez was engaging in scare tactics.
Nevertheless, Ackman's strategy for restoring growth at ADP has a number of elements that appear to indicate that some employees would be let go.
In a recent presentation, Ackman focused some attention on Roseland, N.J.-based ADP's real estate footprint, with 130 offices around the U.S.  He added that ADP owns nearly 4 million square feet of real estate, which he argued "is going to have value." The comments suggested that Ackman believes that some offices could be closed and the real estate sold. In addition, he reiterated that ADP's corporate headquarters are located in multiple offices in various locations that should be consolidated. However, the suggestions appeared to represent too much for investors. 
The loss is the latest blow to Ackman who has experienced a rough couple of years. Ackman has had serious troubles with investments in Valeant Pharmaceuticals International Inc. (VRX) , Chipotle Mexican Grill Inc. (CMG) - Get Chipotle Mexican Grill, Inc. Report and a large short position in Herbalife (HLF) - Get Herbalife Nutrition Ltd. Report , which was recently converted to what Ackman had described as a "modest position." 
Pershing Square Capital Management reported an abysmal loss of 20.5% net of fees for 2015 and a loss of 12.1% after expenses for 2016, even as the post-Trump stock market rally helped bolster other Pershing Square investments. As of Oct. 31, the fund had a loss of 3.3% net of fees for the year. 
Even though Ackman lost the boardroom battle, he still may do well on his investment. ADP's shares are still well above Ackman's cost basis of roughly $104 a share. ADP's shares spiked up significantly in late August after the first reports that Ackman had a campaign underway at ADP. 
Pershing Square bought its initial 8.3% stake between June 8 and Aug. 4 at prices ranging from $100.53 a share and $118.13 a share. Not many funds publicly release their voting tallies. However, the California Public Employees Retirement System, which opposed Nelson Peltz's effort to gain a seat on Procter & Gamble's board, reported Tuesday that it had voted its 0.24% stake against Ackman's candidates. The Ontario Teachers' Pension Plan, however, said it voted its small stake for the dissidents.
Strategic Governance Advisers, an affiliate of Sard Verbinnen & Co., is advising ADP. One of SGA's founding partners is Chris Cernich, who was managing director at ISS for six years until November 2016. Sard Verbinnen is also providing strategic communications advice to ADP and Innisfree M&A is the payroll processor's proxy solicitor for the contest. ADP also hired investment banks Morgan Stanley and Goldman Sachs to advise it on how to handle Ackman. It also retained Paul, Weiss partners Scott Barshay, Steve Williams and David Klein for legal advice.
D.F. King & Co. Inc.'s Ed McCarthy provided proxy solicitation assistance to Ackman and Rubenstein is providing external strategic communications assistance. Cadwalader, Wickersham & Taft's Richard Brand and Gregory Patti, are providing Ackman with legal assistance. Global Strategy Group managed Ackman's print and social media and Haystack Needle created the fund's video production, website and webinars.
Check out our full interview with Bill Ackman:
This story has been updated to include a statement from Bill Ackman.
More of What's Trending on TheStreet: