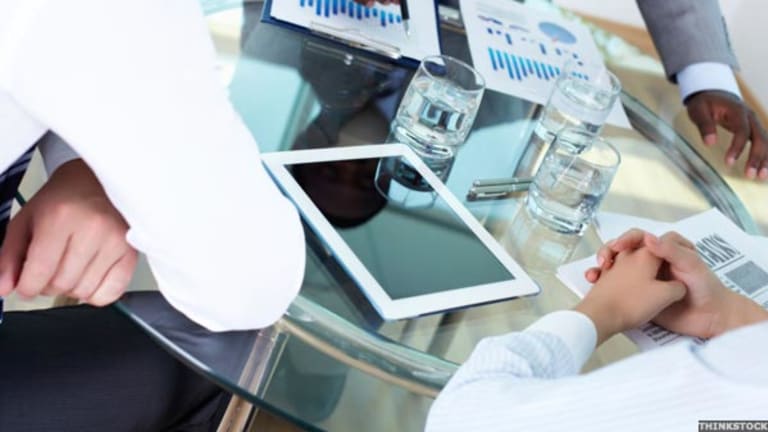 Accel Partners Leads $50M Series C Funding in DataGravity
DataGravity hopes its offerings will help businesses understand what's in all that data and how best to visualize it so the data fit their needs.
NEW YORK (TheStreet) –– Awash in data, the world's trying to store it all and figure out what to do with it. Enter start-up DataGravity, which hopes its offerings will help businesses understand what's in that data and how best to visualize it so the data fit their needs.
Nashua, N.H.-based DataGravity announced it raised $50 million in a series C round, led by well-known venture capital firm Accel Partners. DataGravity seeks to provide an integrated storage array, helping both state and local governments, as well as small and medium-sized businesses, understand what to do with the data they're generating.
"We're helping business not just store the data, but giving them insights on it and security on how to protect it," said Paula Long, CEO of DataGravity, in a phone conversation with TheStreet.
Prior to the Series C funding, DataGravity raised money in two rounds -- a $12 million round and a $30 million round. Included in the Series C funding are venture capital firms such as Andreessen Horowitz, CRV and General Catalyst Partners, who all previously invested in the company. In total, the company has raised $92 million from venture capital firms and its investors.
Long noted that the company just started shipping its Discovery Series products in the early part of October, and while she did not disclose exact figures noted there was "really healthy uptake" from its customers.
"We're targeted at mid-tier state and local governments, small manufacturing business and health care," she said. The Discovery Series was introduced in August, and allows businesses to have storage, data protection, governance and search and discovery in one integrated appliance.
Accel's Ping Li, who leads the VC firms' Big Data Fund, is joining the company's board in conjunction with the funding round.
"The DataGravity vision of the direction 'storage' should be going is very compelling and exciting. It is grounded in deep technical innovation -- businesses that deploy this technology will gain a competitive advantage," Li said in a prepared statement. "Speaking with DataGravity channel partners and customers crystallized the value DataGravity will bring to businesses. I look forward to working with the team as it makes storage data-aware for more organizations."
The funding will help the company with its sales force and marketing activities, as well as building out various product features. Long said the company is still using some of its B series funding, but did the C round earlier than normal because it wanted to get Li as a partner.
Li noted Accel believes in DataGravity and that its products are different than others in the storage market, as companies try to move past just the benefits of Flash memory.
"Paula and her team are just fantastic entrepreneurs," Li said in an interview with TheStreet. "They've proven their talents in the storage space and we believe they'll rethink the storage industry in ways that are unique --- in addition to storing files and data linking in the past, they're figuring out what is in that storage and the intelligence behind that that can help streamline product management and help businesses with their efficiency." Long was part of the team that helped build EqualLogic, before it was sold to Dell for $1.4 billion in cash in 2007.
"Accel has strong expertise in helping to build world class storage, big data and security companies, with a focus on customer success. This makes them the ideal Partner for DataGravity. We're excited to have Ping and Accel Partners joining our mission," said DataGravity's Long. "The enthusiastic support we have received from customers, partners, analysts and investors underscores the deep need in the market for data-aware storage that delivers a competitive business advantage."
Unlike EqualLogic, which was purchased by Dell, Long believes that DataGravity will go public but cautioned that it wouldn't happen any time soon.
"Right now, we view happy customers as the the only measure investors should look at," she said, when asked how investors would get a return on their investment. "We're likely to go public, but right now we're focusing on happy customers and long periods of growth."
-- Written by Chris Ciaccia in New York
>Contact by Email.