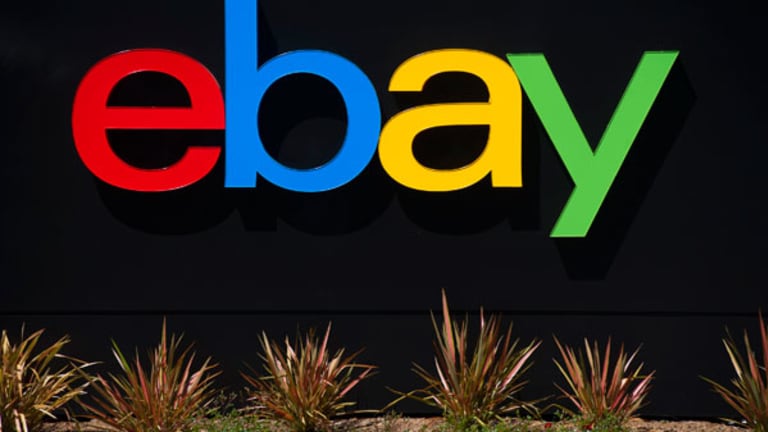 NEW YORK (TheStreet) - Carl Icahn has reached a settlement with eBay (EBAY) - Get eBay Inc. Report that ends a scorched-earth campaign run by the billionaire activist to have the e-commerce giant split its PayPal division and elect two of his board nominees. Instead, eBay and Icahn reached a settlement that will add David Dorman, a long-time director of Motorola Solutions (MSI) - Get Motorola Solutions, Inc. (MOS) Report, as an independent director to eBay's board.
eBay Needs PayPal to Fight Amazon
While Icahn will end a campaign to have the company split PayPal and remove some board members, the settlement opens up a dialogue between both parties Icahn believes may eventually lead to a PayPal spin-off. He called Thursday's settlement a "detente."
Icahn and eBay CEO John Donahoe will meet regularly to discuss the company's strategy. Meanwhile, Icahn will now have eyes and ears in eBay's boardroom through independent director, David Dorman, whom he's worked closely with in the past. Icahn also is now free to speak directly with eBay's top brass.
The settlement comes after a week of meetings between Icahn and eBay that appear to have ended with some common ground over the company's vision, and a slight change to status quo.
Should eBay execute on an ambitious strategy in 2014, Icahn's increasing voice within the company could lead to greater change in the future, or eBay may convince its most vocal of the benefits of the company's current structure and management.
David Dorman and Icahn's Motorola Breakup
Icahn suggested Dorman as an independent director to eBay's board. Dorman, 60, is a founding partner of Centerview Capital Technology and has a long experience on corporate boards. Currently, Dorman is chairman of CVS Caremark's (CVS) - Get CVS Health Corporation Report board of directors. He also was a board member of Motorola from 2006 to 2012, and became an independent director of Motorola Solutions when the business was spun off as a result of an activist campaign run by Icahn.
As part of Thursday's eBay settlement and Dorman's appointment, Icahn signed a confidentiality agreement covering any non-public information that directors and certain officers of the company may share with him. San Jose-based eBay also agreed not to adopt a policy precluding board members and executives from speaking with Icahn. The company "would advise them that they may speak to Mr. Icahn if they are willing to do so," eBay said in a statement.
Icahn said he has signed confidentiality agreements in the past and used them "with great success." He also said that he has entered into similar confidentiality agreements in the past, and that the settlement may help him discuss issues impacting eBay.
"We are happy to have reached this detente with eBay and believe that Dave Dorman will be a great addition to the company's board of directors," Carl Icahn said in a statement. "As chairman of Motorola, Mr. Dorman, working in tandem with our board nominees, guided the company through the successful separation of its mobile device and home businesses, which greatly enhanced shareholder value," he added.
No April Fool's Joke
The settlement appears to have been reached by way of a weeks' worth of discussions in April that included direct dialogue between Icahn and eBay CEO John Donahoe.
In those discussions, it appears Donahoe convinced Icahn of some of eBay's steps to grow the company and particularly its PayPal division, a leader in online and mobile payments. Icahn, however, said on Thursday he continues to believe eBay would benefit from a separation of PayPal at some point, and indents to press his case through a closer relationship with the company.
"I continue to believe that eBay would benefit from the separation of PayPal at some point in the near future and intend to continue to press my case through confidential discussions with the company," Icahn said.
Icahn and Donahoe have agreed to meet regularly in New York to discuss eBay's alternatives, a press release said. "We are very pleased to have reached this agreement with Mr. Icahn, settling proxy issues and enabling our board and management team to focus our full attention on a goal every shareholder agrees on - growing PayPal and eBay, and delivering sustainable shareholder value," John Donahoe, eBay's CEO, said in a statement.
"As a result of our conversations, it became clear that Carl and I strongly agree on the potential of PayPal and our company," Donahoe added. "I respect Carl's willingness to work together to drive sustainable shareholder value today and into the future. His record shows that he has done this with many other companies in the past.
"I look forward to helping drive growth for PayPal and eBay together," Dorman added in a statement.
The Initial Proposal
It is almost hard to remember all of the names Icahn called eBay during his three month activist play. Icahn accused eBay's management of being asleep, he said the board was conflicted, and he tried to make the case that the company's strategy was failing.
Icahn initially proposed eBay spin its PayPal division, freeing the unit to get a large strategic investor or a public market valuation. However, after conceding some synergy between eBay and PayPal Icahn amended his proposal to a 20% PayPal spin off that would lay bare all synergy and dis-synergies of the conglomerate structure. Icahn also tried to install two nominees to eBay's board of directors, but eBay stood firm.
In trying to resolve Icahn's hostile campaign ahead of the company's May 13 annual shareholder meeting, eBay appears to have opened up a dialogue. In the end, eBay and Icahn may wind up coming to complete agreement on the company's strategy. It will now come down to results.
-- Written by Antoine Gara in New York