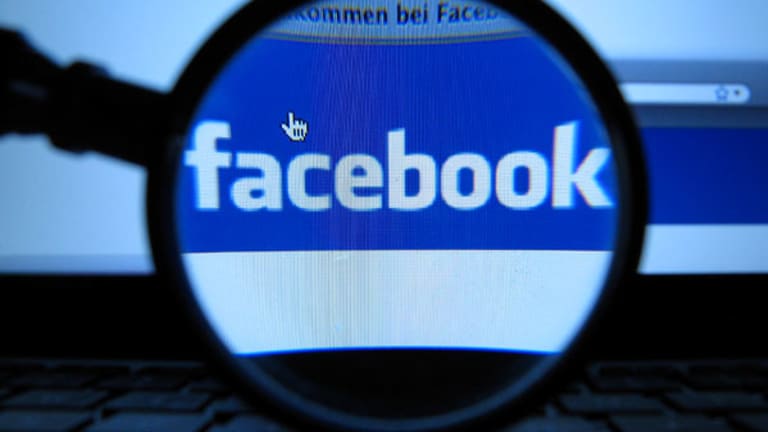 A Sneak Peek at What's Really Behind Facebook's Growth
Facebook has topped 1 billion users. These are the guys Zuckerberg has come to rely on to make that growth happen.
NEW YORK (
) --
Facebook
(FB) - Get Free Report
has experienced a tremendous amount of growth in recent years, as the social network is now well over 1 billion users and counting. Mobile advertising is now at the forefront of
, as the company ramps up its efforts in this area. However, with Facebook having trillions and trillions of pieces of data in its wares, it's a lot for any one person or group of people to look at, analyze and make use of. That's where Facebook's growth team, the guys CEO Mark Zuckerberg calls when he needs something done, come in.
Led by Javier Olivan, and responsible for a team of approximately 400 and actively growing, Facebook's growth team is the central data analytics team within the company. Think of them as a very elite team at Facebook that looks at and manages Facebook's most important strategic decisions.
"The Growth team was created in 2007, about when I joined the company," Olivan, VP of Growth and Analytics at Facebook, says in an interview. "The idea was basically to look at all the possible things to learn about what influences how Facebook grows, and focus on those metrics."
Olivan and his team use a wide variety of metrics to work on the products Facebook is putting out, whether it be Messenger, Facebook's app, the Web site, etc. Sometimes, the team builds entire products, like Facebook for every phone, and other times, it's about fine tuning products, optimizing certain areas to help give users a better Facebook experience. "All these things where you come and sign up for the site, all these new users' experiences, we optimize those things."
The normally media-shy group doesn't grant interview requests often, and very rarely speaks about what it's working on. Yet, when you consider just how much data Facebook is receiving on a day-to-day basis (Olivan said his team looks at terabytes of data daily, localized in house using various software programs to make sense of it), you begin to realize just how important the Growth team is.
It's worked on a wide variety of different products, sometimes building products entirely, other times, providing support and services to products. "There are products where we just supply the analytics to the teams with data, and they do a great job with it, and it all works fine. Other teams, we get a little more involved with and help them a little bit more." The group now consists of more than just analysts, including a marketing team. The analysts however, are the heart and soul of the Growth team, coming from a wide variety of backgrounds, including engineers, computer science, and Wall Street.
Some of the best analysts on the team have come from hedge funds, where they've spent countless hours analyzing and looking at data, trying to find fair value of companies or various products. "Guys have accidentally landed here
at Facebook," Olivan noted. "They are definitely some of our top performers."
The skill set involved makes it an obvious jump from the fast-paced, suit-wearing environment of Wall Street, to the laid back, casual attitude of Silicon Valley. Olivan, one of Zuckerberg's top lieutenants at the social networking behemoth, is dressed in jeans and a t-shirt during the interview, showing off the dichotomy between East and West.
For a company awash in data, and getting every detail right, fate has helped comprise the team of some of its best performers. "Guys have accidentally landed here, Olivan says, himself being a former Product Manager at
Siemens Mobile
, prior to joining Facebook in 2007. "Maybe they
analysts don't think their skills are sought after on the West Coast, but there's a new completely new world for them and a chance for them to new skills, and they're enthralled by all the data we have."
Not only is this important to Facebook, but other technology companies in the Valley as well, as data analysis continues to become more important. Zuckerberg and a host of other tech leaders have said matching skilled labor with job openings is becoming increasingly difficult. President Obama is working on immigration reform in Washington and Zuckerberg's recently launched FWD.us program, designed to speed up the immigration process and further advance reform, is a shining example of what Facebook's Growth team is looking for.
The team gets involved in almost every areas of Facebook. Whether it's Places, Messenger, Platform, Games and even helping the Revenue team, the Growth division is partly responsible for Facebook's enormous growth in revenue, which recently surpassed $1.8 billion on a
When asked specifically about how the Growth team affected revenue, the relaxed Olivan opens up even more, delving further into what goes behind the scenes. He notes that while Facebook is largely dependent on advertisers to grow its revenue (88% of second-quarter revenue was derived from advertising), it is also well equipped to give them what they want.
"Advertisers behave in similar ways to users and you can use similar frameworks to look at the data and see how they're behaving," he said. "The same ones you're using for users can be applied to developers and advertisers and build projects together."
The team, which provides centralized analytics for all of Facebook and its near 5,000 employees, has been able to increase the number of active advertisers, finding various ways to help them promote their products or brands (with
TheStreet
being an active promoter of its content), by doing simple things to make it easier for people. Whether that's working with the page administrator, tinkering with how the page looks, adding a profile picture, adding friends or other tasks, the Growth team is most likely responsible for it.
It wasn't always like that at Facebook, says Olivan, who holds a master's degree in business administration from Stanford University and master's degrees in both electrical and industrial engineering from the University of Navarra. In the early days of Facebook, it really wasn't a data-driven company, despite having treasure troves of data on its users.
"If you think of Facebook four or five years ago, and you asked whether Facebook was a data-driven company, most likely, people would've said no," Olivan says in a conference room, just steps from where he and his team spend countless hours crunching data. "We created great products and people used them, but over the last couple of years, we've kind of evolved into being very data driven, and that's what Mark has asked us to do as a mandate."
Facebook was one of the first companies to change how it looks at its users, going from registered users to monthly active users (MAUs) to daily active users (DAUs), which are now exceptionally important, as the world shifts to mobile.
Now the company goes much further than just taking a high-level approach, looking not only at quantitative metrics, such as time on the site, where time is spent and what type of content is being created, but sentiment and other qualitative type metrics are being used as well. User satisfaction is one example put forth by Olivan. "We take that and then map that with the type of content you're seeing. A user might not be satisfied because maybe it's not quality content."
Every single thing at Facebook is now metric driven, within a network involving a slew of business metrics. Even small changes, moving a box on the page slightly for some users, is measured against a test group. The ability to analyze hundreds of different metrics and create impactful analysis and presentations are incredibly important to Olivan and his team. "My philosophy on analytics is that if no result comes of it, then it was a waste of time. Analytics need to drive product decision and drive impact."
The Growth team looks at terabytes and pentabytes of data, with the infrastructure and data centers to back that up, accounting for much of Facebook's operating expenses. This allows the analysts to be able to collect the data, analyze it using various tools, including Microsoft Excel, Tableau, and custom built dashboard systems, and then help product managers use the results to develop products.
The Messaging application is one example where Olivan and his team were able to make a serious change to the product, however seemingly trivial it might be. If users enable push notifications, it determines how you communicate with the other user, creating a very different patterns in users replies to each other.
With a seemingly never-ending trove of data at the company's disposal, privacy is a concern for outsiders, but not for Olivan and his team. "Every analysis is logged, and we've never had an issue," he says. "It's not about bigger and bigger, but about making it smarter. How you create a signal out of ever-increasing amounts of data and parse the noise out, that's where the value lies."
Though the journey is just 1% complete, and the company has managed to connect more than 1 billion users, the Growth team has some ambitious plans over the next few years. "We really want to help connect everyone in the world," Olivan says.
Recently, Facebook CEO Zuckerberg unveiled
along with the help of several other companies in the technology field, an attempt to get everyone in the world connected to the Internet. Facebook's Growth team will likely keep working to help solve that problem, accelerating its growth rate, which is growing between 7% and 9% per year.
For now, the team is focused on continuing to allow people to connect to their friends and family, giving them access to all these tools and the technology Facebook has at its disposal.
"It's both and an art and a science," Olivan says of using data, interpreting it, and coming up with the best solution to the problem. "You need the science to help you understand what's going on, but you need the designers to create these great products and experiences. That's precisely what we'll keep doing."
--
Written by Chris Ciaccia in New York
>Contact by
.