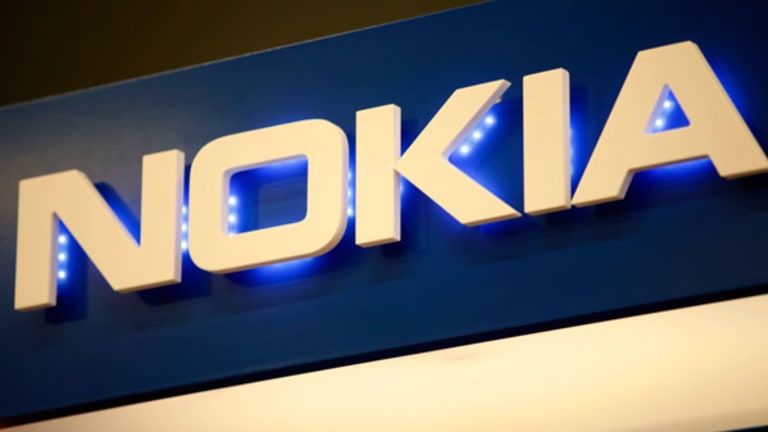 A Nokia, Alcatel Deal Could Create a Formidable Cisco Competitor
Analysts believe the proposed merger of Nokia and Alcatel-Lucent would be a huge plus for both firms and create a tough competitor for Ericsson and Juniper Networks, along with Cisco.
Updated from 5:04 p.m. to include analyst in the fourth paragraph.
NEW YORK (TheStreet) - Nokia (NOK) - Get Nokia Oyj Report and Alcatel-Lucent's (ALU) announcement today that the two firms are exploring a merger came as no surprise to analysts. The general consensus is that the combination would be a win-win, instantly creating a formidable player in the networking infrastructure market.
If the deal passes Europe's notoriously long regulatory process, a combined Nokia and Alcatel-Lucent would be instantly positioned to give stiff competition to Cisco (CSCO) - Get Cisco Systems, Inc. Report, Ericsson (ERIC) - Get Telefonaktiebolaget LM Ericsson Report and Juniper Networks (JNPR) - Get Juniper Networks, Inc. Report.
While analysts said neither company likely needed this deal to survive in their respective markets, the two will not only be much stronger together, but each brings something to the table the other needed. This could mean trouble for its competitors.
Following the news, Edward Jones technology Bill Kreher noted the deal makes sense for both companies, but at these levels, Nokia is fairly valued. "Nokia shares are trading around 20 times our 2016 earnings estimate, a premium to wireless infrastructure peers but approximating its one-year average," Kreher said via email. "This level appropriately reflects strong execution following the sale of Nokia's device division to Microsoft, in our view, and we find shares appropriately valued."
The two companies confirmed earlier today that they are in advanced discussions with respect to a potential merger that would have Nokia absorb Alcatel-Lucent.
"The deal definitely has a lot of synergy with only a little overlap," said Akshay Sharma, Gartner's director of carrier network infrastructure. "Nokia doesn't have an IT routing division, so Nokia gets that, and it gives them the scale to compete against Ericsson and Huawei in the space."
The idea of these two companies getting together has been kicked around for some time.
"We have written at length regarding the potential for Nokia-Alcatel-Lucent wireless consolidation in light of prior speculation and we believe this would be a potential positive for both the infrastructure industry (Ericsson etc.) and Alcatel-Lucent/Nokia depending on the price paid. While not a given and there would be many complexities involved, over time there is a good geographic fit for the two businesses," UBS analysts said in a recent note.
Sharma said that while Juniper is a healthy player, it would be at risk if Nokia and Alcatel-Lucent come together, since it lacks Voice over LTE (VoLTE) and a mobile infrastructure. Cisco also lacks VoLTE.
Telecom carriers like to be able to buy everything in one place, one potential big advantage for the merger. Nokia had most of what the carriers want, but lacked routing products and content delivery networks, which Alcatel would add to the mix, Sharma said.
This could prove an important point as closing the deal would also give Nokia stronger access to American markets where Alcatel is a major partner with wireless giants Verizon (VZ) - Get Verizon Communications Inc. Report and AT&T (T) - Get AT&T Inc. Report.
"This is a very good move and makes sense for the telcos," said Elisabeth Rainge, research VP of IDC's communications service provider operations, adding that between this potential change and Nokia selling off its mapping business to fund this deal the company will come away with an entirely new look.
In April of last year, Nokia sold off its handset business to Microsoft for $7.2 billion. The deal was first announced in Sept. 2013.
The all-stock deal would create a company in the $40 billion range with French Alcatel having market cap of around 11.5 billion and the Finnish Nokia coming in at almost $30 billion. Wall Street was roughly treating Nokia's stock this afternoon pushing it down almost 5% in mid-day trading to $7.89. Meanwhile Alcatel was up almost 13% at $4.91.
Alcatel posted $15.9 billion in sales, a $143 million loss for 2014, while Nokia's 2014 revenue of EUR 12.7 billion was flat year over year.
This article is commentary by an independent contributor. At the time of publication, the author held no positions in the stocks mentioned.