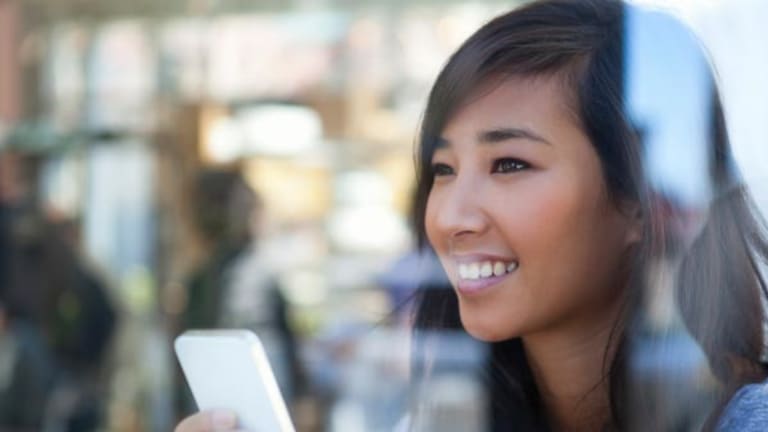 A Holiday Shopping Guide for Netbooks
TheStreet.com looks at one of the hottest computers this holiday season.
They are the hottest computers around. Those little laptop computers are in such demand that stores can't keep them in stock.
The official term for these micro-notebooks is "netbook" -- a combination of network connections and notebook.
They are super lightweight (two to three pounds), with small screens, small keyboards, small storage capacities, small amounts of memory, wireless connectivity, power-friendly processors and very low prices.
var config = new Array(); config<BRACKET>"videoId"</BRACKET> = 2089769001; config<BRACKET>"playerTag"</BRACKET> = "TSCM Embedded Video Player"; config<BRACKET>"autoStart"</BRACKET> = false; config<BRACKET>"preloadBackColor"</BRACKET> = "#FFFFFF"; config<BRACKET>"useOverlayMenu"</BRACKET> = "false"; config<BRACKET>"width"</BRACKET> = 265; config<BRACKET>"height"</BRACKET> = 255; config<BRACKET>"playerId"</BRACKET> = 1243645856; createExperience(config, 8);
HP sold the first netbook a decade or so ago, but it was Asus, a Taiwanese company, which popularized the modern-day netbook with its Eee PC.
In the year or so since Asus introduced the first Eee model (a 7-inch screen running a form of the Linux OS), it has come out with dozens of different models with screens as large as 10.2 inches, a choice of different brands of Linux or
Microsoft's
(MSFT) - Get Microsoft Corporation Report
Windows XP operating system, flash storage memory or hard drive, and a dazzling array of styles and colors.
With the holiday shopping season approaching, many other companies, including
Dell
(DELL) - Get Dell Technologies Inc. Class C Report
, Lenovo,
Hewlett-Packard
and
MSI,
have followed Asus' lead and introduced their own little netbooks. All are priced competitively with popular models selling in the $350 to $500 range depending upon the choice of features and options.
You can see recent reviews of some of my favorite netbooks
here
,
,
here
and
.
The big question for this holiday shopping season is whether or not a netbook is the right computer for you. The answer depends on what you're looking for in a portable computer.
Size:
Netbooks can easily fit into a big pocket or purse and are a lot easier to lug around. They do not have internal optical drives (CD or DVD) because they take up too much space and weigh too much. Try a few models to see if you prefer one keyboard layout or screen size over another.
Power:
Almost all netbooks use an Intel Atom processor. This is Intel's latest computer brain which delicately balances thrifty battery life and computing performance .
What that means is a netbook can handle easy stuff like Web browsing, music playback, video viewing, word processing and other basic tasks. However I wouldn't try to do all of them at the same time. Nor would I try to use a netbook for intensive audio/video editing, 3D rendering or gaming.
If that's what you want to do with your laptop, get something that can handle the tasks at hand. You can watch a
YouTube
(GOOG) - Get Alphabet Inc. Report
video on a netbook but it looks better on a bigger, more powerful computer.
Software:
Netbooks come loaded with software programs. Many are smaller versions of well-known programs such as Microsoft Works (a "light" version of Microsoft Office), OpenOffice (a free, open source version of
Sun's
(JAVA)
Star Office suite), popular games such as Solitaire, Mahjong and Sudoku, audio, video and photo software, search engines like Google and others as well as modern-day Web browsers like Internet Explorer and Firefox.
If you need to run full, professional version of these titles, you might want to consider a "beefier" laptop. On the other hand, a small Linux netbook might be the perfect choice for young children and many computer phobes.
Price:
Netbooks are very appealing because of their low prices. There are some full-sized laptops which come close in price but they usually involve large, heavy enclosures and last-generation features. The latest crop of laptops are usually much more expensive, double or even more than triple the price. You also should weigh included features and overall size against price before deciding whether a netbook or a notebook is right for you.
Personally, I use a netbook whenever I travel. For me, laptop size and weight are paramount. As long as I can connect to the Internet, browse the Web, read/answer my e-mail and write my stories, I'm fine.
However, when I have to handle and edit video reports, I rely on a full-feature, heavier-duty portable.
Gary Krakow is TheStreet.com's senior technology correspondent.