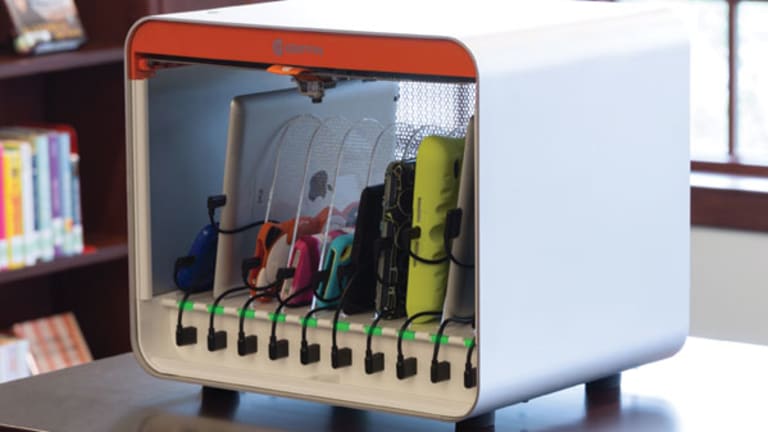 9 New Tech Gadgets to Improve Your Working Life: Slideshow
These nine cool pieces of office technology or furniture will make your working life easier and more enjoyable.
NEW YORK (
) -- Technology inside an office tends to be durable, useful and, well, boring. That's probably how things should be at work. Gadgets shouldn't distract but act as tools to increase productivity.
But there is still fun in exploring what's new. When a device adds a clever twist or improves productivity, even indifferent workers will perk up from everyday routines. On the following pages are my picks for the latest and greatest in office technology.
MultiDock by Griffin Technology
Multiple mobile devices have become a fact of working life, and there never seem to be enough power outlets or USB ports to keep everything charged.
This sleek and smart charging station solves that problem. It will charge up to 10 tablets, smartphones or other devices simultaneously.
Using what Griffin calls ChargeSensor technology, the MultiDock automatically detects charging rates for the devices so that they get charged as fast as possible.
An outer perforated cover keeps air flowing and devices cool. Plus, it adds an extra bit of physical protection by allowing you to lock up charging devices with a key.
A separate lockable laptop tray stores an
Apple
(AAPL) - Get Apple Inc. Report
15-inch MacBook Pro. Depending on the setup, MultiDock will set you back between $699 to $2,399. Available from
.
Split Stick by Quirky
The ubiquitous USB storage key gets a clever office update from
Quirky
, a company that crowdsources and then manufactures cool inventions. The Split Stick is a two-sided USB key that physically separates work data from personal data.
Two separate 4 GB sticks are stored on either side of the USB key and push out or retract. Each side is clearly labeled, and it's up to the user to make sure he or she doesn't store office documents in the "home" side. Available at
for $24.99.
Smart LED Desk Lamp by Satechi
The "smartness" of
Satechi's
Smart LED lamp has nothing to do with the Internet (it's not connected), but rather its eco-friendliness.
With energy-efficient LED technology, the lamp has four lighting modes (reading, study, bedtime and relaxation) and includes touch controls and a one-hour auto-off timer.
It also doubles as a smartphone charger, thanks to a USB port at the back.
Available from
for $99.99.
NEC MultiSync Ultra-Wide Monitor
Using two computer monitors can improve productivity because you can display the Web on one screen and documents on the other. But if desk space is an issue, check out the new line of ultra-wide monitors.
One of the highest rated is the MultiSync EA294WMi from
NEC
. It essentially replaces two 19-inch displays.
It's a bit on the pricey side at $799, but this LED monitor includes six ways to connect video sources: DisplayPort, HDMI, DVI-D Single-Link, DVi-D Dual Link and VGA.
Penclic Mouse
Swedish company
Penclic
merged a pen and mouse to create this cool computer accessory.
It looks like a joystick. You use your fingers to control the stick -- or pen -- part.
If you think about it, operating a regular mouse requires your palm, elbow and arm -- and a lot of stretching or shaking your arm if you're using such a mouse all day.
The Penclic mouse relies on fingers for precise movements so there is less stress on the entire arm and, says the company, less likelihood of Repetitive Strain Injury.
The latest version includes Bluetooth, which could free up a valued USB port on your computer.
Penclic is available at Amazon for around $80 to $90.
Tyde Desk
Research shows that being sedentary is bad for your health, and sitting at a desk all day is nothing but being sedentary.
The Tyde Desk, designed by brothers Ronan and Erwan Bouroullec for
, keeps workers on their toes.
The desk easily adjusts into sitting or standing mode, thanks to a quiet motor concealed by a sound-absorbing fleece cover.
Since there's no sudden jerky movement, you can leave all your stuff on the desk while adjusting it up or down.
It's also chock full of features and storage options, such as a desktop PC shelf, file trays and holders, monitor stand and hidden Ethernet ports.
Gesture Chair
There is no power outlet or USB port in the Gesture office chair by
Steelcase
(SCS) - Get Steelcase Inc. Class A Report
, but this piece of furniture is of interest because it was developed to diminish the pain people experience when using technology.
Steelcase
when using gadgets, from texting on phones, to scrolling on iPads, to using multiple devices.
The company concluded there are nine new "sitting" positions. The Gesture targets those positions with a very flexible chair. Armrests move up and down, in and out, "like a human arm." The back reclines to cradle uses leaning back to touch a tablet.
Gimmicks aside, Gesture aims to diminish neck, back and other physical pain associated with using technology.
Available this fall through Steelcase dealers.
NeatConnect
NeatConnect
offers a, well, neat way to deal with business receipts.
NeatConnect looks like a sleek printer, but it doesn't print.
Instead, this wireless device scans all shapes of paper, from store receipts to large bills, and then sends them to the NeatCloud -- no computer necessary.
Key information is extracted from the scans so you're not left typing in all the details to create expense reports.
Users can also share the scanned images with cloud services such as Dropbox and Evernote or gain access to the data via the Internet.
NeatConnect is set to launch Oct. 18 for $499.95, which includes three months of NeatCloud service.
Epson Connect
Wouldn't it be nice to gain access to your office printer from anywhere -- like, say, from an airplane -- from any device?
Well,
Epson
's new Epson Connect mobile-printing platform aims to do just that.
This system works with Epson's own line of networked and wireless printers, including its new wireless Expression Premium XP-810 Small-in-One.
Epson's mobile app lets you use your smartphone or iPad to issue commands to your office printer, even when you're enjoying a cocktail at 35,000 feet. (Your flight must have WiFi, of course.)
Epson Connect's mobile app supports Apple AirPrint and
Google
(GOOG) - Get Alphabet Inc. Class C Report
Cloud Print.
The new Small-in-One printer can communicate via the Internet with devices using the apps. It features a 3.5-inch touch screen, 30-page auto document feeder and two-sided printing.
Email Tamara Chuang at
This article is commentary by an independent contributor, separate from TheStreet's regular news coverage.
Tamara Chuang is an outside contributor to TheStreet. Her opinions are her own.