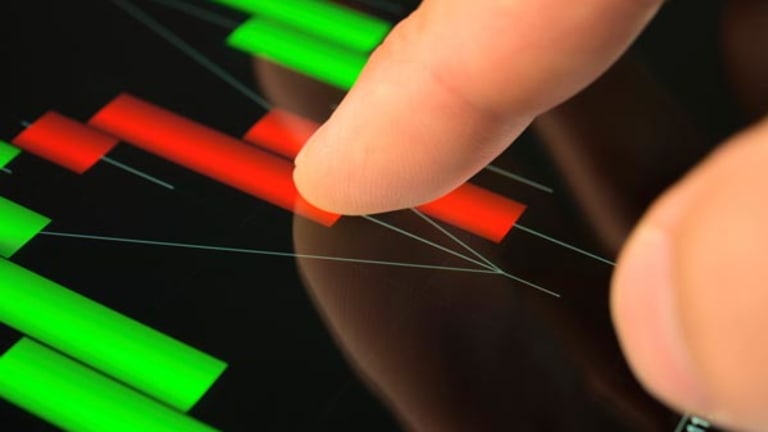 10 Top Android Apps: Back to School Edition
TheStreet takes a look at 10 of the best apps to help students -- and readers -- organize, discover new surroundings and relax.
NEW YORK (
) -- Summer's winding down, but offerings on
Google's
(GOOG)
Android app store aren't. The latest tally shows that there are now roughly 250,000 apps, up from 200,000 in May, according to Google.
Inspired by the back-to-school rush,
TheStreet
selected 10 new or newly-updated Android apps geared toward helping readers -- and students -- stay organized and sane during the busy fall session. Read on.
Shopkick
Shopkick helps users find the best deals on items ranging from clothes to electronics.
The program, which the company says more than 2 million folks have downloaded, offers "kickbucks" rewards to consumers who walk into sponsored stores like
Best Buy
(BBY)
,
Sports Authority
and
Macy's
and interact with products.
Unlike other location-based apps like
Foursquare
that require users to actively "check-in" using their smartphone, Shopkick requires only that the app be open and you be physically within the store to win points (stores are equipped with special sensors that can detect your presence).
Users can also collect points via activities like scanning a poster in a dressing room at
American Eagle
(AEO)
.
The app then lets you redeem kickbucks for
Facebook
credits (25 kickbucks for one credit), iTunes gift cards (over 3,700 kickbucks) or a Bluetooth headset (10,000 kickbucks).
The phone instantly sensed when we walked into the door at Best Buy; within seconds we had accumulated points. We ran into trouble, however, when trying to scan the barcode of a camera for additional rewards -- it took several tries for the app to recognize and process the product, though it did eventually work.
LinkedIn
Part of its ongoing strategy to make its
network a little more sticky and social,
LinkedIn recently updated its mobile app for smartphones. The results -- at least for Android -- are pretty great.
While the previous version felt stripped-down and thin, today's iteration packs lots of features, including an intuitive news bar that runs the day's most popular articles across the top of the screen. Users peg news coverage by categories -- "entertainment," "Internet" and "design," for example -- and can share the articles to their page or e-mail them directly to specific LinkedIn buddies.
Updates from your connections run underneath the news bar; simply click the contact to send him a message or to comment on his post. And while posting your own updates, sending invite requests to "people you may know" and linking up with your already-established groups is easy, the app doesn't yet allow you to edit your own profile information from your phone.
Read It Later
Similar to well-known iPhone program
Instapaper
, Read It Later allows you to earmark Web-based articles for offline reading on your PC, smartphone and tablet.
After downloading two things -- the app on your phone and a PC browser extension (a small "read later" tab that sits on the address bar in any Firefox, Internet Explorer, Chrome or Safari browser) -- you can bookmark articles you come across simply by clicking the button in the browser.
The program automatically syncs the reading material to your account, so you can pull it up at anytime on your Android phone. You choose whether text is displayed with full graphics/pictures or in a stripped-down format; the app is also supposed to remember where you last left off reading.
Founded in 2007 and based in San Francisco, Read It Later has more than 3.5 million users, according to the company.
Share Your Board
For those who use whiteboards on a regular basis, Share Your Board's promise is invaluable: it enables you to snap a photo of a board filled with notes, ideas and scribbles -- the ones you want or need to remember -- then improves the readability and color balance of the photo, making it more legible when you review it later.
Once the image is caught on your phone, you can add your own notes to the image and share it via e-mail with colleagues.
While we thought the idea behind the app is excellent -- it was fun to share (and improve upon) our bosses' brainstorms with other members of the team via photo-sharing -- we wish the picture of the board was bigger. We were able to see and zoom in on each piece of information, but a full-screen-size image, which wasn't available, would have been better.
StudyDroid
The StudyDroid app lets you make virtual flashcards on the Web and then sync them to your smartphone -- useful not only for students studying for a quiz, but also for folks who need to prep for a big presentation, speech or test.
Once you register on the StudyDroid Web site, you create a new "pack" of cards by typing in a name -- say, Presentation 1. Then, card by card, you type text onto the the front of the card (which shows up as a box on the left side of the screen) and the back (the box on the right side of the screen). You can also create the cards directly on your phone.
Once your pack is ready to go, you flip the cards over by tapping the screen; to get to the next card, you swipe to the right or left. Once you've mastered the information on a card, tapping "known" takes it out of sight.
Layar
Designed as the ultimate new-to-the-neighborhood tool, Layar's Android app aggregates third-party plug-ins from well known programs like
Yelp
and
Groupon
.
The app uses augmented reality technology to overlay digital information -- or layers -- onto your smartphone's window using its camera.
Users start the app by choosing what they want to find. Selecting Yelp, for example, will yield restaurant suggestions as you hold your smartphone up while walking along the street. The Groupon layer will show you where to find the day's deals, and
HotPads.com
allows you to see the location of nearby apartments up for rent.
There are over 1,500 layers in the app's database, which range from food to art to weather to music.
Our one gripe is that while we like the concept of the app, some of the layers don't seem to contain much data. We launched a hotel layer, for example, and the program failed to find many of the largest and most prominent places near our office.
Evernote
Evernote, the three-year old Silicon Valley start-up that raised $50 million in venture capital funding last month, recently enhanced its Android app. Evernote's technology uses the cloud to store any information -- Web links, typed notes, phone-taken photos -- in folders on your mobile device or computer. The updated version allows users to search Evernote content easier, enter richer text like bullet points and check boxes and, via a map, can show notes by the location in which they were tagged.
The beauty of Evernote has always been its ability to sync notes and notebooks to any platform, so after logging into your Evernote on your PC and doing a little work, you can access everything that's been saved offline on your phone.
While we mostly used Evernote to organize notes and lists typed directly into our phone, we also harvested materials for a knitting project (a Web page with the pattern, photos of our work so far, and typed-in tips from our mentor), dictated and saved voice notes, and read lots of long-form articles.
Evernote syncs with Instapaper, so once we saved a Web article to our Instapaper account and "shared" it to Evernote on our work PC, we were able to pull up the story on our phone later and read it in a stripped-down format directly in Evernote.
Facebook Messenger
Texting Facebook friends just might have gotten a little bit faster.
Part of its evolving strategy to capture even more time from its 750 million users, Facebook recently launched a standalone instant messaging app for smartphones, known as Messenger. The program, which Facebook created from the technology it acquired via its buy of
Beluga
in February, doesn't feature a lot of frills.
Messenger's attraction is quick, direct texting with Facebook contacts -- whether or not it's quicker than regular SMS texting, though, was hard to determine. Simply tap on an existing Facebook message thread and type out a text; if your friend (or friends) isn't logged in/online, Messenger pushes him a notification.
Uploading photos is simple, and you can also see, via Google Maps, where your contacts are located as you text.
Relax And Sleep
Cheaper than investing in a sound machine, the Relax and Sleep app comes in handy when you need a little white noise to drown out whatever distractions ail you at night. The app turns your smartphone into a mini-sound generator, with the free version offering more than 50 soothing sounds to choose from. (Although we will say that "cat purr," "fog horn" and "ocean" were more soothing than "train travel" and "vacuum.")
Once you've selected a sound, you can set an timer -- in minutes or hours -- that will eventually trigger the noise to fade away. You can also arrange to "end" your sound with a ringing alarm clock, so the noise will play all night long and you don't risk oversleeping.
Best part of the app: You can choose many sounds to run at once, layering them to set a specific scene or outdoors sountrack. We liked the dreams induced by selecting both "campfire" and "crickets."
CampusBooks
CampusBooks specializes in helping students find the best prices on textbooks, but regular readers can also use it to seek good deals on popular, mainstream titles.
To start, you enter your zip code so the app knows where you're located (you can also use its GPS technology if you're in an unfamiliar place). Then scan the barcode of a book or enter the title manually, and the program will pull up a list of Web sites (i.e. Half.com and
Barnes & Noble
(BKS)
), local bookstores and libraries where the text can be purchased or borrowed.
If you're looking to sell your books, the app will direct you to an external site where you can compare prices.
While we were impressed with the variety of titles found on the app, the CampusBooks Web site was a little more robust. For example, we searched the title
Investing for Dummies
. While the Web site pulled up more than two dozen options to buy from online, the app came up with only five.
--Written by Olivia Oran in New York.
>To follow the writer on Twitter, go to
.
>To submit a news tip, send an email to:
.