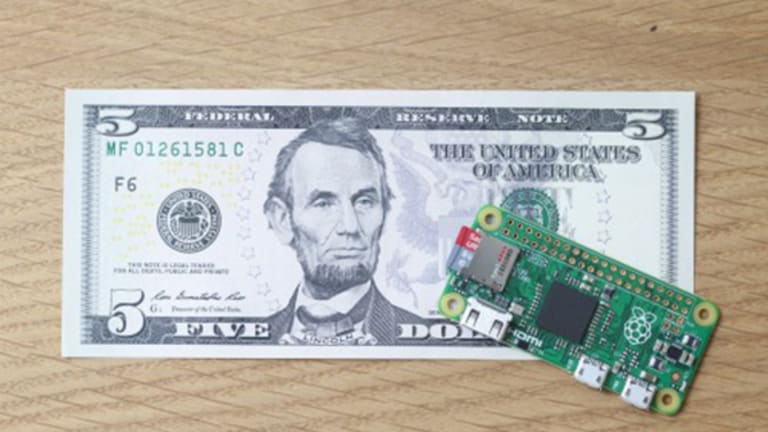 8 Best Computers of 2015
Our top picks include a big $4,000 desktop and a new $5, bare-bones design.
This year's list of of choices of the best computers is comprised of desktops, laptops, 2-in-1's, convertibles and tablets that come in all shapes and sizes and sell for anywhere from almost $4,000 to two, new designs that sell for less than $100 and one that sells for an astonighsly low price of $5!
Each of our choices offers an amazing amount of "bang for the buck" and can provide exemplary computing experiences in their respective price ranges.
Our recommendations begins with a big, new tablet design:
Apple iPad Pro
Apple's (AAPL) - Get Apple Inc. Report first "big" tablet is a wonderful device. The new iPad Pro comes with a 12.9-inch Retina display, a new class of super-fast processor and is wrapped-up in a thin, lightweight package. It's designed as a professional work tool but its design can be appreciated by everyone who appreciates the best that money can buy.
This super-large tablet isn't cheap. Prices range from $799 for the model with 32 GB of storage, $949 for the 128 version and top-out at $1,049 for 128 GB and a built-in cellular modem. There is an available Smart Keyboard for $169) and Apple Pencil for $99.
If you prefer Apple laptops you can't go wrong with a MacBook Pro. The latest models have beautiful Retina displays. And, while not designed as touchscreens the MacBook Pros have a new Force Touch trackpad which reacts to both how hard and where you press down on it. Prices for the 13-inch screen model starts at $1,299 while 15-inchers begin at $1,999.
Buy Accessories for the iPad Pro on Amazon.
Google Nexus 9
Alphabet's (GOOGL) - Get Alphabet Inc. Class A Report (GOOG) - Get Alphabet Inc. Class C ReportNexus 9 tablet is arguably still the all-around best Android tablet you can buy.
Produced for Google by HTC, the year-old Nexus 9 has a beautiful 8.9-inch touchscreen, 2 GB of RAM, a fast NVIDIA (NVDA) - Get NVIDIA Corporation Report Tegra K1 processor and huge battery all squeezed into an 8mm-thick body. Since it's a Nexus device, it's among the first to receive important operating system upgrades.
Buy the Nexus 9 tablet on Amazon.
Microsoft Surface Book
The new Surface Book is Microsoft's (MSFT) - Get Microsoft Corporation Report recently introduced Windows 10 touchscreen tablet/laptop hybrid. Unlike the new Surface Pro 4, the Surface Book comes with a detachable keyboard/cover and electronic pen as standard equipment.
The Surface Book is a thing of beauty and it's clear Microsoft spent a lot of time, money and effort to get it just right. Prices start at $1,499 for an Intel (INTC) - Get Intel Corporation Report i5 processor, 8 GB of RAM and a 128 GB of SSD storage but top out at $3,199 for an i7 with 16 GB of RAM, a 1 TB drive and an upscale graphics processor.
Buy the Surface Book on Amazon.

Lenovo La Vie Z360
One of the most amazing Windows laptops we have ever tested, Lenovo's (LNVGY) La Vie Z360 comes closer to perfection than any other model we've seen.
Forgetting the so-so keyboard (it could be a deal breaker for some), this laptop is not only beautiful to look at but it's the fastest and lightest we've ever used, weighing in at 2 pounds. You'll do a double-take every time you lift or carry it around. It comes standard with an Intel i7, 8 GB of RAM, a 256 GB solid-state drive and a great 13.3-inch IPS touchscreen. It's called the 360 because the display folds all the way back so you can also use it as a tablet.
Currently, the Z360 2-in-1 design sells for $1,199.
Buy the Lenovo LaVie Z360 on Amazon.
Apple iMac 21.5-in Display
If you prefer desktops, Apple makes an all-in-one design that you need to put on your shortlist. The top-of-the-line iMac with a 21.5-inch Retina display is worth investigating.
With specifications like the 4096 by 2,304 pixel resolution screen, a 3.1GHz quad-core Intel i5 processor, 8 GB of RAM and a 1 TB hard drive this $1,499 model is hard to beat.
If you can do with a slightly less dazzling display, and a somewhat slower processor, iMacs start at $1,099.
Buy the Apple iMac 21.5-inch Display on Amazon.

HP Z840 Workstation
The mighty HP Inc. (HPQ) - Get HP Inc. ReportZ840 workstation is a big, big desktop box with beefy, high-end specs.
Inside you get a heavy duty Intel Xeon processor, an NVIDIA graphics card and as much as 2 GB of RAM. For the record, a Z840 will accept as much as 512 GB of RAM. It will run Windows or Linux right out of the box.
Prices start at $2,399 and get very close to $4,000 depending on the configuration. A high-end display is extra.
Kangaroo Mobile Desktop
At the other end of the price vs. performance scale is the just-released KangarooMobile Desktop.
The pocket-sized portable is amazing for a number of reasons. It's a 64-bit Windows 10 computer with an Intel processor, 2 GB of RAM, 32 GB of expandable, internal storage, Wi-Fi, Bluetooth, a fingerprint reader, HDMI and 2 USB ports and yet only costs $99. All you need to do is add a monitor, keyboard and mouse.
The neatest thing about the Kangaroo is the built-in software that allows you to send its audio/video/keyboard/mouse output to an iPad. You can control all of Kangaroo functions from across the room.
We recently reviewed the Kangaroo and instantly fell in love with its size and power.
Raspberry Pi PIZERO
Last but not least is the brand new Raspberry PiPIZERO. The reason this bare-bones computer board is shown on a $5 bill is that's what it's priced at.
After two generations of sub-$50 computers designed for experimenters and tinkerers, the people at Raspberry Pi have come up with an even cheaper, but still quite amazing product.
The new ZERO sports a 1 GHz Broadcomundefined processor, 512 MB of RAM, a microSD card slot (for storage), microUSB ports for data and power and a mini-HDMI socket for a 1280p/60Hz display.
This article is commentary by an independent contributor. At the time of publication, the author held no positions in the stocks mentioned.