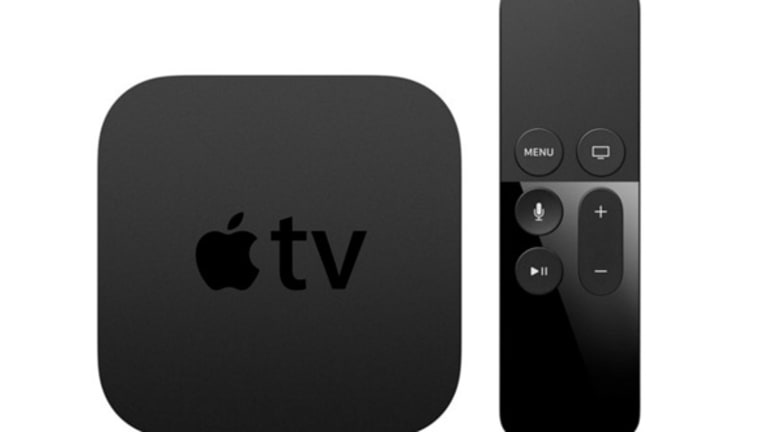 8 Apple TV Reviews to Read Before You Consider Buying One
The new Apple TV is now available - and reviewers find it fun and fast - even if not the future of the medium.
The Apple (AAPL) - Get Free Report TV 2015 has just become available by pre-order, and at first glance, reviewers love it, with a few caveats, of course.
As part of a broader refresh of the set-top box, Apple is bringing a dedicated app store, software development kit, a brand new remote, voice control as well as a new operating system, emphasizing the point that TV is no longer a hobby for Apple, but rather a priority.
The new units, which became available for pre-order earlier this week, has been off to a resounding success so far. Apple CEO Timothy D. Cook said the first day the device was available for order proved to be "a huge first day for this exciting new product," as he discussed Apple's fiscal fourth quarter earnings.
"We want to provide the same innovation in the living room that we delivered in our iOS devices," Cook said. "People are already watching more TV through apps today and we think apps represent the future of TV. We've built a new foundation around this vision with a new operating system called tvOS innovative ways to connect with your screen and a smart use of Siri to search for what to watch."
The device is offered in both 64GB and 32GB models, for $199 and $149, respectively.
So how are the early reviews? Intrigued but mixed.
Here are eight reviews to read before you considering buying the new Apple TV.
Wired
Brian Barrett described the new set-top box as a "recognizable squared-off hockey pucks," but despite that, he's still a fan.
"The existing Apple TV is a terrific little gadget, and its successors seem to be as well," Barrett wrote. "In a lot of ways, though, it's still too early to tell. We don't know what apps will be available, or the quality of the games, or how usable the remote will be with them. It's new territory for developers; maybe give them some time to figure out how best to conquer it."

Check out Apple TVs on Amazon here.

Gizmodo Australia
Gizmodo's Luke Hopewell liked the dual-core processor and 2GB of RAM, and the fact that "the Apple TV appears to stream its content from the iTunes Store and free up the space again when you're done, rather than store all of your content on the disk until you manually delete it."
Hopewell described the new model as one where "Apple TV gets the best of both worlds: a vibrant new UI based on the iOS ecosystem and design language that is genuinely wow-inducing."
Cult of Mac

Leander Kahney described the new A8 processor chip as "a super-speedy little monster," and loved the fast networking. Despite that, he felt Apple missed an optical digital audio output port.
Re/code

Re/code's Walt Mossberg is also impressed. "While Apple isn't reinventing TV or even making a whole TV...it is taking a product leap in streaming set-top boxes with a new Apple TV," Mossberg wrote. That said, he also felt that while much faster than the previous model, "it feels very much like a first effort at a new approach."
The Wall Street Journal
The Wall Street Journal's Geoffrey Fowler believes that Apple's TV "still isn't the cord-cutting fix for pricey cable TV many of us have been pining for," yet he described the fourth-generation box as "a way to turn your TV into a giant iPhone."
"The new $150 Apple TV streaming box opens the largest screen in your house to an app store with the best that movie makers, game developers, retailers and even personal trainers can dream up," Fowler penned.
The Verge

Nilay Patel said that while this far from a ground-breaking new leap, he was impressed with the ease of setup, the external features including case styling and the stylish interface, "popping with subtle 3D effects and interesting ideas about how the multi-layered glass aesthetic of iOS should translate to TV."
Mashable

The Siri remote gets a big endorsement from Mashable's Christina Warren, who describes it as "fantastic," and a welcome relief to finally merge all remote control functions of a universal and Apple controller. The fact that Siri can be voice controlled is another popular feature, along with the universal function which allows users to search across apps and sources for the media they want.
Yahoo!
David Pogue at Yahoo! also felt that "Apple worked its fingers to the bone on this," but along with the potential notes "lots of bugs."
That said, while he asks the question, "is Apple TV the future of television?" he leaves the question open. "We really won't know until the future rolls around."
This article is commentary by an independent contributor. At the time of publication, the author held no positions in the stocks mentioned.