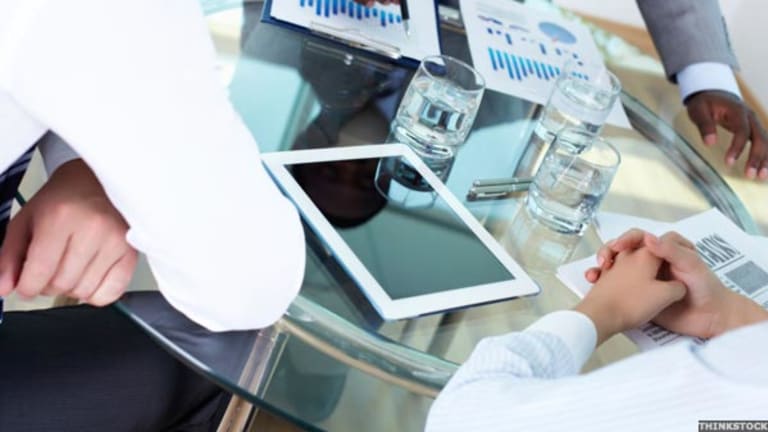 7 Tech Stocks With Limited Downside
Sterne Agee analysts highlight a basket of tech names they believe have bottomed out and are now trading at compelling valuations.
NEW YORK (
) -- There's an old adage about the best investments being made at the worst of times, and while the market may not be in
, investors are far from hopeful these days.
The American Association of Individual Investors
, asking how they feel about the stock market's prospects for the next six months, and the bears have been showing their claws of late. For the week ended Sept. 21, 48% of respondents identified themselves as bearish, up 6.7 percentage points from last week, and well ahead of the long-term average of 30%.
Given this trepidation, Sterne Agee's tech analysts went to work to find "names that are most compelling on valuation and risk/reward with fundamentals that are either not getting worse, or dare we say, might be showing some improvement."
The firm believes there's plenty of opportunity in the tech sector and chose to focus on companies with strong balance sheets and sound business models that it believes will be able to weather the storm if the economy endures another downturn. Because of all the concern about a double-dip recession and the Europe's uncertain sovereign debt situation, valuations are compelling.
"Yet, the same companies' stocks have been decimated and are trading near or at trough valuations and already discounting a recession," Sterne Agee writes in a research note released Tuesday. "In light of dichotomy of awful sentiment, cheap valuation, rapid stock declines, yet not deteriorating fundamentals, and in some cases, improving fundamentals (at least for now), we recommend investor buying a basket of cheap and beaten tech stocks with limited downside and compelling risk/reward."
The stocks the firm would put in that basket are
Micron Technology
(MU) - Get Free Report
and
SanDisk
(SNDK)
from the semiconductor space;
Silicon Graphics
(SGI)
and
EMC
(EMC)
offering exposure to data networking and storage;
Ingram Micro
(IM)
and
Research In Motion
( RIMM) representing hardware and mobile devices; and
Cree
(CREE) - Get Free Report
serving as a play on the LED supply chain.
Micron
Sterne Agee has a buy rating and a 12-month price target of $14 on Micron, implying potential upside of more than 100% from current prices. The firm thinks weak DRAM pricing will make for a poor performance when the company reports its fiscal fourth-quarter results on Thursday but feels the picture brightens up from there as Micron continues to increase its focus on NAND flash memory products.
"We remain positive on MU not only because valuations have been depressed, DRAM pricing is unsustainable and competitors are cutting production, but also because of the longer-term story of diversification to NAND Flash," Stern Agee said. The stock was up a penny to $6.59 in afternoon action. The shares, down more than 6% so far in 2011, are trading at a forward price-to-earnings multiple of 11.8X.
An overhang for the stock has been an upcoming jury decision in a patent dispute with
Rambus
(RMBS) - Get Free Report
, and Sterne Agee estimates the total damage award, news of which could come in the next few weeks, at between $300 million and $1.5 billion. That figure would be split between Micron and Hynix, says the firm, which also believes the decision will face appeals.
SanDisk
SanDisk's flash memory business is enjoying momentum from the ascendance of tablets and smart phones, and Sterne Agee has a buy rating on the stock with a price target of $65. The company is expected to report its fiscal third-quarter results in the third week of October, and the average estimate of analysts polled by
Thomson Reuters
is for a profit of $1.07 a share on revenue of $1.42 billion.
"We believe L-T
long-term Large key markets such as PCs+Tablets+Enterprise are moving secularly to NAND SSD from HDD," the firm said in explaining its bullish view of SanDisk. "With the $5-$6 of Earnings power, we believe SNDK offers a L-T Compelling opportunity." The stock jumped 3.1% to $44.20 in afternoon action.
Silicon Graphics
Sterne Agee has a buy rating and $22 price target on Silicon Graphics, which has surprised Wall Street with profits in its last two quarters. The stock has bucked the trend in the broad market, surging more than 50% so far in 2011.
"We view SGI as one of the few pure plays in our space on Big Data over the next two to three years as the company optimizes its CloudRack solutions for Hadoop environments and expands the use cases into the enterprise markets with its Altix UV In-Memory database," the firm wrote. "With shares trading off roughly 15% over the last three months as the market has corrected relative to the broader NASDAQ at ~7% -- we believe SGI's valuation at 0.4x revenue offers an attractive entry point."
Silicon Graphics is expected to report its fiscal first-quarter results on Nov. 10, and Wall Street is expecting earnings of 4 cents a share in the September-ending period on revenue of $163.8 million. The stock was recently changing hands at $14.12, up 3%.
EMC
EMC shares are down about 10% year-to-date, and Sterne Agee sees the company as one of the best large-cap plays in tech right now for investors with a long-term horizon, forecasting multi-year margin expansion for its storage and virtualization products.
"Certainly the market has priced in softness in EMEA
Europe, Middle East and Africa and the Financial vertical into the shares after NetApp's disappointing July quarter and we would expect to re-address our investment thesis on EMC after concluding our 3Q11 channel checks," the firm said. "That said, even with a potential 5-10% EPS revision for CY2011 and CY2012 from the Street, EMC shares would be still trading at roughly 12x CY2012 cash adjusted - near its lows during late 2008 at the height of the Financial crisis."
The company is due to report its fiscal third-quarter results on Oct. 18, and the average estimate of analysts polled by
Thomson Reuters
is for a profit of 37 cents a share on revenue of $4.93 billion. The stock rose 3.6% to $22.07 on Tuesday.
Ingram Micro
Valuation is the headline attraction of Ingram Micro, according to Sterne Agee, which notes the company's stock is trading at 78% of its tangible book value at current levels, which the firm puts at $21. Competitors
Tech Data
(TECD) - Get Free Report
and
Synnex
(SNX) - Get Free Report
are trading at 1.0-1.2X TBV.
"We believe that there is disconnect fundamentally to why IM shares trade atsuch a discount given the company's history and ability to generate strong profitability and cash flow even in tough times," Sterne Agee wrote. "Normally companies that trade under book value are those that lose money and/or where the sustainability of profitability is questionable. We see potential for 29% upside just with the stock trading at tangible book."
The firm has a buy rating and $24 price target on the stock, which was trading at $17.30, up 4%, in afternoon action.
Research In Motion
Given its well-publicized problems dealing with competition from
Apple's
(AAPL) - Get Free Report
iPhone and smartphones powered by
Google's
(GOOG) - Get Free Report
Android system, Research In Motion's inclusion on this list may come as a surprise for some. The stock's nearly 63% decline in 2011, however, has pushed its forward price-to-earnings multiple down to 4.8X, a clear indication of how far out of favor the Blackberry maker has fallen.
Sterne Agee, however, thinks the company's latest product upgrade cycle shows promise, and it's got a buy rating on the stock with a $35 price target.
"We continue to believe that RIMM is about to undergo arguably the biggest product upgrade cycle in its 27-year history," the firm said. "In addition, we continue to pick up high carrier interest in supporting BlackBerry as a viable No. 3 platform as they are growing increasingly concerned with GOOG and AAPL becoming too powerful. While there is some betting on MSFT
Microsoft and NOK
Nokia, we would argue RIMM has competed effectively against both over the last 10 years."
As for the disappointment in the latest quarter, Sterne Agee thinks the company's gross margins are likely to stabilize at current levels and notes the company reported the sell-through of 13.7 million smartphones during the quarter, its second-highest total ever. Research In Motion shares are bouncing more than 7% to $23.29 in afternoon action.
Cree
And finally, Cree is rated a buy with a $65 price target at Sterne Agee, which expects the growing adoption of LED lighting technology to carry the stock higher as it estimates only 5% of the lighting market is based on the technology. So far in 2011, the shares have suffered a more than 50% decline, putting the forward price-to-earnings multiple at 15.4X.
"Despite the challenging economy, we believe LED adoption continues favorably as price erosion has recently accelerated beyond expectations (cheaper LEDs in each system) and LED brightness continues to increase (fewer LEDs in each system), which has enabled paybacks for many lighting projects to decrease from 4-6 years to 1-2 years," the firm says. "With governments and corporations looking for ways to stretch budget dollars and do so in an environmentally friendly way, Cree is very well positioned, while the stock appears to have put in a bottom."
Cree is slated to report its fiscal first-quarter results on Oct. 18 with Wall Street forecasting a profit of 25 cents a share on revenue of $268.9 million. The bulls slightly outnumber the bears on the stock these days with 18 of the 32 analysts covering the stock at either strong buy (6) or buy (12).
>>To see these stocks in action, visit the
7 Tech Stocks With Limited Downside
portfolio on Stockpickr.
--
Written by Michael Baron in New York.
>To contact the writer of this article, click here:
Michael Baron
.
>To submit a news tip, send an email to:
Disclosure: TheStreet's editorial policy prohibits staff editors, reporters and analysts from holding positions in any individual stocks.