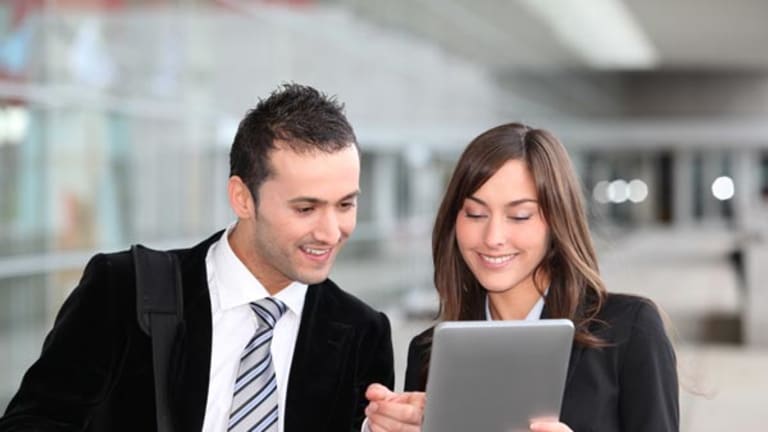 7 Products That Can Replace What Apple Has for the Holidays
This year, tech companies are making a serious play for Apple's long-hoarded holiday shopping dollars.
NEW YORK (TheStreet) -- For more than a decade Apple (AAPL) - Get Apple Inc. Report gadgets have had very little competition on holiday wish lists. This year, other tech toys are making a serious play for Apple's long-hoarded holiday shopping dollars.
Just last week, Apple reported a rare earnings miss in its third quarter and went conservative with its forecast for next quarter's holiday shopping season. Though competitors reported similar stumbles -- including
Amazon
(AMZN) - Get Amazon.com, Inc. Report
, which operated at a loss last quarter -- none appeared as invulnerable to U.S. consumer whim as Apple had in recent years.
Unfortunately for Apple, that modest earnings slip is one of several unattractive wrinkles tech consumers are starting to notice. Its 17% market share among mobile phones in the U.S. still trails
Samsung
(which has 25.7%) and
LG
(18.2%), according to market research firm
ComScore
(SCOR) - Get comScore, Inc. Report
. Meanwhile, its iOS platform's 34.3% share of the U.S. smartphone market still trails
Google
(GOOG) - Get Alphabet Inc. Class C Report
Android's growing 52.6% stake.
Also see: Apple Could Move 'Intel Outside' >>
That disparity is far more pronounced globally, where research firm
Gartner
(IT) - Get Gartner, Inc. Report
says
Nokia
and Samsung's 41% mobile market share dwarfs Apple's 5%. Among global smartphone users, Apple fares somewhat better, with a 24% share of the market that's still been surpassed by Android's 50% dominance.
Among computer operating systems, Mac and iOS are still small players. According to web metrics firm
Net Applications
,
Microsoft
(MSFT) - Get Microsoft Corporation Report
Windows is the operating system of choice on 84% of all personal computers in the world. Mac operating systems are just 6.3%, or little more that Windows Vista's 6.15%.
Also see: Twitter-Facebook War Is Heating Up >>
If Apple's performance isn't living up to its market cap and share price, why is it still so hard to find an Apple product that doesn't top a wish list of tech toys? The competition simply wasn't playing Apple's game -- until recently. While Apple products still hover near the top of critics lists, we and the folks at Decide.com found products more than fit enough to take on the iEmpire. Investors and fanboys beware: The following is written with the average, brand-indifferent consumer in mind:
Smartphone
Apple contender:
iPhone 5 ($199)
Alternative:
Samsung Galaxy S III 4G ($199)
How seriously are Samsung's Galaxy products threatening Apple's dominance? So seriously that Apple and Samsung remain embroiled in litigation over whether Samsung infringed on Apple iPhone and iPad patents to make its Galaxy smartphones and Nexus tablets.
Sales of both Samsung products were banned in the U.S. for a bit, but now the Galaxy S III is available to
AT&T
,
Sprint
(S) - Get SentinelOne, Inc. Class A Report
,
Verizon
(VZ) - Get Verizon Communications Inc. Report
and even iPhone-deprived
T-Mobile
customers. It's also going for as much as $150 less than the iPhone, with Sprint offering it for $49 on Black Friday. The phone's Android 4.0 Ice Cream Sandwich, 4G LTE capability and quick dual-core processor are lovely, but the Galaxy SI's strong 8-megapixel camera and S Beam technology (which allows users to move photos, videos, documents and other files between phones by tapping their backs together) are its biggest advantages. Those earned it the same 94 out of 100 that Decide.com gave the iPhone 5.
While its S Voice is a pale replica of the iPhone's Siri and drains an already weak battery, the Galaxy S III is already beating the iPhone in an area where Apple was once thought invincible: apps. Say what you will about Google Play's selection compared with the App Store, but Google execs never had to offer an embarrassed apology for the quality of Google Maps.
MP3 player
Apple contender:
iPod Touch (Fourth generation $199, newest model $299)
Alternative:
Samsung Galaxy Player 4.2 ($199)
Apple's played this game with users for years, so why shouldn't Samsung?
You take all of the elements people really like about your popular smartphone, yank out the phone element for folks who don't want to pay for airtime or parents who don't want the cost of their kid's toy added to their monthly phone bill and watch the money trickle in.
This was the exact thinking behind the Galaxy Player, a 4-inch handheld that blazes past the Kindle Fire or Nook Tablet with its front and rear cameras, GPS, Bluetooth and support for Google's suite of official mobile apps, including Gmail, Google Talk and the Android Market. The iPod Touch clearly has the better camera of the two and a smoother display, but the Galaxy supports more video formats, high-quality YouTube and
Netflix
(NFLX) - Get Netflix, Inc. Report
streaming, better sound quality for audio files with Samsung's SoundAlive audio enhancement settings and an FM tuner for old folks who still care to listen to the radio.
Also see:Why Apple Really Built the iPad Mini >>
The latest Galaxy Player is competing with an Apple afterthought in a dying electronics segment, but Samsung's still taking the time to get it right. While not as impressive as the Galaxy S III, the Galaxy Player earned the same 90 rating from Decide as the latest iPod while selling for less. If price is the deciding factor, the Galaxy Player easily wins the day.
Tablet
Apple contender:
iPad Mini ($329)
Alternative:
Google Nexus 7 ($199)
It's not often the competition makes Apple move first, but how else do you explain the Nexus 7 beating the iPad Mini to the market by about six months?
The Nexus 7 is almost an inch smaller than the iPad Mini at 7 inches, costs less than its competitor and was brought on stage by Apple for the iPad Mini unveiling for a sorority-pledge-week-style teardown. Granted, it doesn't have Apple's Retina screen, but it has a fantastic HD display that lends itself well to games and movies thanks to a quad-core Tegra 3 processor that delivers fast performance and a beautiful and responsive screen.
It's been getting some early competition from the $160
Amazon
(AMZN) - Get Amazon.com, Inc. Report
Kindle Fire HD, but the Amazon mini tablet gives buyers a bit more size and bulk than the Nexus 7. Google's also given its tablet a fighting chance by adding TV shows and purchasable movies are welcome to Google Play to compete with Amazon Prime and iTunes offerings.
The iPad Mini is a formidable foe, but the Nexus 7's lightweight design and low price are going to be tough to beat in very large, frugal corners of the market.
Low-end laptop
Apple contender:
MacBook Air ($999)
Alternative:
Google Chromebook ($245)
Apple decided long ago it wasn't going to muck around with netbooks when it could produce perfectly good tablets. Its competitors eventually caught on, but decided to give the somewhat unloved notebook another look.
Google dropped the hammer this month by debuting a Samsung-made laptop that looks a whole lot like the 11.6-inch MacBook Air, but has no fan to crank up the noise and heat. It also gets least 6.5 hours of battery life, weighs only 2.5 pounds and is 0.8 inches thick, all eerily similar to the MacBook Air. Does it have the Air's Retina screen? No. Does it have a USB port? No. Will Apple fanboys bemoan its Android apps and other features they deem inferior to Apple's? Likely.
But will any of that really help a nonpartisan consumer justify paying four times more for a MacBook Air when a Chromebook will get the job done? Holiday 2012 should be a decent test.
High-end laptop
Apple contender:
MacBook Pro (13-inch $1,199)
Alternative:
Lenovo ThinkPad X Series (12.5-inch $799)
Apple tacked the introduction of its 13-inch MacBook Pro with Retina display onto the end of its iPad Mini presentation, which tells you about as much as you need to know about where the company thinks Macs fit in these days.
If iPads are doubling the sales and revenue of Mac laptops and Apple is pouring much of its efforts into its tablets and smartphones, what's the point of paying a premium for a Mac if its security is no longer uncrackable and integration is its only draw?
Dell
(DELL) - Get Dell Technologies Inc Class C Report
and
HP
may be hurting, but
Lenovo
just signed a sponsorship and supply deal with the NFL and wants folks to take a chance on its Windows-based laptops.
Decide loved the company's older 11.6-inch models and rated them second only to MacBook products among laptops. Its nearly 16-inch models are monsters by today's 13-to-15-inch standards, but Decide's given them an 88 out of 100.
The business community gives a whole lot of love to Lenovo models such as the X1 Carbon and X230 ultrabooks for their rugged style, keyboard setups that put the MacBook Air to shame and the familiar trackpad and trackpoint bump the folks in blue shirts love so well. Their goal was to slim down, compete with new MacBooks on price and give their users a familiar experience the Macs still can't match. While the ThinkPads may win the race with MacBooks to laptop extinction, they're pulling in as many mourners as possible along the way.
Desktop
Apple contender:
iMac ($1,299 -- arrives in November)
Alternative:
HP Pavilion Phoenix Desktop ($1,049)
Yet another category tech companies seem to care about less and less.
iMac sales make up roughly a fifth of all Mac sales and were down almost 20% in the third quarter from the same time last year. In all of last year, iMac desktop sales grew just 1% from 2010. The decline is speeding up and the sector is dying.
Still, there are offices that need workstations and desk space that needs filling. Decide gives a slight edge to the 27-inch iMacs and their all-in-one screen design, but is similarly taken with HP Pavilion Phoenix towers that come in at roughly half the price but offer 10 gigabytes of memory and a two-terabyte hard drive.
For gamers, that means no lag, great graphics and ridiculous sound from
Beats Audio
. For business folks, that means a smooth transition to Windows 8. For the average joe, it means having to find a monitor instead of having a nice, compact, minimally fanned all-in-one, but it also means having more speed and storage than you could ever hope to use.
Streaming box
Apple contender:
Apple TV ($99)
Alternative:
Roku
2 XD ($79)
Apple TV is great for Apple fans who want to integrate all their media and have access to all their iTunes files via their living room or use their Apple mobile device as a remote. Beyond that the perks stop at Netflix, Hulu, Major League MLB.tv, NBA League Pass, Vimeo, YouTube and Flickr and NHL Game Center.
That's wonderful and all, but if you're less keen on mirroring your Mac screen on your television and more concerned with cutting the cable cord, the similarly priced Roku 2 XD holds far more value.
For one, it gives Amazon Prime customers access to their Amazon Instant Video shows and movies and gives
Wal-Mart
(WMT) - Get Walmart Inc. Report
-held Vudu customers a link to their television and film content. It also pipes in music from
P
(PANDORA)
and
Rdio
, content from
Crackle
, NBC News,
Disney.com
(DIS) - Get Walt Disney Company Report
and CBSSports.com and gives viewers their pick of video games.
If you're looking to link up Apple devices, there's really no other streaming box choice. If you care more about the content than making all your toys communicate, though, the Roku 2 is really worth considering.
-- Written by Jason Notte in Boston.
>To contact the writer of this article, click here:
Jason Notte
.
>To follow the writer on Twitter, go to
.
>To submit a news tip, send an email to:
.
RELATED STORIES:
>>10 Best Premium Seats For The NFL Season
>>NFL Teams Most Likely To Be Blacked Out In 2012
>>15 NFL Teams That Should Just Move Already
>>How to Survive (and Enjoy) the 2012 Holiday Season
Jason Notte is a reporter for TheStreet. His writing has appeared in The New York Times, The Huffington Post, Esquire.com, Time Out New York, the Boston Herald, the Boston Phoenix, the Metro newspaper and the Colorado Springs Independent. He previously served as the political and global affairs editor for Metro U.S., layout editor for Boston Now, assistant news editor for the Herald News of West Paterson, N.J., editor of Go Out! Magazine in Hoboken, N.J., and copy editor and lifestyle editor at the Jersey Journal in Jersey City, N.J.