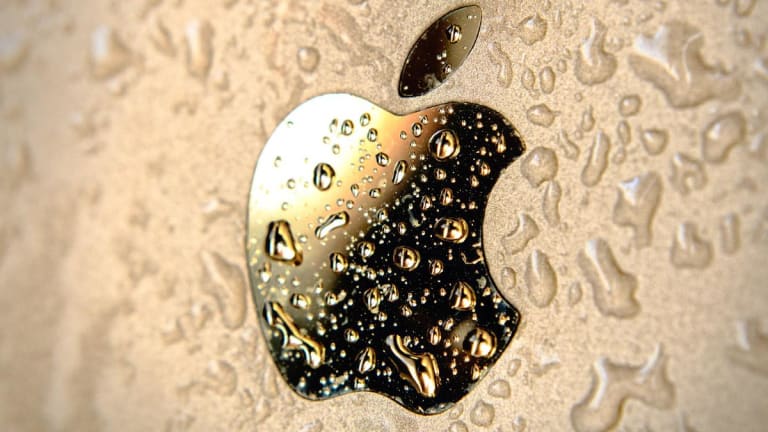 6 Ways Apple Was Able to Grow Revenue Despite Falling iPhone Sales
The strong growth seen by Apple's non-iPhone businesses last quarter offset fresh iPhone sales declines. A number of factors were at play.
Not too long ago, it would have been unthinkable to see Apple (AAPL) - Get Free Report deliver positive revenue growth in a quarter during which its iPhone revenue fell by a double-digit clip.
But that's what the company pulled off during its June quarter, as its revenue rose 1% to $53.81 billion (reversing the April quarter's 5% decline) even as its iPhone revenue fell 12% to $25.99 billion. If not for the impact of currency swings, revenue would have been up 4%.
All four of Apple's non-iPhone reporting segments saw positive revenue growth, with the company's Wearables, Home & Accessories segment (up 48%) doing particularly well thanks to soaring Apple Watch and AirPods sales. Mac revenue rose 11%, iPad revenue rose 8% and (excluding a year-ago, one-time gain) Services revenue rose 15%. As a result, the iPhone accounted for less than 50% of revenue for the first time since 2012.
In many ways, the groundwork for the non-iPhone growth recorded last quarter has been gradually put in place over the course of several years. Here's a look at some of the key trends and strategic decisions that made this growth possible.
1. Using the iPhone as a Springboard for Wearables Franchises
It's a cliche at this point to say that Apple's ability to create integrated experiences across its hardware, software and services is a major competitive advantage. But this ability -- together with Apple's chip engineering strengths -- are a big reason why the Apple Watch and AirPods have taken off the way they have, given how much product line relies on iPhone pairing.
Though Apple has taken steps to reduce the Watch's iPhone dependence -- first by launching Watches with 4G modems, and more recently by announcing plans to create a Watch App Store -- Watches still often communicate via iPhone pairing and Watch apps are often tightly integrated with companion iPhone apps, which of course have access to a lot more screen space. AirPods, meanwhile, rely on iPhone and Apple Watch integration to enable features such as Siri support and the ability to automatically pair with a device the moment they're taken out of a case.
With multiple reports indicating that Apple is working on an augmented reality headset that pairs with iPhones, the list of Apple wearables that feature tight iPhone integration might grow in the coming years.
Apple is a holding in Jim Cramer's Action Alerts PLUS member club. Want to be alerted before Jim Cramer buys or sells AAPL? Learn more now.
2. Continued Installed Base Growth
Though iPhone unit sales have been flat to down in recent years -- the 231 million iPhones sold in Apple's fiscal 2015 remains a record -- amid lengthening upgrade cycles, its iPhone installed base has kept rising with the help of strong customer loyalty and used iPhone sales. Apple reported in January that over 900 million iPhones were in active use, and that its total active device installed base had topped 1.4 billion.
This continued growth of the iPhone installed base has naturally given Apple a larger number of consumers to whom it can cross-sell iPads, Macs and wearables. And it has also played a pivotal role in the growth of Apple's services revenue, which is now on a $45 billion-plus annual run rate.
3. Services Expansion
On Apple's Tuesday earnings call, CFO Luca Maestri noted that four services businesses (the App Store, Apple Music, cloud services (iCloud) and AppleCare) saw double-digit growth last quarter, and that two others (Apple Pay and App Store search ads) saw triple-digit growth. Of these six businesses, three (Apple Music, Apple Pay and App Store search ads) were launched in the last year, and another (AppleCare) has recently benefited from Apple's attempts to expand its partner ecosystem for the service.
2019 is of course set to see a decent amount of additional services expansion. Apple's News+ news/magazine subscription service launched earlier this year; the Apple Card is launching in August; and the TV+ video service and Arcade game-subscription service are due this fall. There's also (not surprisingly) speculation that Apple will seek to bundle many of its services offerings.
4. An Overhauled Retail Strategy
Apple, which in the past has often insisted that retailers keep prices for its hardware at or near their official retail prices, has lately been more willing to let devices be sold at meaningful discounts. In addition to cutting iPhone prices in various emerging markets and providing enhanced iPhone trade-in offers at Apple Stores, the company has let the likes of Amazon, Walmart and Best Buy run promotional sales for iPads, Macs and Apple Watches.
5. Steady iPad Pro Improvements
Apple's newest iPad Pros, which it unveiled last fall, have helped its iPad sales grow at the strongest rates seen in several years. Sales rose at healthy double-digit rates during Apple's March and December quarters, before growing 8% last quarter.
The fact that the latest iPad Pros support Face ID and thus don't need space for a home button/fingerprint sensor has (by making the devices smaller and lighter) contributed to their appeal. But a lot of their other selling points -- among other things, advanced displays, processors that can deliver notebook-class performance and support for a number of multitasking features -- are the result of steady improvements made in recent years that are finally delivering a larger payoff.
6. Paying More Attention to the Mac
Though it hasn't stopped promoting the iPad Pro as a notebook alternative, Apple is now trying harder to appeal to more cost-sensitive buyers of traditional notebooks. Last October, the company gave the MacBook Air its first major refresh in over three years. It also revamped the Mac Mini for the first time in four years.
More recently, Apple cut the base price of its newest MacBook Air by $100 to $1,099, while also announcing a refresh for its cheapest MacBook Pro, which starts at $1,299. And this fall, the company will (in addition to launching its annual macOS update) roll out Project Catalyst, a solution meant to make it easier for iPad apps to be turned into Mac apps.
A revamped MacBook keyboard design might also be on the way. Overall, Apple seems to have stepped up its efforts to grow Mac sales as of late, and there was a clear payoff for those efforts last quarter.
Save 76% with our Summer Break Sale. Subscribe to our premium site Real Money and become a smarter investor! Click here today to sign up!