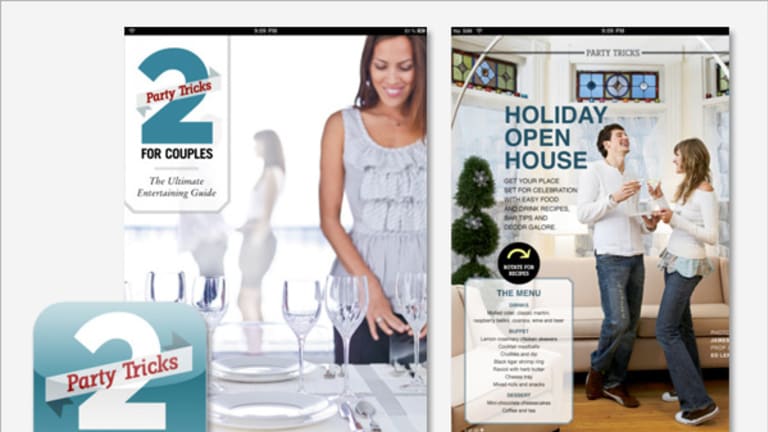 6 Apple iPad Apps for Holiday Entertaining
Concerned about entertaining during the busy holiday season? Then check out these Apple iPad apps.
NEW YORK (
) -- November's coming to a close, which means the festive cheer of December is ever so near.
As families and friends gather to celebrate Christmas, Hanukkah and the final days of 2012, tis the season to entertain! However, considering the endless options for menus, guests, decor and cocktails, facilitating merry making can seem overwhelming.
Fortunately, with the
Apple
(AAPL)
iPad, being the host(ess) of the most(est) has never been so easy. Whether you're looking for party-planning instructions, etiquette pointers or even the perfect party ice-breaker, there's help available.
In order to create a memorable experience for your guests,
TheStreet
recommends downloading these six
.
PARTY TRICKS: The Ultimate Entertaining Guide
This
app
, by
2 For Life Media
, offers comprehensive party-planning instruction for even the most inexperienced hosts.
The 'Holiday Open House' section - particularly useful at this time of year - suggests festive menus based on recipes from the classic
The Joy of Cooking
.
The 'Party Primer' section offers basic directions, such as assuring hosts and hostesses that it is "acceptable to constantly pick up during the party" and "if you're a terrible cook, don't bother trying." And the 'Bartending Basics' section includes tips for stocking a bar by describing the number of drinks per bottle of alcohol.
Although the app's introduction mentions a guide for preparing thematic parties, the app, which resembles a magazine with text and photo-images, fails to address decoration or ambiance.
The $1.99 app, exclusively compatible with the iPad, requires iOS 3.2 or later.
Robb Report Host Guide
Featuring wine, champagne, cocktail recipes, spirits and cigar suggestions, as well as bartending, party-planning and entertaining tips,
Robb Report Host Guide
is a well-rounded guide geared towards veteran hosts who want to entertain in style.
The interviews with celebrity chefs Mario Batali and Alain Ducasse, in the 'Great Chefs on Great Parties' section of the app, are bound to instill a deeper appreciation for bringing friends and family together for the holidays. When asked his philosophy on hospitality, Ducasse responded, "Hospitality embodies the art of living: generously giving your time and attention to someone and, in return, becoming richer in terms of human experience."
The app's 'Hangover Cures' section - perhaps most helpful to those hosting guests for more than one night -- includes morning-after solutions for those suffering from varying degrees of indulgence. For the worst kind of hangover, the app suggests postponing it with a concoction of rye, sugar, absinthe and champagne.
And although it's unlikely that even the biggest partyers will need a new reason to celebrate between Thanksgiving and the New Year, the app suggests 21 ideas for thematic parties throughout the year. "Why settle for a housewarming party when you can host a house-naming party?," it asks.
The free app, exclusively compatible with the iPad, requires iOS 3.2 or later.
Martha Stewart Makes Cocktails
The
Martha Stewart Makes Cocktails
app offers 60 cocktail concoctions to ensure all party attendees (guests and hosts) are well-hydrated.
With the swipe of a finger over a wheel of options, users can filter by flavor - warming, bitter, creamy, spicy, fruity, sour and herbal - and liquor - brandy, whisky, vodka, gin, tequila, rum, brandy. Selecting creamy and brandy, for example, results in two holiday drinks: spiced chocolate eggnog and coffee with cognac. The ingredients and recipe for the preferred option are displayed in the right column of the viewing page. Not sure how to "muddle," "rim," or make a citrus twist? The app includes instructional videos.
Users can also share recipes through email or
Facebook
(FB)
.
The app's tips for cocktail preparation, such as storing spirits, crushing ice, making ice cubes, chilling glasses, and lessons on how to stock a home bar with the essentials should be practiced year-round.
This app -- free for a limited time only -- is compatible with iPhone, iPod touch, and iPad, but requires iOS 4.3 or later.
Epicurious Recipes & Shopping List
The
Epicurious Recipes & Shopping List
app, which aggregates 30,000 recipes from
Bon Appetit
,
Gourmet
,
Self
and notable chefs and cookbooks, is THE app to use when preparing a delectable seasonal feast. Users can select a relevant category, such as weekend brunch, Christmas cookies, Christmas dinners, Hanukkah dinners, holiday sides and holiday desserts, to view an array of options. The list of featured recipes can be organized alphabetically or by category, primary ingredients, rating, image or most recent additions.
If the Crunch Bars - "easy-to-assemble bar cookies" featured as a holiday dessert in the current issue of
Bon Appetit
, look appealing, for example, users can share the recipe with friends and flag it as a favorite with the click of a button.
The practical functionality of the 'Shopping List' feature makes Epicurious Recipes & Shopping List exemplary. Users can automatically import ingredients from preferred recipes to their shopping list, edit and add to them, then save or email. When listed items are purchased, users can check them off by selecting the corresponding box, which turns the text from black to grey.
This free app is compatible with iPhone, iPod touch, and iPad, but requires iOS 4.0 or later.
The Etiquette App
The consummate host keeps his or her guests feeling welcome and comfortable, according to party planner extraordinaire, Emily Post. With
The Etiquette App
, acting hospitable and polite to coworkers, family, friends and strangers can be easy.
This app provides users with basic instructions for suitable manners, protocols and customs under different circumstances.
Perhaps the most entertaining feature of The Etiquette App is the sharing option which allows users to anonymously, and not so subtly, send etiquette tips to Facebook friends or
Twitter
followers.
This 99 cent app is compatible with iPhone, iPod touch, and iPad, but requires iOS 4.0 or later.
Conversation Starters - iTopics
Too many lulls in conversation can zap the energy out of a party.
Conversation Starters - iTopics
, which offers 400 general interest questions, across a range of categories, can spark lively discussions about religion, politics, entertainment, love, family and more.
Users can break the ice by asking their guests a silly question like, "If you could own a pet dinosaur, what would it be?"
Or they can spur their guests' imaginations by asking, "If you could know one thing about everyone you saw, what would it be?" Or "If you could hire anyone to be your personal assistant, who would it be?"
This 99 cent app is compatible with iPhone, iPod touch, and iPad, but requires iOS 3.0 or later.
Interested in more on Apple? See TheStreet Ratings' report card for
this stock
.
--
Written by Nathalie Pierrepont in Palo Alto
>Contact by
.
Follow @nrpierrepont