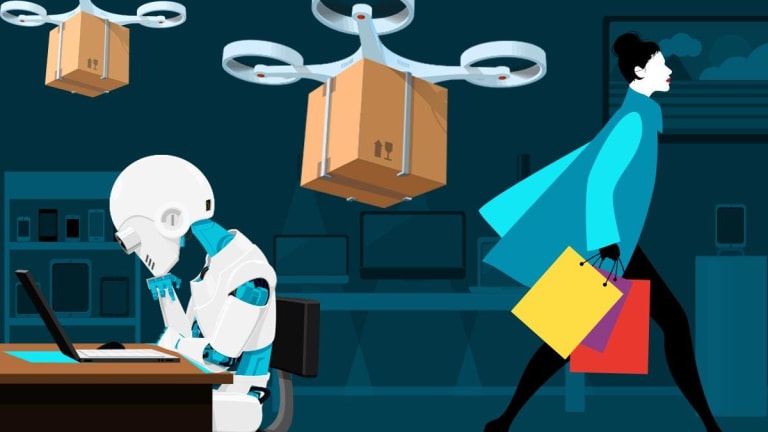 5 Retailers Using Tech to Create Futuristic Stores
Self-checkout is already available at many retailers but is just the beginning of automation coming to big-box stores.
The robot apocalypse might start at the store.
Big-box retailers and grocery stores began their move to automation with the inclusion of self-checkout lanes that first appeared back in 1992 at a Price Chopper supermarket in New York. Recently, major retailers began researching other tasks that could be done by a robot instead of a human, especially menial tasks such as checking price tags, seeing what needs to be restocked and even guiding customers to the items they want. 
"I think [automation] means customer service becomes better," said Diane Lim, principal economist at the Conference Board. "It's not displacing jobs that anyone wants or values." She says once the menial tasks are automated, employees working at the stores will have a level of skill to provide better customer service and earn a higher wage. 
Retailers that do attempt a "store of the future" filled with robots and drones, however, would need to make sure it still appeals to shoppers.
"While robots can really help to improve efficiencies and reduce costs in warehouses and with certain in-store operational tasks, they would be welcome in a customer-facing role, at least in the near term," retail consultant Michael J. Berne of MJB Consulting said. "Baby Boomers still prefer a human interaction in such circumstances. At the very least, the robots need to have the cuteness factor and not, as with a drone, look like a giant insect." 
Here's a closer look at five retailers using robots and tech to change their stores:
Walmart
Walmart Inc. (WMT) - Get Walmart Inc. Report may not appear to be on the cutting edge of technology, but the patents it filed in March tell a different story. One patent application explained how stores will have personal shopping assistant drones. Customers will be able to use their mobile device to call over a drone that will verify prices and guide a customer to the item he or she wants. Considering how many customers visit a store, future Walmarts could be full of drones flying around. 
Best Buy
At one Best Buy Co. (BBY) - Get Best Buy Co. Inc. Report location, a robot is performing all the duties of a regular worker. The big-box retailer has a robot named Chloe at one of its New York stores -- the robotic arm in a glass enclosure can grab music, games, headphones and other small electronics for customers who placed their orders at a kiosk. Customers receive their items from the robot, which gives a smile and a thank you on its display screen.
Lowe's
Lowe's Cos. (LOW) - Get Lowe's Companies Inc. Report developed its own robot, LoweBot, that handled multiple simple tasks during a two-year test pilot program at five stores in the San Francisco Bay Area. First shown off in 2016, LoweBot greeted customers and guided them to the product they wanted. It also could scan aisles for what products were in and out of stock. The home improvement retailer plans to analyze the data from the test and implement some of the technology across stores in the future. 
Kroger
Kroger Co. (KR) - Get Kroger Company (The) Report has a similar technology to give customers more info when they shop. Called the Kroger Edge, the new smart shelves are available in 16 stores, with plans to have the tech in 120 stores by the end of 2018. Not only will these digital shelves display the current price of an item, but they also can light up to bring attention to a certain product. The new tech would remove the time-consuming task of changing out price tags.
Target
Target Corp. (TGT) - Get Target Corporation Report also is looking to robots to handle simple tasks. Back in 2016, the Minneapolis-based retailer tested a robot, Tally, by Simbe Robotics Inc., which went up and down the aisles scanning for items that were misplaced, mispriced or low on stock. It only was tested for a short time at a Target store in downtown San Francisco, but Simbe Robotics said Midwest grocery chain Schnucks uses Tally.