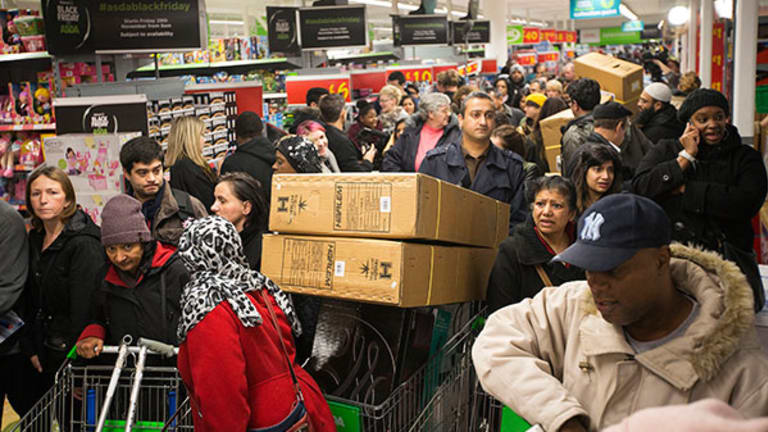 5 Unusual Gifts to Buy for the 2014 Holiday Shopping Season
Ideas include a new way to 'refresh' your clothing, a calculating kitchen scale and a 21st century hair growing machine.
NEW YORK (TheStreet) -- HP's (HPQ) - Get HP Inc. Report announcement of its sub-$200 Windows notebook computer was the big news coming from the Holiday Showcase event in New York, but as usual, there were several items that caused more than a few heads to turn.
There were several holiday gift ideas including a new way to refresh your clothing in only 10 minutes, a kitchen scale which is capable of thinking for you and a 21st century method for growing hair.
Here's four more of the most interesting items shown off at the event for the holiday shopping season.
SWASH
Swash is a machine made to refresh your clothing. It doesn't wash or dry clean garments, but it puts them through a 10 or 15-minute cycle to "dewrinkle, restore and preserve."
The joint Whirlpool (WHR) - Get Whirlpool Corporation Report and Tide (Procter & Gamble, (PG) - Get Procter & Gamble Company Report ) venture fits in a clothing closet, plugs into a standard 115 volts AC outlet and uses no water. Swash uses a special "pod" to accomplish the task. It's recommended for most fabrics except for leather, suede, silk or fur.
It's available at select retailers for $499.99.
SLINGBOX M1
The M1 is the cheapest Slingbox you can buy - but it's no less powerful than it's more expensive siblings. Like other Slingboxes, the little M1 allows you to stream HD-quality living room video (cable, satellite, DVR, etc) onto a laptop, tablet, smartphone or TV streaming device (Apple TV, Chromecast or Roku) via your high-speed home Internet connection. Then, you can watch your favorite programs anywhere on the planet without paying extra monthly service fees.
Sling Media is a division of EchoStar (SATS) - Get EchoStar Corporation Class A Report . The M1 retails for $149.99 and is available now.
DROP
This ordinary-looking kitchen scale is anything but ordinary. The scale helps chefs accurately measure exact amounts of ingredients. But, there is also a computer program component - and that's where the secret lies.
The iPad software turns Drop into a Bluetooth smart scale, a virtual baking assistant, allows chefs to choose a recipe or measure an ingredient. If a cook needs six ounces of flour and the scale says you only have four, Drop will automatically adjust the recipe to fit the exact ratio of ingredients you have on hand.
Drop retails for $99 and is available on the company's Website and should be shipping this fall.

iGROW
Another take on Rogaine, iGrow is a laser/LED hair regrowth system. Experts at Apira Science say iGrow is officially a "Low-Level Laser Therapy (LLLT) device which has received clearance from the FDA for use by men. It's claimed that iGrow has no side effects unlike pills and topical treatments.
iGrow is said to strengthen hair follicles, help thinning scalp and generate cellular rejuvenation. And, they say they have proof that it really works when you use it 3-4 times each week for 20-25 minutes each session.
There are headphones attached so you can relax and listen to music while you're rejuvenating.
You can learn more on the company's Website. The system sells for $695.
--Written by Gary Krakow in New York
Gary Krakow is TheStreet's Senior Technology Correspondent.