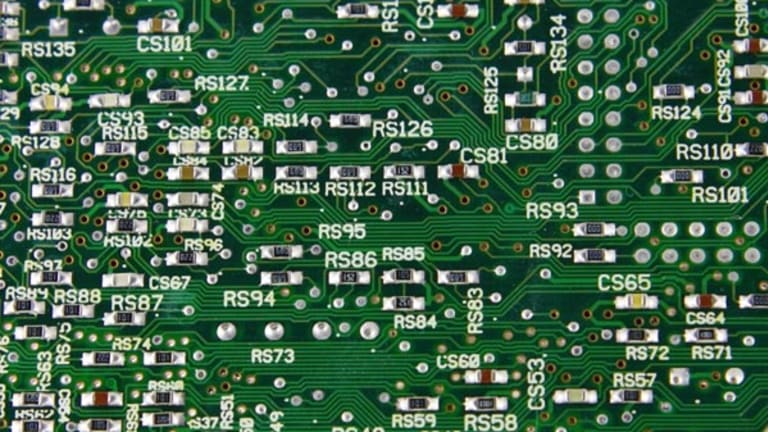 5 Top Tech Calls From Ashok Kumar
Consider the humble tech analyst who braves the daring fireballs of the tech-watching world.
NEW YORK (
) -- Ashok Kumar, senior tech analyst at Rodman Renshaw, is a disarmingly peaceful man whose research work draws unusually passionate attacks.
In the latest example, Kumar noted Monday that
Apple
(AAPL) - Get Apple Inc. (AAPL) Report
was preparing a
early next year that would be smaller than the original and include front and back cameras.
The assertion predictably irked some bloggers like Ed Oswald at
Technologizer
who
and "the media" that "keeps giving this guy a platform." Over at
Daring Fireball,
John Gruber
Kumar's track record on research calls. Some notable misses, he noted, include the prediction that a
Verizon
(VZ) - Get Verizon Communications Inc. Report
iPhone
would arrive by summer
.
Gruber concludes that Kumar is probably right once every 720 tries, according to the math of his analogy. "Betting on a 7-inch iPad based on a Kumar 'research note' is pretty much like betting on the time of day based on a stopped clock," Gruber wrote.
Kumar, who lives on the West Coast and hospitably takes pre-dawn calls all-too-regularly from reporters on the East Coast, does not offer a defense of his record. "If I had all the answers, I'd probably be on a beach somewhere," said Kumar.
Kumar grew up in India and earned engineering degrees there and in the U.S. as well as an additional MBA from Wharton. He worked at
Intel
(INTC) - Get Intel Corporation (INTC) Report
before taking his talents to Wall Street more than a decade ago. His specialty has been chips, including the PC sector and, increasingly, the mobile Internet hardware arena.
Like many in his field, Kumar applies an investment viewpoint to the buzzing hive of activity among tech suppliers and manufacturers overseas and sorts out the important tidbits. But unlike many in his field, Kumar talks on the record with numerous reporters who are eager to hear his latest findings or get his take on an industry developments.
Kumar and his critics point out that his track record isn't perfect. But he's modest. And he's also been right early and often. Read on for the top five calls Kumar has made in the past two years.
Google phone
Oct. 20, 2009, Kumar said
Google
(GOOG) - Get Alphabet Inc. Class C Report
was prepared to do the unthinkable: sell its own phone. The news, which was an
exclusive to TheStreet
, created a fiery blowback as critics scoffed at the idea of the search giant jumping into hardware.
On Jan. 5, 2010,
Google introduced the Nexus One
, an unlocked 3G phone made for Google by
HTC
. The phone had free turn-by-turn navigation, WiFi and search by voice-command -- all features that are now standard on Android phones.
Google sold the phone directly to consumers online in an effort to remake the phone buying process. But by July, Google pulled the Nexus One offering.
The move had mixed results. Google's effort to bypass its telco partners wasn't warmly received -- Verizon snubbed the Nexus One after initially signing on for the phone. But by offering a full-featured phone with extensive Google search functions, the move helped shame the phone companies into allowing Google and the phonemakers more sway.
Palm Fits HP
On March 4, 2009, Kumar said that under-funded smartphone shop
for
Hewlett-Packard
(HPQ) - Get HP Inc. (HPQ) Report
, which lacked a mobile product strategy.
Thirteen months later,
HP scooped up Palm
for $1.2 billion to jump start its mobile device business.
RIM Preps BlackPad For Holidays
On July 12, Kumar said
Research In Motion
(RIMM)
was planning
an aggressive launch of its so-called BlackPad
tablet for a pre-holiday arrival.
Unwilling to let Apple gain too much ground unopposed and eager to get a tablet in the market before
Cisco
(CSCO) - Get Cisco Systems, Inc. Report
introduces its
next year, RIM gave the BlackPad the green light.
Two weeks later,
Bloomberg
the BlackPad plans and a November launch. On Wednesday,
The Wall Street Journal
reported that the BlackPad could be unveiled as early as next week.
No Intel in the Apple iPad
On Jan. 6, 2010, Kumar noted
a small detail of great consequence
: Apple's groundbreaking new tablet, a product that would single-handedly create an entire new category of mobile devices, was powered not by Intel, but by Apple's own computer processing chip.
Apple started selling the iPad on April 3 and hit the 3 million-sold mark 80 days later. Not only did Intel miss the bus on the biggest tablet debut ever, Apple went on to drop Intel from its recently introduced
.
As Kumar astutely noted, Intel is on the wrong side of a massive technology shift as low-powered
ARM-
(ARMH)
-based processors rack up more chip design wins.
Apple iPhone Antenna Fix
On July 15, just hours before Apple took the stage to dance around its iPhone 4 antenna problems -- known as
-- Kumar said the company
in the works. Kumar said the company had ordered its manufacturing partners to modify the iPhone production to include an internal insulator to fix the phone's signal reception problem.
But instead of creating a massive recall by owning up to the problem or the fix, Apple chief Steve Jobs announced a bumper giveaway program. And
, the bumper program ends this month -- just as the new production of fixed iPhones goes full swing.
--Written by Scott Moritz in New York.>To contact this writer, click here: Scott Moritz, or email: scott.moritz@thestreet.com.To follow Scott on Twitter, go to http://twitter.com/TheStreet_Tech.>To send a tip, email: tips@thestreet.com.