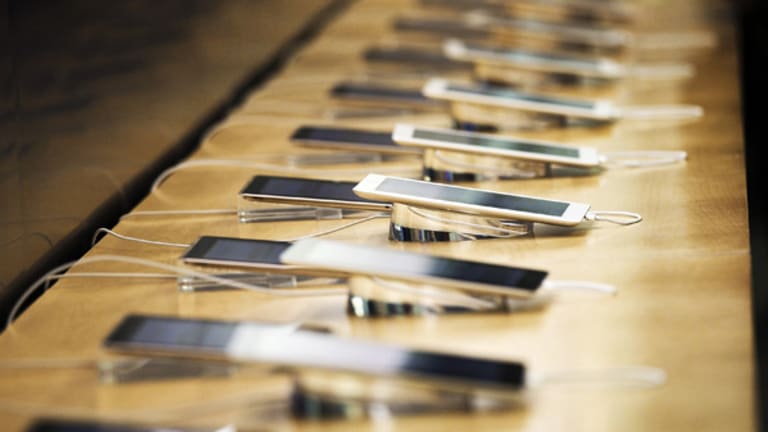 35 New Android Apps for 2011
Google's Android market keeps growing. Here's our running list, with 5 new -- or recently updated -- Android apps to try.
New Android Apps story updated with five new apps.
NEW YORK (
) -- While
Apple's
(AAPL) - Get Apple Inc. (AAPL) Report
App Store still boasts more than three times as many apps as
Google's
(GOOG) - Get Alphabet Inc. Class C Report
Android Market, this disparity may not exist for long.
Overall, there are more than 300,000 Android apps, compared to
offerings. But the number of Android apps has more than doubled since last August and should outnumber programs for Apple's iOS devices by mid-2012, according to mobile app security company Lookout Mobile Security.
As app developers continue to create programs for Android, new apps are launched every day, and old favorites are continually updated. Here are 35 of them.
Zaarly
Zaarly is a new service that lets you bid on services and items. Let's say, for example, you're busy at work and need someone to pick up your dry cleaning and lunch for you.
Once you're registered on the site, type up a short description of the task you'd like to get done and the amount you're willing to pay for the service. Then list the how quickly you'll need for it to get done (from 1 hour to 1 week). Other Zaarly users can then browse the site and send bids to you if they're interested in fulfilling your request.
We browsed the Zaarly board for nearby listings and saw a user looking for someone to play Santa Claus at a office Christmas party, someone searching for New York Giants tickets and another person requesting Christian Louboutin heels in a size 8.
We asked for someone to pick up McDonalds for us and got a response from a Zaarly user in under five minutes.
Amazon's
(AMZN) - Get Amazon.com, Inc. Report
Price Check
While Amazon's Price Check app became available for Android users in mid-November, it's been on iOS since 2010.
Just like the Apple app, Price Check for Android is incredibly simple to use.
You can scan an item using its barcode, snap a picture of it with your phone's camera or speak the name of the item and the app will pull up the product from Amazon's Web site complete with prices, a description and reviews.
If you find a product you like, you can buy it directly through the app using your Amazon account.
TextOnly
If you're addicted to reading articles on the Web but can't stand the skyhigh data costs, then TextOnly may be for you. The new Android app is a browser that displays only text while stripping out ads, photos, video and other content that slows down your Internet connection.
The app is super-fast--we entered the
New York Times
into the URL field and a list of articles was pulled up within a matter of seconds.
A few downsides: The main page which displayed all of the articles had a black background that made it a bit jarring to read. The app also crashed on us several times when we tried to use it.
Ntro
Ntro is another new Android app looking to connect you with nearby strangers who share the same interests as you. Once you register for an account, you can manually enter your favorite activities or interests or import them
Facebook
. You can be as general or specific as you want -- for example, say you're interested in travel or that you want to travel to Turkey.
The site then matches you with others that you can message with based on similar interests. Unlike other social discovery apps, Ntro places a big emphasis on privacy--it doesn't share your real name or your location without your permission.
As of now, Ntro is only available in Los Angeles and San Francisco, though it has plans to launch in other cities soon (New York, Boston and Washington D.C.). You can still use the app if you live elsewhere, but your matches may not live so close by.
Path
Path is a social networking app that allows you to share life's moments with the people closest to you (it's capped at 50 "friends"). The newly updated Android app lets you add photos, thoughts, music you're listening to and location check-ins.
These "moments" can be shared with friends through Path or through other apps like Facebook and
Foursquare
. You can react to friends' activities with real emotions like smile, frown, gasp, love and laugh.
Founded by Facebook alum Dave Morin, the company has raised $8.5 million in funding from investors including Kleiner Perkins and Index Ventures.
Fab.com
Cost: Free
Contemporary design flash sales site
Fab.com
is growing like gangbusters. The company has already carved out a niche for itself in the crowded homewares space (think
One Kings Lane
and
Gilt Groupe
), accumulated 750,000 members in less than six months and raised $8 million in funding.
Fab's recently launched Android app is similar to its Web site: Slick, beautiful and easy-on-the-eyes.
Users can browse through the site's carefully curated selection of home goods from vintage typewriters to cashmere pillows and photography books and make purchases on-the-go. The app will also notify users when a new sale is starting and when an item in their shopping cart is going to expire.
There's also a calendar of upcoming sales and sharing capabilities through Facebook and
Twitter
.
Trip Advisor City Guides
Cost: Free
Trip Advisor, known primarily as a hotel reviews site, recently launched a series of free guides for cities including New York, Barcelona, London, Paris and Las Vegas.
The guides include reviews of restaurants, attractions and hotels, as well as information about neighborhoods, culture, architecture and transportation.
We loved the self-guided tours of attractions like a walking tour of the Brooklyn Bridge and the Financial District, which give tourists step-by-step instructions (complete with photos) of the best way to view these landmarks and their surroundings.
Our favorite part of the app: You don't need a working data connection, as all of the content is already stored within your phone.
Flickr
Cost: Free
Flickr, the photo-sharing site owned by
Yahoo!
(YHOO)
, recently rolled out a new Android app lets users take photos, apply filters and upload them to sites like Facebook and Twitter.
The app was fairly straightforward to use. After taking a photo, we could add a title, description and tag its location. We could also adjust privacy settings to have control over who could see the image.
After uploading a photo (which worked relatively quickly), the app let us know if our friends had commented on it.
Marvel Comics
Cost: Free
Marvel Comics' new Android app provides a new way for comic lovers to read their favorite titles. Users can purchase and download a variety of comics, ranging from Captain America to the Hulk and Spider-Man. The majority of comics cost $1.99, but some are offered for free.
Once downloaded, users can read the comics in two ways: a guided view which is animated or regular view in which the images can be zoomed and panned into.
The app also works on Android tablets.
Trover
Cost: Free
Trover is a location-based photo sharing app recently launched for Android that helps you discover new places around you in a unique and visually beautiful way.
The app uses GPS to track where you are and then displays a grid of thumbnail photos that other users have snapped of nearby places (images near
TheStreet's
office in New York's Financial District included Ground Zero construction, art in City Hall Park and a sculpture of the Wall Street bull).
Images will first appear that are close to you, and then will gradually fan out distance-wise the more you scroll down.
We liked the feed function, which shows photos from around the globe that were recently updated (we saw images ranging from Times Square to Vatican City and the Colosseum in Rome).
MyWeather
Cost:
Free
While the ubiquitous
Weather.com
has a firm grip over online and mobile weather forecasts, there's a new player in town.
MyWeather
launched last month with a new Android app that tailors weather info not just to your city or town, but to your street address using GPS technology.
The app claims that it's six times more accurate than its competitors, and our casual testing, pitting it against Weather.com showed that to be true. Forecasts differed by as much as 15 degrees on some days. MyWeather was overwhelming more accurate, predicting a high of 83 degrees one day compared to Weather Channel's 97 degrees -- the actual weather never crept up higher than 83.
The app includes current, hourly and 10-day weather forecasts, animated radar and satellite maps, and news and alerts.
MyWeather also offers an app called PinPoint Lightning 2011, which provides the time and distance of lightning strikes from your location for $5.99 -- interesting technology to help you decide when to take cover if you're outside playing golf, for example.
SeamlessWeb
Cost:
Free
Hungry for a slice of pizza or some Chinese food at midnight but too lazy to pick up the phone? The new
SeamlessWeb
app for Android uses GPS to find a location, then displays a list of restaurants that will deliver nearby.
You can sort through restaurant ratings and menus and browse by cuisine before placing your order with just a few quick taps. You can also re-order your favorite meals made through your SeamlessWeb account and add special instructions to you order (i.e no mayo, dressing on the side). In addition, the app saves your credit card info so you don't have to enter it every time you order.
We found the SeamlessWeb app intuitive to use and incredibly convenient. Within minutes of placing our order, we were sent a confirmation e-mail with an estimated delivery time; the Thai food appeared at our doorstep right at that time.
Al Jazeera in English
Cost:
Free
While Middle Eastern news network
Al Jazeera
already has a live streaming app available for Android, the new app includes all of the content available on its Web site in English.
The app's interface is clean and uncluttered with all of its categories ("news," "opinion," "features," "video," etc.) divided into different blocks. You can also click on the top of the app to see a live video news stream.
In addition, the
Al Jazeera
app encourages its users to engage in citizen journalism and send in footage from the smartphone's camera through its "your media" function.
But while we found the app easy to use, there were several faults with it. While the
Al Jazeera
app offers video, users are asked if they want to watch in a mobile browser or
YouTube
-- there is no native video streaming infrastructure within the app.
The app also doesn't offer the ability to share stories through Facebook or Twitter -- although its mobile web version does.
TuneWiki
Cost:
Free
The
TuneWiki
Android app, a music player that provides lyrics with all of its songs, got a major upgrade recently, adding new social networking features to the service.
The app plugs into music-on demand service
Rhapsody
as well as radio stations from
Slacker
and
Shoutcast
and videos from YouTube; it displays the lyrics of songs you're listening to. It does the same for music already stored on your phone.
The newly updated "discover" function brings up a map which displays songs being listened to through TuneWiki around you. You can then choose to follow music listeners with similar tastes, adding people from Facebook and Twitter), making them your "Muse."
Whenever a Muse listens to a new song, the track will appear in your SongBox tab where you can listen to song previews, listen to music videos and buy tracks.
CloudTalk
Cost:
Free
While the rise of social networks and texting have all but eliminated human interaction,
CloudTalk
is hoping to change all that.
Like other messaging apps, the newly-launched Android app lets users communicate through text, photo and chat, but voice remains at the center of the service -- users can send short voice notes to friends and other members of the CloudTalk community.
Conversations appear in a SMS-like format, and messages that we sent were delivered quickly and seamlessly. You can scan your address book to find friends who are CloudTalk users or search the app's online directory for users you already know.
The app also features group messaging functionality, where people can message each other one-on-one or in a community-specific group (we found groups for fans of
Angry Birds
, new parents and photographers, although most of the communities were not particularly active).
CloudTalk has raised $5.2 million in venture funding earlier this year.
White House
Cost:
Free
President Obama has launched several new initiatives to ensure his administration is
connected to Americans through social media
.
Dozens of government agencies now have YouTube channels, Twitter accounts and Facebook pages, while the Library of Congress has posted thousands of historical photos on photo-sharing Web site
Flickr
.
An official White House Android app seems the logical next step.
Launched last month, the app features the presidential news from the White House blog and briefing room, behind-the-scenes photos of Barack and Michelle and videos of events like a town hall meeting on America's fiscal future, press briefings and a meeting with the ruler of Qatar.
While the app has some solid functionality, we wish that it had some of the best features of its sister iPhone app, like the ability to receive mobile alerts when Obama is on deck to speak and live streaming of events like the State of the Union address.
Webroot
Cost:
Free
While the open nature of Google's Android platform is generally touted as a plus for developers, who find it less cumbersome to sell their apps there without having to go through a stringent approval process, the security of Android has raised some concern.
Earlier this year, Google pulled more than 20 malicious Android apps that were trying to gain access to users' devices from its Marketplace.
Webroot, a new mobile security app for Android, is aimed at protecting your smartphone from threats that steal your mobile data. Once you install the app, it runs an anti-virus and alerts you of any suspicious applications -- you can also set the frequency of these scans (weekly, monthly, etc.).
Webroot also lets you set up lost device protection so you can remotely lock or wipe the data from your phone if it's lost or stolen. You do this by using a friend's phone to send a text message to your device with a password.
If you can't find your phone around your apartment or a crowded bar, you can set the device to "scream" -- a harsh banshee-like sound -- so you can locate it. The app can also send you a Google map link with your phone's location in it, though it took us a few tries to get this feature to work.
Webroot can also block calls and messages from phone numbers you don't want to hear from.
AllSport GPS
Cost:
Free
The AllSport app is a great tool for active Android users, letting them track workouts such as running, walking and bike riding. The app charts dozens of statistics like time, speed, calories burned and distance. Users can also store past training sessions in their phone, compare data, and share workout successes on Facebook.
Since AllSport uses the phone's internal GPS system, a cell connection isn't needed for the app to work -- useful if you're in an area with limited cell service, like in the mountains.
The app worked well when we tested it, but the GPS system took a while to begin tracking (meaning it missed about half a mile of our run before it finally found a satellite signal).
With the app's paid version ($3.99), you get additional features like terrain maps, the ability to shoot and the ability to geotag videos of your workouts.
Broadcastr
Cost:
Free
Broadcastr is a new Android app that allows users to record, organize, listen and share mini podcasts about the world around them. The app is a mix between online talk radio and Foursquare, letting you record three minute audio stories and tag them to specific geographic locations.
The "geoplay" feature uses GPS to let you listen to stories based on your physical location. For example, while walking around New York's Financial District, we heard several stories from 9/11 survivors, first responders and volunteers.
You can also listen to other users' stories from around the world -- we came across tales from places as far away as Argentina, South Africa and Afghanistan.
The app also has a social media bent, letting you follow others users as well as notable storytellers -- like
Frommers
travel editors -- in its "Featured" section.
The service has about 40,000 active users and has collected about 8,000 stories since launching in March.
EventJot
EventJot
lets users build unique events through Twitter -- like a party, political rally or a music festival where friends can add pictures and comments.
When you launch EventJot, it will prompt you to log into Twitter (you need an account with Twitter to join). You can then type in the name and description of the event you'd like to create and then start adding photos. Once you begin uploading to EventJot, the event will appear almost instantly in your Twitter feed, with the photos and comments appearing in a message board-like format.
While we were impressed with the speed with which EventJot can upload photos and comments, we were unsure about the app's utility and how it differs from apps like Facebook's Events feature.
Domo
Cost:
Free
Domo is a new breed of social networking app. Rather than connect you with people you already know like Facebook and
LinkedIn
do, the program allows users to find strangers with shared interests.
Users log in to their Facebook accounts and select the interests they'd like to share with others (work, education, activities, etc.). The app then displays a list of people around you based on shared interests. You can say a quick "domo" (hello in Japanese) or send longer messages and photos.
While the app is easy to use, we found the whole idea of talking to strangers a tad creepy.
Domo was developed by Japanese mobile start-up
Tonchidot,
which has raised more than $16 million in venture funding.
Foursquare
Cost:
Free
While already one of the much buzzed about mobile apps, Foursquare recently launched an upgraded version for Android. Foursquare, a location-based service that lets users "check-in" to restaurants and bars, has sought to make its revamped app more interactive.
The app now includes a new Explore tab, which provides recommendations for your next night out. Users enter key words for what they're looking for ("gluten free" or "places with fireplaces," for example) and Foursquare will make suggestions based on a blend of what's popular with your friends and other users, places with great tips and locations you've visited in the past.
Foursquare has also expanded its Specials feature, letting merchants reward loyal customers and offer perks for checking-in. Businesses can now offer discounts and/or freebies to groups of friends, new customers and regulars.
Rewards offered through Foursquare's Specials near
TheStreet's
office included 10% off bottles of wine, free apple pie and spa discounts.
Kik Messenger
Cost:
Free
Kik Messenger, the creator of a free smartphone messaging service, recently announced an update to its Android app that includes group chat. Kik now allows group chatting for up to 10 people, as well as picture sharing.
Once you download Kik, it scans your address book and recommends contacts for you. Similar to instant messaging, the app lets you see when the person you're chatting with is typing, and lets you know when they've read your message. You can communicate with people across different mobile platforms, as well.
Kik joins a number of other players the group chat space, including
WhatsApp
,
Beluga
and
PingChat
, as well as
Research In Motion
( RIMM), which sued Kik last year for patent infringement of its BlackBerry Messenger client.
Kik recently received an $8 million Series A funding round and announced that prominent venture capitalist Fred Wilson from Union Square Ventures would be joining its board.
Socialcam
Cost:
Free
Socialcam, a new mobile video app for Android, allows users to record and share videos with friends. When you launch the app for the first time, you log into Facebook and it shows your friends that are also using Socialcam. Video is shot within the the app itself, and it begins loading instantly as you pick out a title and tag friends. You can then choose to share the video through Facebook, Twitter, e-mail or text message.
We were impressed with Socialcam's speed and ease-of-use, making videos as simple to upload and share as photos are. After recording a video and sending it to our Facebook wall, it was posted immediately.
Socialcam also offers unlimited video length and storage, as well as the ability to record video offline and upload later when you have Internet.
Google Maps
Cost:
Free
Google Maps isn't new, but the app received a recent update to its GPS Navigation feature in which users driving in traffic -- marked by red on the screen -- will automatically get rerouted to an alternative path. Previously, Google Maps generated directions based on the shortest distance to your destination.
It worked pretty well the Sunday we tried it while making a trip to and from New York's JFK airport to a point north of the city -- a path with multiple routes, many of which encompass lots of traffic even on the weekends. With our usual route via the Bronx-Whitestone Bridge stagnant due to a lane closure, Google Maps jogged us four miles out of our way, along the Major Deegan Expressway, where we didn't encounter any slowdowns.
Google Maps, which will quickly show you ATMs, restaurants and gas stations closest to your location, also now shows electric car owners the nearest charging stations.
HeyWire
Cost:
Free
HeyWire's Android App, released earlier this year, is a tool aimed at high-powered social networkers who "need" to be plugged in at all times.
Once you sign up for HeyWire, you're given your own phone number to use for free texting. You can send texts to any number in the U.S. and more than 146 countries nationwide to any mobile device, even if they don't have HeyWire installed.HeyWire uses your phone's data or WiFi connection to send messages, rather than routing them through your carrier.
The app allows users to message friends or groups of up to ten from Facebook chat or from their phone's contact list. They can also send text messages to Twitter or to other mobile numbers.
Route 66
Cost:
Free
Based on the travel book series "Road Trip USA," which explores back-road U.S. car trips that highlight obscure Americana sights bypassed by freeways, the Route 66 app uses a smartphone's GPS to locate historic drives, hikes and walks close to your location.
Once it's downloaded, a tap of "my location" and "search" pulls up a series of 2- to 10-mile hiking trails close to home; tapping the markers along the map gives detailed directions and histories of things to look out for -- ruins of a "once-magnificent" hotel at Overlook Mountain near Echo Lake, N.Y., for example.
"Home" brings you to a screen with markers along a map of Route 66 itself, which holds the app's most robust offerings. Swiping the different markers in Missouri, New Mexico, Arizona, etc., reveals the way to and information about old-world hot spots like ancient custard stands, forgotten limestone caves and gas stations with ancient neon signs.
Blogger
Cost:
Free
The Blogger app for Android lets you publish blog posts via smartphone on the popular Google tool. The app upload posts with pictures, labels and location information, and also allows you to switch between blog accounts if you have more than one.
But while the Blogger app is an easy-to-use tool for simple blog posting, the program is still pretty rudimentary. For example, the app doesn't allow you to view drafts between its web-based Blogger platform and its mobile version, meaning you can't write a post on your phone and finish it up later on your computer.
The app also doesn't let you upload video or enable hyperlinks.
SnapTax
Cost
: free to download, $15 to e-file via phone
Geared only toward folks prepping a 1040 EZ form -- a tax return for single and joint filers with no dependents --
Intuit's
(INTU) - Get Intuit Inc. (INTU) Report
new SnapTax smartphone app allows users to file their taxes via phone.
Once the app is downloaded, users answer a series of quick questions to determine if they're a 1040EZ contender. If so, the app guides filers easily through the process, asking them to snap a photo of their W2 so the data can be automatically uploaded and filled out on their return. The rest of the steps are brief: To enter "Interest Income," for example, the app asks two questions: Bank Name and Interest Amount; things like charitable donations are found under "I have something else to enter."
Marking
Intuit's continued move
into the
mobile devices space
-- "We want to make sure we're able to help customers solve their problems through any device they want to use," CEO Brad Smith said on last week's conference call that followed the company's
second-quarter earnings report
-- the company hasn't announced any specific plans to make SnapTax available for more tax filers.
MyLawyer
Cost:
Free
While launching a smartphone app might not be the first measure taken by someone involved in a car accident, MyLawyer provides a step-by-step guide on how to sort out such incidents.
When you first launch the app, it offers to dial 911 and instructs you what to do at the scene of an accident -- documenting witnesses, property damage and injuries. The app also stores photos of the scene so you have a comprehensive account of the incident.
Besides organizing this evidence, MyLawyer provides information on accident law in your state and includes a quiz to test your legal knowledge. In a worst-case scenario, the app also lets you submit your case for an attorney to review.
We found the app very straightforward and easy-to-use, but wish it focused on more than car accidents. What about tenant law or traffic law?
Redbox
Cost:
Free
Redbox, the popular DVD rental company, recently released a new Android app that lets movie fans see what films are in stock at Redbox kiosks near them. The app also allows users to reserve films and provides basic information about movies, like plot summary and box art. Redbox has already released an iPhone app, which has been downloaded more than 2 million times since it launched in late 2009.
The company, owned by
Coinstar
(CSTAR)
, offers DVD and Blu-ray rentals at more than 26,000 kiosks across the country and recently
announced that it will let customers stream movies
online, placing the company in a head-on battle against
Netflix
(NFLX) - Get Netflix, Inc. (NFLX) Report
and
Amazon
(AMZN) - Get Amazon.com, Inc. Report
.
Bizzy
Cost:
Free
Bizzy, a recommendation engine designed to help users find the best places to eat and shop around them, bases its suggestions by asking questions like: "What's the best spot to grab a bite on the patio? What's the best frozen yogurt or ice cream?"
Once you've told Bizzy about your favorite places by answering these questions, the app takes this data and finds others users who like the same types of spots as you, then shares the recommendations.
Bizzy's app is based on the belief that most users don't want to filter through thousands of reviews; different users (i.e. a steak-lover vs. a vegetarian) should receive tailored results based on their budgets and tastes. Users can also post tips about their favorite places, although this feature didn't seem to be utilized yet among most of local businesses we surveyed on the app.
The app, owned by small business marketing company
ReachLocal
(RLOC)
, has generated more than 1.1 million personal recommendations since it launched for iPhone last month.
American Airlines/Delta Air Lines App
Cost:
Free
We've already reviewed great
travel plan-aggregation apps
like
Kayak
and
Tripit
, but if you're a frequent flier miles holder for an individual airline, nothing beats using its own branded app to book and manage flights.
Borrowing heavily from their web sites, both
American
(AMR)
and
Delta
(DAL) - Get Delta Air Lines, Inc. Report
recently released iPhone and Android apps, where users can track mileage, oversee upgrade and reservations status, check in and display an electronic boarding pass.
We used American's app, and after logging in with our frequent flier number, were able to choose from a number of tappable tabs that allowed us to change our reservation, set flight alert options and check for Wi-Fi -- and better seats -- on our plane. We also liked the instant connection to The Weather Channel for weather status, although for places other than major cities (unlike Phoenix, where we were going), we were rerouted to TheWeatherChannel.com, where we had to enter in a zip code.
iBird Pro
Cost:
$10; iBird "Lite": free
OK, so probably not all readers of
TheStreet
are birders, but as one of 2009's most popular iPhone apps, iBird Pro, which just recently came to Android, makes it really easy to identify feathery friends wherever you roam. Users can search via any characteristic -- location (Hawaii, New York), head shape, color and even the sound of the bird's song -- and the app scans its 924 entries to try and find the match for what you're looking at.
While iBird is not alone -- purveyors of ubiquitous field guides like
Audubon
and "The Sibley Guides" also sell intuitive bird ID apps -- we liked the handful of photos that accompany each bird pick on iBird, the ability to play a bird's song while out in the field, instant connection to bird entries on Wikipedia and the ease of creating a comprehensive bird checklist.
Plixi and PicPlz
iPhone users have long had all the fun with
, but offerings for Android are finally starting to pile up. Plixi is incredibly basic, allowing users to seamlessly upload and share photos on Facebook and Twitter -- you hit one button after taking the picture to post. It's definitely quicker than using Android's own sharing process.
PicPlz is a little more interesting; like the Instagram iPhone app, it allows users to apply cool effects to photos -- "Russian Toy Camera" makes colors more vibrant and fades out edges, while "the 70s" turns a snapshot into a sun-faded relic. Photos can be shared to PicPlz' own social network or, once you configure the app's settings, to Facebook, Twitter, Foursquare and a number of other social networks.
--Written by Olivia Oran in New York.
>To follow the writer on Twitter, go to
.
>To submit a news tip, send an email to:
.