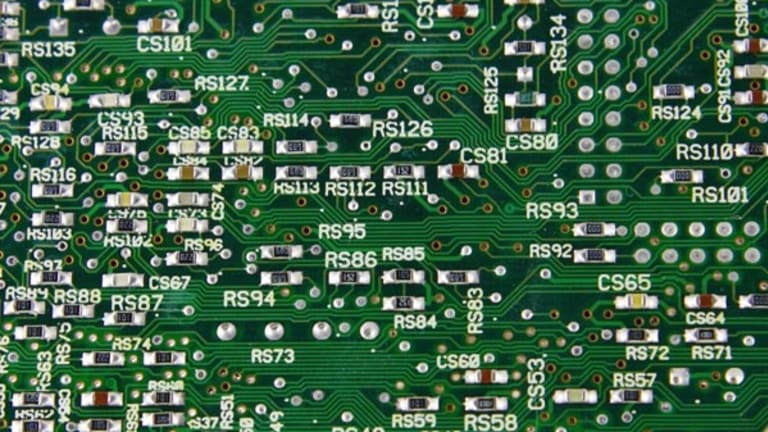 5 Things We Learned From Tim Cook (Update 1)
The Apple CEO gave a wide-ranging talk at the <I>AllThingsD</I> conference yesterday.
Updated from 11:01a.m. EST to provide additional comments about U.S. manufacturing and relationship with Steve Jobs.NEW YORK (TheStreet) -- Apple (AAPL) - Get Apple Inc. Report CEO Tim Cook spoke about the company's future. Just not in the way you'd think.
Talking at the
AllThingsD
Cook didn't announce the
or the
Apple television (though he strongly hinted at it).
However, he did mention a few new things, including where he sees the company going, the more about his relationship with Steve Jobs, and the future of manufacturing in the United States.
Here are five things we learned from Tim Cook last night at the conference.
Manufacturing in the United States
Speaking about Apple's manufacturing with Walt Mossberg and Kara Swisher, Cook noted that most of Apple's manufacturing is outside the United States, and doesn't own its own factories for one very good reason and has not for a while. Manufacturing is a process that someone else can do better. "I think that's still true," Cook said.
There's been a lot of talk about Apple's manufacturing operations and
. Cook noted that Apple is "micromanaging" the issue, with 95% compliance on its 700,000 Chinese workers.
Despite this, Cook wants there to be manufacturing in the U.S., noting that the "engines" for the iPhone and iPad are made in Austin, Texas, and the glass is made in Kentucky.
Corning
(GLW) - Get Corning Inc Report
is one of
Apple's largest suppliers.
Even though Apple's products are not finally assembled in the United States, Cook said that he hoped that could be done someday.
"We should do more semiconductor things in the U.S," Cook noted.
Wearable Technology
Cook was asked about wearable technology, such as the
Google
(GOOG) - Get Alphabet Inc. Class C Report
glasses, and Cook noted that this is an "interesting area."
He mentioned that he was wearing a
Nike
(NKE) - Get NIKE, Inc. Class B Report
Fuel Band, and he said there are some "cool" things that can be done in this space. He questioned whether it would change people's behavior, which is what Apple is primarily after.
Apple does not have have traditional wearable technology, but the iPod Nano can be
, so this is a space that Apple is already exploring.
Facebook
Facebook
(FB) - Get Meta Platforms Inc. Class A Report
has had a
as a public company, but Cook noted his appreciation for the company.
"I think the relationship is very solid," Cook said when asked about
Twitter
integration and why Facebook is not integrated. "We have great respect for them. I think we can do more with them. Just stay tuned on this one."
Cook spoke of social media in another light, all but admitting that Ping, the company's social network, was a failure, and that the company has to be social. He also said he did not look at buying
Instagram
, which Facebook
recently announced its intentions
to.
See 5 ideas for Apple's cash hoard in 2012
.
Steve Jobs
Cook spoke at length about his relationship with Steve Jobs. He called it "absolutely the saddest day of my life when he
The main task that Cook learned from Jobs was focus. "You can only do so many things great, and you should cast aside everything else." Several Apple employees have mentioned the company will not do something unless it can be the best, and Cook said that is not going to change under his watch.
Cook has differed from Jobs, making Apple more transparent about its supplier responsibilities, environmental issues, and even started a charitable matching program. Cook did make sure to note that Jobs was aware of the program before he died and was in favor it.
Jobs told Cook not to think in terms of what he would do, but what was right for Apple. He's changed Apple slightly in this regard, most notably announcing a
earlier this year.
What the "S" Stands For
While not Earth-shattering news, Cook finally mentioned what the "S" actually stands for in the iPhone 3S and iPhone 4S.
On the iPhone 3GS, the "S" stood for speed. On the iPhone 4S, the "S" stands for Siri, which Cook noted Apple customers will be seeing a lot more of in the coming months. "We have some cool ideas about what Siri can do. We have a lot going on on this."
Interested in more on Apple? See TheStreet Ratings' report card for
this stock
.
Check out our new tech blog,
Tech Trends
. Follow TheStreet Tech
.
--
Written by Chris Ciaccia in New York
>Contact by
.
Follow @Commodity_Bull