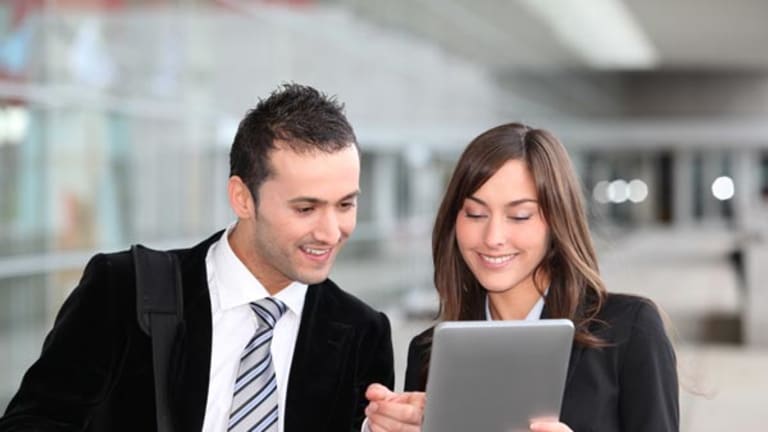 5 Technologies CES Threw Away
The clock is ticking on netbooks, Windows and other tech items as CES raises the bar.
LAS VEGAS (TheStreet) -- The Consumer Electronics Show is over, but the cleanup of obsolete gadgets left in its wake continues.
Every year around this time, consumers who finally feel they've caught up with technology have their newly bought toys laughed at by the tech community, which once again grinding their happiness beneath its progress. For every
Motorola
( MOT) Xoom tablet and Nintendo 3DS that picks up a best-of-show award at CES, there's a new netbook owner or Nintendo DS player whose device just became yesterday's news.
TheStreet
took a look at the best CES had to offer and found five items that took a step toward oblivion with some help from the newest batch of tech toys. These products' days are numbered, but some will reward their loving owners with a longer lifespan than others:
Netbooks
It's not that there
weren't
netbooks at CES --
Verizon
(VZ) - Get Report
,
Intel
(INTL) - Get Report
and Toshiba were just some of the companies debuting models -- just few people who cared. With
Motorola
(MMI) - Get Report
Mobility, Vizio, Lenovo, Samsung,
H-P
(HP) - Get Report
and just about everybody else getting gadget lovers geeked up about their tablets, netbooks and their cousin the mobile Internet device were about as popular buggy whips at the Brickyard 400.
Blame that sexy beast the iPad if you must, but
Apple
(AAPL) - Get Report
and its new Android and Microsoft Windows competitors will combine to sell roughly 20.4 million tablets by 2015 and constitute 23% of the U.S. personal computer market, according to
Forrester Research
(FORR) - Get Report
. That's a 42% growth rate that will outpace netbook sales by next year, with Forrester analyst Sarah Rothman Epps saying that tablet growth will come at the direct expense of netbook sales.
There may still be netbook loyalists who'll want to play
Starcraft
on their high-powered Razor Switchblade device, but at electronics show tables and -- during the next few years -- on trains and in airport terminals, the tide is turning toward the tablets.
$100 3D Glasses
Please take a moment to acknowledge the silent suffering of the early adopter. Sure, he or she gets to play with the cool toys first and has the expendable income to do so, but every so often they get stuck with a really expensive brick of a gadget.
Last year, these folks paid $100 to $200 per pair for "active-shutter" 3D glasses to go with their $2,500 to $3,300 3-D HDTVs and $400 3-D Blu-ray players. Surprisingly, consumers didn't want to invest $400 to $800 per family of four on glasses alone, and just 3.2 million of the 24.7 million TV sets sold in the U.S. last year were 3-D ready, according to DisplaySearch.
Faced with this quandary, LG, Toshiba and Vizio departed from Panasonic and Sony's high-end game plan and sacrificed quality for cost by introducing cheaper passive polarized 3-D technology at this year's CES -- you know, the kind 3-D-viewing moviegoers are already familiar with. LG even announced plans to throw in four pairs of the cheaper, nearly disposable glasses for free with each of its new 3-D sets -- with those glasses working just as well at theaters as they do at home.
Before they go diving into a format war, however, consumers may want to consider that Sony, LG and Toshiba all displayed glasses-free 3-D televisions and Blu-ray players at CES this year. While that technology is about five to 10 years away from reality, both it and passive 3-D that doesn't require a huge investment or clunky hardware to enjoy strip away some of the dimensions from a consumer's 3-D decisions -- and diminish the need to spend three figures just to see what's on the screen.
e-Readers
The e-reader is facing just as much pressure from the tablet as netbooks, but won't go nearly as quietly. The Kindle is the best-selling product in Amazon history, the Nook holds the same distinction at Barnes & Noble and e-readers as a whole were on pace to sell 6.6 million units worldwide last year -- up nearly 80% from 2009, according to Gartner.
While these devices and Apple's iPad are fueling digital book sales that surpass physical sales at Amazon and Barnes & Noble, the Kindle and Nook's $140 and $150 starting prices are still less than 30% of a low-end $500 iPad's price tag. Also, according to a
JP Morgan
(JPM) - Get Report
survey issued earlier this month, 40% of iPad owners also own a Kindle, with 23% saying they plan to buy a Kindle within the next year.
That may serve Amazon and Barnes and Noble well in the short term, but the iPad outsold all e-readers by nearly a million devices from April through September alone, while the influx of tablets at CES suggests a growing market and -- potentially -- decreasing prices .
Michael Wolf, pro analyst for
GigaOM
,
told TheStreet's Oliva Oran this week
that while there's plenty of market space for e-readers and tablets to peacefully coexist now, downward pressure on tablet prices will force consumers to choose between the two. Given the trend toward more integrated products, discounted multitasking tablets could close the book on e-readers in the not-too-distant future. Fortunately for companies such as Amazon, Barnes & Noble and Hanvon -- a Chinese manufacturer that debuted the first color E-Ink reader at CES -- there are a few more chapters in this story.
Windows 7
Tear the skin off your fingertips defending Microsoft's OS if you must, but that OS' much-criticized shortcomings on small platforms and competing OS' sexier products are digging Windows a desktop-sized grave.
As much as Windows 7 needs some wins in the gadget sector, it isn't going to get them if Google' Android is powering CES fan favorites such as Motorola's Xoom and Atrix 4G while Windows languishes on clunky offerings like the Asus Eee Slate and the not-quite tablet/not-quite netbook Samsung Sliding PC 7 or Dell Inspiron Duo. Microsoft's impending partnership with ARM on a tablet OS would seem like an aggressive change for the better if
Intel exec Tom Kilroy
hadn't told
CNET
during CES that his company, Dell and others had been hounding Microsoft to work on one for some time now and to tweak Windows for smaller devices such as netbooks.
Microsoft still has time to turn this around by next year and produce a mobile product that can compete with Android, but considering how Windows Mobile 7 has had its head handed to it by Google's mobile OS for much of the past year, Microsoft's relevance in the tablet market can't afford to go out the window as well. Android jumped from 3.5% of the global smartphone market in 2009 to more than 25% of it last year, while Windows Mobile's share slid from 8% to less than 3% in the same period, according to Gartner.
Cable box
The set-top cable box took a beating at CES as Samsung, LG and others increasing Internet connectivity on televisions and Blu-ray players. Samsung, for example, announced a Google TV partnership and teamed with
Comcast
(CMCSA) - Get Report
and
Time Warner Cable
(TWC)
for direct cable access to Internet-connected televisions and Galaxy tablets and online access to digitally recorded content. Vizio's Internet television, meanwhile, saw Samsung's Google TV and raised the stakes with online access to video games from OnLive. Seemingly everyone else got the message by integrating Wi-Fi into their TV products.
If nothing else, this shows cable companies, television manufacturers and game developers are listening; an NPD Group study found that 45% of consumers have an Internet-connected TV, while 57% say they're extremely satisfied with online offerings such as Netflix streaming, Hulu and YouTube. Meanwhile, sales of Internet-connected televisions rose 38% in the first 11 months of last year compared with the same period a year before and now account for 12% of all flat-screen TV sales.
RELATED STORIES:
>>Moore's Law Still Stands, Intel exec says
>>6 Hyped Tech Innovations That Elicited Yawns
>>Gadgets Spark Repair Glory Days
Follow TheStreet.com on
and become a fan on
Jason Notte is a reporter for TheStreet.com. His writing has appeared in The New York Times, The Huffington Post, Esquire.com, Time Out New York, the Boston Herald, The Boston Phoenix, Metro newspaper and the Colorado Springs Independent.