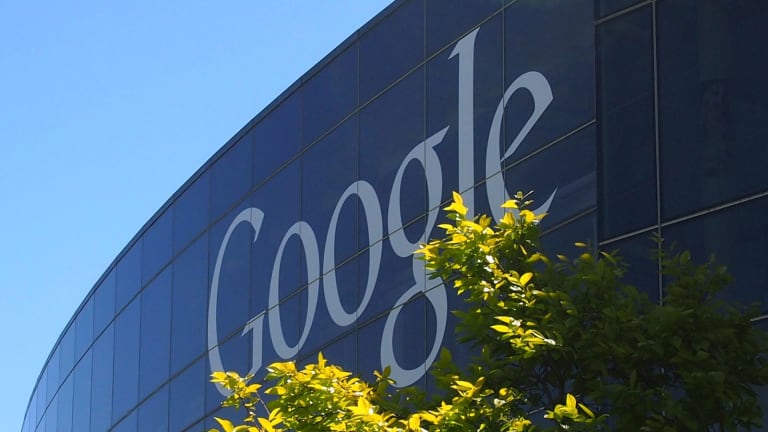 5 Tech Stocks To Buy Now After the Market's Big Selloff
Stock markets may be rocky, but Cantor Fitzgerald thinks Google, Amazon and others will successfully ride the waves.
NEW YORK (TheStreet) -- Market volatility may be making you cautious about buying anything new, but equity research firm Cantor Fitzgerald thinks it could be a good time to buy some leading tech names.
While the firm acknowledges that rock bottom could still be yet to come, it has identified five technology stocks that whether or not they drop a bit more will eventually come out on top. Each of these five companies dominate their respective market, are growing faster than their peers and maintain reasonable valuations.
"We find concerns over macro risks/China to be overblown, and the risk/reward in these names to be attractive," Cantor Fitzgerald analyst Youssef Squali wrote in a research note Wednesday morning.
Here are the five stocks Squali identifies as prime for buying amid the massive sell-offs:
1. Google (GOOG) - Get Alphabet Inc. Class C Report (GOOGL) - Get Alphabet Inc. Class A Report
Google was an easy pick for Squali since it has virtually no direct exposure to China. Google clearly dominates the search industry -- it accounted for 91% of global searches in July according to web traffic analysis tool StatCounter. It also had about $61 billion of cash as of the end of the second quarter. These numbers -- plus the new transparency Squali anticipates under the recent Alphabet restructuring -- show Google as "relatively resilient."

2. Amazon (AMZN) - Get Amazon.com, Inc. Report
While Amazon does have more of a presence in China than Google, it is still fairly limited, holding roughly 1.5% of the Chinese e-commerce market in 2014 according to market research firm iResearch. On top of that, "the company remains in investment mode, which means that a devaluation in the RMB should actually be positive to margins short-term," Squali explained. And Amazon's performance in North American e-commerce as well as its cloud services business Amazon Web Services continues to do well, leading Squali to find the company an attractive buy, even with the current market uncertainty.

3. Priceline (PCLN)
Priceline, though perhaps less sexy than some of the other tech stocks, maintains its dominance in the online travel industry. And though it could be impacted by a decrease in consumer spending if the economy weakens, it doesn't have a direct exposure to China. Travel demand outside of China seems unlikely to drop, leading Squali to "remain constructive."

4. Facebook (FB) - Get Facebook, Inc. Class A Report
While Facebook doesn't have a presence in China, a global economic slowdown would certainly impact advertising demand, which would significantly harm the social media network. "That said, FB is still at an early stage of growth and stands to benefit the most from the secular shift of traditional ad dollars to digital, in our view," Squali wrote. Facebook is constantly adding value to its advertising offerings, whether it be through auto-play ads or buy buttons, causing it to capture some of the strongest growth among Internet companies.
5. Alibaba (BABA) - Get Alibaba Group Holding Ltd. Sponsored ADR Report
As TheStreet wrote on Tuesday, Alibaba's share price might not accurately reflect the company's actual sales and potential, with the company maintaining a stranglehold on the Chinese e-commerce market. Though its most recent earnings report showed slowing revenue growth, Squali is optimistic that this isn't a long-term trend, with further growth likely to come from China's burgeoning middle class, improving retail infrastructure, and cross border opportunities. And despite the instability in the Chinese markets, retail spending has not been impacted. "Our long-term thesis remains unchanged," Squali wrote.