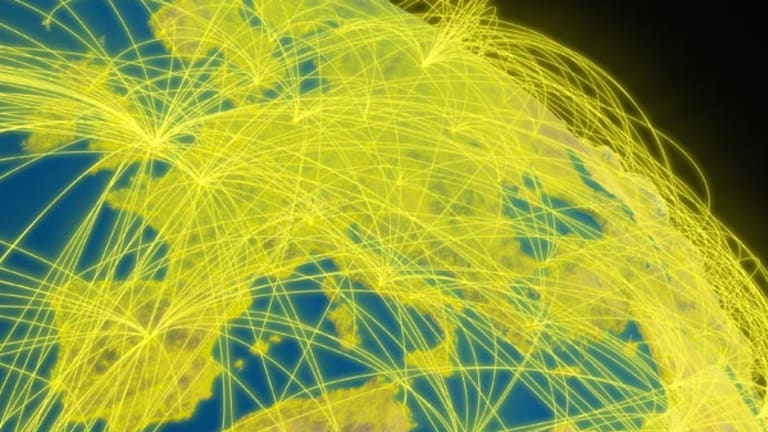 5 Tech Stocks to Avoid, According to Jefferies
Jefferies says these companies' shares could fall this year.
BOSTON (TheStreet) -- Technology stocks tumbled yesterday. The Nasdaq fell 0.8% and F5 Networks (FFIV) - Get F5, Inc. Report plummeted 22%, highlighting the danger of momentum stocks.
Investment bank
Jefferies
issued warnings on five technology stocks in its 2011 outlook. The firm said the shares may be trading above their intrinsic fair value. It expects two of them to stagnate and three to drop precipitously in the year ahead. Below, they are ordered by downside potential, from modest to most.
5.
Patni Computer Systems
(PTI) - Get Proteostasis Therapeutics, Inc. Report
provides IT services, including application development, maintenance and support, from India. It targets industries, including insurance, manufacturing, retail and utilities, with custom offerings.
In the past 12 months, Patni's sales have risen 4%, but net income has soared 41% amid superior pricing. Third-quarter sales rose 6.9%, but profit tumbled 19% to $29 million. Earnings per share dropped 22%, hurt by a larger float. The gross margin narrowed from 41% to 38%. The operating margin fell from 18% to 16%.
Patni's stock appears undervalued, costing 10-times trailing earnings, 13-times forward earnings and 9.4-times cash flow, 49%, 27% and 42% industry discounts. But, Jefferies expects a cap on upside. It rates the stock "hold" with a $21 target, suggesting little, if any, upside in 2011.
Goldman Sachs
is more pessimistic, ranking Patni "sell" and predicting a drop of 18% to $17. In total, two researchers advise purchasing the stock, five say to hold it and one recommends selling. Of note: Patni boasts a net liquidity position (cash minus debt) of nearly $318 million.
4.
Blackbaud
(BLKB) - Get Blackbaud, Inc. Report
designs and sells software to non-profit organizations. Over a three-year span, it has boosted sales 11% annually, on average, as its net income fell by 2.2% a year.
Blackbaud will release fourth-quarter results Feb. 7. In the third quarter, sales ascended 4.5% to $83 million, but profit fell 13% to $8.5 million. Earnings per share declined a more modest 9.1% to 20 cents. The operating margin fell from 18% to 16%. Blackbaud has minimal debt and its return on equity is high. It hit 25% in the third quarter, beating the 22% peer average.
Jefferies is optimistic about Blackbaud's rising subscription revenue (up 11% year-over-year in the third quarter), but is maintaining a "hold" rating on the stock because of its excessive valuation. The stock trades at a forward earnings multiple of 26 and a book value multiple of 10, notable premiums to software peer averages, despite lagging growth rates. Over the past 12 months, sales are up an unimpressive 2.1% and net profit has gained 8.1%. One researcher rates Blackbaud's stock "buy", six, including
JPMorgan
and
Wells Fargo
, rate it "hold" and one ranks it "sell."
3.
Neustar
(NSR)
provides technology and directory services to communications-service providers. It has several key FCC contracts for North America phone-number services and administers domain-name services for particular types of sites.
Neustar has grown revenue 9.3% a year, on average, since 2008 and boosted net income 11% a year over the same span. Its stock has risen 18% in the past year, but Jefferies is skeptical, rating it "underperform" with a $20 target, suggesting a 27% decline over 12 months. But, shares are reasonably valued.
Neustar trades at a forward earnings multiple of 16, a book value multiple of 3.5 and a cash flow multiple of 14, 11%, 54% and 11% discounts to IT services industry averages. Neustar will announce fourth-quarter results Feb. 2 after the close. Its third-quarter profit rose 22% to $30 million, or 39 cents a share, and sales rose 11%. The adjusted earnings tally of 36 cents missed the consensus forecast by 14% and the top line missed analysts' consensus by 1.8%. Currently, three researchers advise purchasing Neustar, nine recommend holding and one says to sell.
2.
Synaptics
(SYNA) - Get Synaptics Incorporated Report
designs and develops touch-screens for mobile computing, entertainment and other electronic devices.
Concerns of market-share erosion have dogged this stock for the past year. It has risen 7% in 12 months as the
Nasdaq
climbed a more-impressive 18%. Yesterday, Synaptics delivered its fiscal second-quarter results. Adjusted earnings of 72 cents (up 53% year-over-year) exceeded analysts' expectations by 5.3%, surpassing the average beat rate of nearly 13%. Revenue of $160 million beat expectations.
Jefferies rates Synaptics "underperform" with a $20 12-month target, suggesting 37% downside. Its bearish thesis is predicated upon handset share losses in 2011 as
Nokia
,
Research in Motion
and
HTC
are expected to use other companies for soon-to-be-released smart phones. Furthermore, declining average selling prices will crimp margins on remaining contracts and Jefferies doesn't expect Synaptics to gain any market share in the PC or tablet market segment. Analysts offer mixed reviews of Synaptics. Eight rate its stock "buy", eight rate it "hold" and four rank it "sell."
1.
Ciena
(CIEN) - Get Ciena Corporation Report
sells networking equipment, software and services. Its packet-optical transport, packet-optical switching and carrier Ethernet service products are used by service providers, cable operators, governments and businesses.
Ciena has grown its sales 17% annually, on average, since 2008, helped by the acquisition of carrier Ethernet and optical assets of
Nortel
. But Ciena is consistently unprofitable, having suffered losses for nine consecutive quarters. Its fiscal fourth-quarter loss tripled to $80 million, or 86 cents a share.
Although management is optimistic about the Nortel deal, Jefferies remains skeptical and advises that clients use the shares as a source of funds for superior risk/reward equities. Ciena's stock has surged 82% in the past 12 month, handily outperforming indices. But, it trades at a premium to communications equipment peers. Its forward earnings multiple of 21 reflects a 10% industry premium. Furthermore, the company is running a shareholders' deficit. However, some analysts expect a pick-up in Ciena's global packets business.
Ciena's balance sheet has taken a hit since the year-earlier quarter, in part due to the Nortel acquisition. Cash has fallen 34% to $702 million and debt has increased 81% to $1.4 billion. A debt-to-equity ratio of 9.1 indicates unsafe leverage. But, Ciena's quick ratio of 2.2 demonstrates that near-term liquidity requirements can easily be met. Currently, 15, or 58%, of the analysts covering Ciena rate its stock "buy", seven rate it "hold" and four rank it "sell."
Citigroup
is most bullish, with a $35.50 target.
JPMorgan
offers a $16.50 target, implying 32% downside.
-- Written by Jake Lynch in Boston.
>To see these stocks in action, visit the
portfolio on Stockpickr.
RELATED STORIES:
10 Cheapest Dow Dividend Stocks for 2011
Become a fan of TheStreet on Facebook.
Disclosure: TheStreet's editorial policy prohibits staff editors, reporters and analysts from holding positions in any individual stocks.